Russo-Ukrainian War Should Doom the '5+2' Negotiations on Transnistria (Part Two)
Publication: Eurasia Daily Monitor Volume: 20 Issue: 17
By: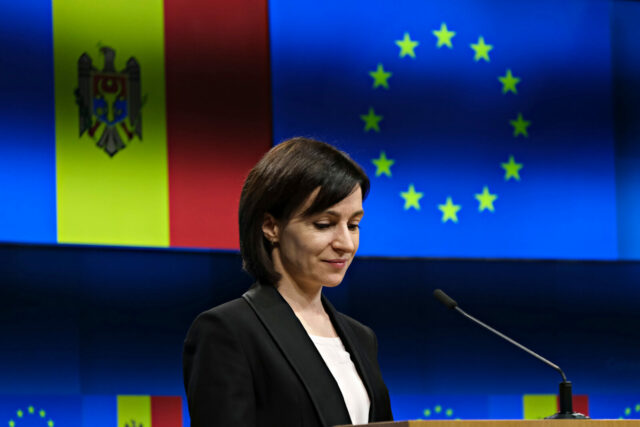 The "5+2" forum on Transnistria was designed in 2005 based on the old model of the European Concert, updated as Euro-Atlantic: to settle a local conflict through negotiations among great powers. Similarly, the negotiating formats on the conflicts in Karabakh (1994–2020), Donbas (2014–2022), as well as Abkhazia and South Ossetia (2008 to date) also corresponded to the concert-of-powers model. Russia should have been excluded from this concert at the latest by 2014 (initial invasion of Ukraine) and has finally excluded itself with its re-invasion of Ukraine in 2022.
The 5+2 negotiations were already in semi-hibernation before 2023. Re-convening these talks would signify Russia's readmission to the concert of powers: at first on a local issue such as Transnistria, then potentially as a stepping stone toward comprehensive negotiations on Europe's security architecture "together with Russia." The Kremlin would be more than pleased to re-enter polite international company via the 5 + 2 negotiations, but it can hardly force this door open until its war against Ukraine subsides in one way or another.
The European Union and the United States entered the 5+2 format in 2005 in subordinate roles as observers and accepted the Russian "acquis" of this process wholesale: structure, semantics, procedures, goals, conditionalities and sequenced stages. The EU and US made no known attempts at changing this forum and its operation, nor at creating an alternative forum. They even portrayed this forum as being without alternative, in the same way Russia portrayed it. And they failed to press for the withdrawal of Russian troops from Transnistria, thus failing to protect Moldova's neutrality. For its part, the Organization for Security and Co-operation in Europe (OSCE) followed this Russian-driven process or accommodated itself to it, reflecting Moscow's overbearing influence in the organization. The international presence in the 5+2 forum, therefore, seemed to legitimize it without remedying it (see Part One).
The 5+2 format started operating in October 2005 when the EU and US entered it as observers, with Russia's consent and on Russian-defined terms. Moscow, however, suspended this forum at the political level already in February 2006, after Brussels had mandated its EU Border Assistance Mission to curb Transnistrian smuggling into Ukraine and Moldova. It was not until 2012 that the 5+2 political negotiations restarted. The meetings, until 2016, merely conserved the unresolved conflict. The seven-year suspension confirmed the incapacity of the US and EU to counter Russia in the 5+2 forum after having accepted the Kremlin's ground rules within it.
From 2016 to 2018, the 5+2 forum turned from useless to harmful for Moldova. The OSCE's German chairmanship in 2016, under then-Foreign Minister Frank-Walter Steinmeier, introduced the "Berlin Package" as a token (apparently a small one from Berlin's perspective) of German ingratiation with Russia at that time. The package contained a number of "small steps" (as officially designated) at the socioeconomic level that implicitly strengthened Transnistria's political identity. It gave Transnistria a type of car license plate for travel in Europe distinct from Moldovan license plates; recognized Tiraspol University's diplomas as internationally valid; and acknowledged Transnistria's "state" ownership of agricultural land, in contrast with Moldova's legislation, which enshrines private land ownership. Those measures were implemented in 2017–2018 and remain in force to this day. The Berlin Package also included validating Transnistria's interests in international telephony and international banking operations, both unimplemented to date (see below).
Within the 5+2 forum, the OSCE led the "small steps" process, Russia and the US supported it with alacrity and the EU merely accepted them without enthusiasm. This process was seen as a slow-speed street toward a "special status" for Transnistria, without any movement whatsoever toward the withdrawal of Russian troops. From 2016 until at least 2020, Russia, the OSCE, the US and the EU routinely spoke of the "unity of the mediators and observers" regarding the "small steps," measured in practice through unilateral concessions by Chisinau. The "unity of views" on the part of Western diplomacy with Russia, however, would by definition run counter to Moldova's interests. The "small steps"—both those implemented and those pending—initiated a piecemeal "de-sovereignization" process of Moldova in Transnistria, in effect testing a conflict-resolution model at Moldova's expense (see EDM, September 20, 26, 2018).
The 5+2 forum's 2017 meeting was "successful" in that it hailed the "small steps" and the "unity" between the Russian and Western participants. The 2019 meeting, however, was the last one this forum was able to hold until now. Moldova's pro-Western government under Maia Sandu (prime minister at that time) came to power for several months in 2019 and blocked the 5+2 meeting's final document (protocol). Sandu took the position that Moldova cannot continue the "small steps" and related processes before clarifying whether the direction of movement accorded with Moldova's interests (see EDM, July 17, 22, 29 Part One and Part Two, 2019; Osce.org, October 10, 2019). This remains President Sandu's and her government's view to date.
Electoral cycles in Moldova in 2020 and 2021, as well as a new Moldovan leadership determined to change Chisinau's approach to the Transnistria problem, meant that the 5+2 forum could not meet at the political-diplomatic level but only at technical levels. The forum failed to reform itself from 2020 to 2022 and has been shipwrecked by Russia's 2023 re-invasion of Ukraine. Moreover, Chisinau has significantly changed its approach to the Transnistria conflict, in ways that the EU and US should support, while Russia is likely to oppose, presaging a breakdown in this forum's indispensable virtue of "unity" (see Part Three).