Shoigu Reflects on Military Modernization Amid COVID-19 Crisis
Publication: Eurasia Daily Monitor Volume: 17 Issue: 51
By: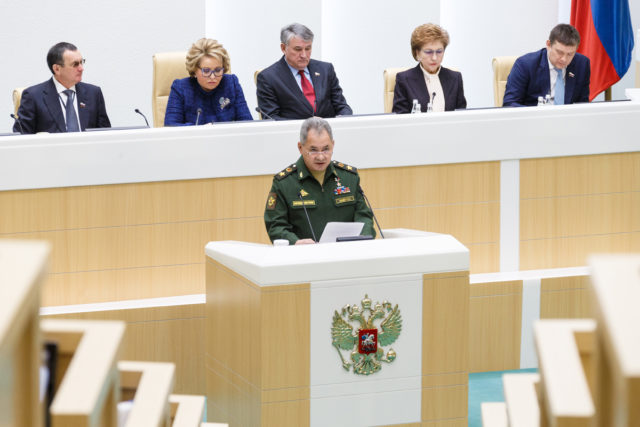 Russia's Defense Minister Sergei Shoigu has established a credible reputation as a reliable and enduring member of the Russian government, largely owing to his close and long-standing friendship with President Vladimir Putin. Shoigu, the longest-serving defense minister since the establishment of the Russian Armed Forces, in 1992, has done more than his predecessor, Anatoly Serdyukov, to develop harmony between the defense ministry and the General Staff. Since his appointment in November 2012, Russia's Armed Forces have witnessed considerable and consistent advances in modernization, training and structural reorganization, during which period the officer corps has also benefited by gaining combat experience in the conflicts in Ukraine and Syria. However, since the outbreak of the global COVID-19 coronavirus pandemic, Shoigu has proved keen to "talk up" his achievements as defense minister. This process confirms a number of indisputable advances as of 2012, but it also inadvertently highlights shortcomings and the deeper challenge presented by containing COVID-19 both within the Armed Forces and in providing assistance to the government efforts to protect the Russian population (Rossiyskaya Gazeta, March 25; see EDM, March 20).
This effort surged on March 20, with Shoigu leading a meeting at the National Defense Management Center (Natsional'nogo Tsentra Upravleniya Oboronoy—NTsUO), in Moscow. He chaired defense ministry board discussions on a wide range of topics, with a focus on the gains in modernizing the Armed Forces and a passing reference to COVID-19 cases in Russia. Then, in significantly greater detail, he presented a speech to the Federation Council's (upper chamber of the Russian parliament) "government hour" on March 25, comparing and contrasting the ongoing military modernization process with plans set out by Putin in 2012 (Rossiyskaya Gazeta, March 25).
In May 2012, Putin decreed the following aims for military modernization in terms of personnel: By 2020, modern weapons and equipment would reach 70 percent; 50,000 contract personnel (kontraktniki) would be recruited annually, reaching 425,000; the social protection of service members in housing and pay would increase; and Russia's youth would be educated and indoctrinated along military-patriotic lines, while boosting the overall prestige of military service. Shoigu stated that, in March 2020, the Armed Forces had 225,000 conscripts and 405,000 kontraktniki. Despite the shortfall compared to the original target, the defense minister noted that the military's sergeant ranks, Spetsnaz (special forces), naval infantry, battalion tactical groups and staff operating "complex systems," are all kontraktniki (Mil.ru, March 25).
Regarding weapons and equipment modernization, Shoigu said "modern" systems now make up 68.2 percent of the total inventory, and the 70 percent target will be reached by the end of this year. Shoigu also claimed the Strategic Rocket Forces (Raketnye Voyska Strategicheskogo Naznacheniya—RVSN) are more than 87 percent modern, though he was clearly not counting the older delivery systems within this figure. While the modernization program has certainly made progress, Shoigu neglected to mention that instead of modern T-14 Armata tanks, the defense ministry has settled on upgrading older T-90s and T-72s. Moreover, the 2012 target to introduce 8 sub-surface ballistic nuclear submarines (SSBN) and 20 multi-purpose subs has not occurred (Mil.ru, March 25).
However, portraying the United States' missile-defense program as a potential threat to Russia's nuclear deterrent, Shoigu noted a raft of measures in response. "First of all, the deterrence potential is increasing, including the most advanced weapons systems. Kinzhal high-precision hypersonic aviation missile systems have been put on pilot combat duty. Flight design tests of the Tsirkon marine hypersonic missile are underway. In December of last year, the first Avangard missile regiment and the Peresvet laser systems entered combat service. The modernization of industrial plants for the serial production of the Sarmat heavy intercontinental ballistic missile was completed," he asserted (Mil.ru, March 25).
Turning to Russia's military operations in Syria since September 2015, Shoigu highlighted that this had enhanced Moscow's international reputation, boosted the development of the Armed Forces as well as provided a unique training opportunity. The Syrian operation provided combat experience for Russian commanders of all military districts, the commanders of combined-arms armies, as well as the Aerospace Forces (Vozdushno Kosmicheskikh Sil—VKS), including 90 percent of flight crews, 56 percent of air-defense specialists, 61 percent of navy personnel and 98 percent of service members in the Military Police (Mil.ru, March 25).
The Moscow-based defense expert Oleg Falichev assessed Shoigu's "government hour" speech, noting numerous advances while also admitting that challenges remain in terms of education or housing for military personnel. Falichev concluded by referring to the COVID-19 crisis: "The work done to revive the Armed Forces, naturally, had a positive effect on the growth of the prestige and attractiveness of military service. Today, in Russian society, there is a steady increase in the approval of activities carried out by the Russian Armed Forces. About 90 percent of the country's population trusts the Russian army, and negative ratings fell 4.5 times. It seems that people in uniform will adequately cope with the tasks assigned to them; they will also solve unexpected problems arising from the fight against the coronavirus danger" (Voyenno Promyshlennyy Kuryer, April 7).
By April 7, however, Shoigu had toned down the statistical listing of achievements under his tenure and announced a number of measures in relation to the global pandemic impacting on Russia. He explained that an operational headquarters to counter COVID-19 has been formed within the defense ministry; it is tasked with overseeing the construction of new infectious-disease clinics across the country and operates under a budget of 8.8 billion rubles ($120 million). Construction is underway on 16 military hospitals and should be completed by May 15. In Russia's Far East, less affected by the coronavirus to date (see EDM, March 17), a hospital ship has been placed on standby (Kp.ru, April 7). Moreover, the military needs to mitigate the risk of the outbreak spreading during the spring draft. On March 30, Putin signed a decree on commencing the drafting of 135,000 conscripts aged 18 to 27 (Nezavisimoye Voyennoye Obozreniye, April 10). The most interesting feature of Shoigu's recent statements, both on military modernization and the Armed Forces' role in helping to contain the spread of COVID-19, undoubtedly lies in the absence of any comment on the potential economic impact not only on the Russian economy, but on Moscow's long-term defense planning.