Some Lessons From Germany's Failed Proposal on the Azov Sea and Kerch Strait
Publication: Eurasia Daily Monitor Volume: 15 Issue: 176
By: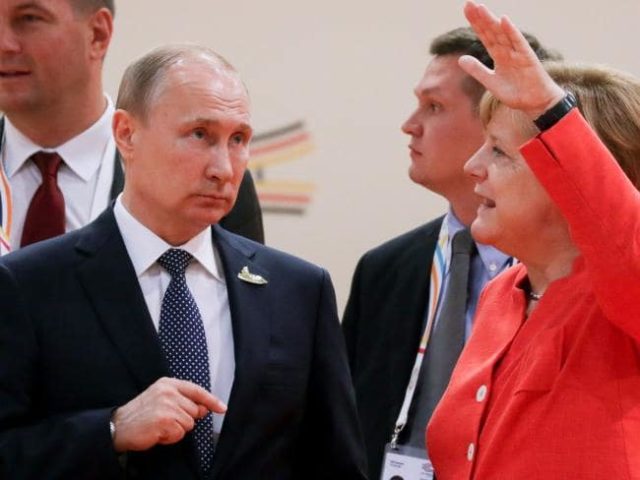 German Chancellor Angela Merkel has offered a sanitized account of the failed "Normandy" meeting (Russia, Ukraine, Germany, France) that discussed the crisis in the Azov Sea and Kerch Strait. The meeting was held in Berlin on December 11 in almost complete secrecy (see accompanying article), and a visibly disappointed head of the German government provided a glimpse into it on the following day, in her regular (pre-scheduled) questions-and-answers session in the Bundestag (DPA, December 12).
"We have sought to achieve an enlargement of the OSCE's [Organization for Security and Cooperation in Europe] mission in Ukraine to the Kerch Strait and Azov Sea, but Russia has rejected this. For our part, we certainly cannot accept [Russia's] de facto claim to take over the Azov Sea." The German government now seeks "Russia's consent at least for German and French representatives to observe the passage of ships," Merkel said. Putin indicated to her that "a reasonable degree of access will be possible for ships, but we need to see deeds in this regard," plus the release of Ukrainian sailors and vessels (DPA, December 12). According to Russian state media, Merkel added that those German and French observers would need "full authority at least for the Azov Sea" (RIA Novosti, December 12)—a codicil (and discount) indicating a more accurate understanding of the local nuances than may have been the case at the initiation of this proposal.
The proposal was, unquestionably, well-intended and deserving of a more serious hearing than it received, but was flawed on a number of counts. It was hastily improvised after the crisis had reached the point of eruption, although it had been brewing for six months with little international notice.
Changing the mandate of an OSCE field mission (in effect, creating a new mandate) is a laborious, time-consuming, and ultimately counter-productive operation, due to Russian diplomacy's bad faith in the OSCE. Using its veto power, Russia has made sure to compromise the mandate and structure of all OSCE "conflict-management" missions and forums in former Soviet territories, resulting in dysfunctional missions, vulnerable to Russian sabotage while they operate, and allowing wide scope for Russian manipulation of the situation on the ground (examples: Transnistria, the Georgia Border Monitoring Operation, South Ossetia, Minsk Group on Karabakh, and the Special Monitoring Mission, SMM, in Donbas as a recent example). The oft-invoked logic is that even a flawed operation under the OSCE is preferable to having nothing. Western governments typically ignore or overlook crises (recurrently Russian-made) until they erupt, then rush to the OSCE to address the crisis under time pressure, negotiate an OSCE mission's mandate with a veto-wielding Russia, and succumb to the logic of "better a flawed mission than no mission." This logic—invoked by governments of European Union and North Atlantic Treaty Organization (NATO) member countries—ironically serves as an alibi for the EU and NATO to eschew their inherent responsibilities, leaving the field to the Russia-influenced OSCE instead.
Extending the OSCE's SMM to the Azov Sea and Kerch Strait would have resulted in the same predicaments that plague the existing SMM; although the argument "better this than nothing" is not entirely without merit. Still, every time this argument prevails, an opportunity is lost to break away from that self-defeating pattern.
The German proposal apparently overlooked Russia's pseudo-legalistic, manipulative differentiation between the status of the Azov Sea and that of the Kerch Strait (see EDM, December 3, 5, 10). An international organization's operation (even a humanitarian one, let alone a security operation) is totally unacceptable to Russia in a territory deemed as belonging to Russia. It was "Boris Yeltsin's Russia" that barely tolerated an OSCE Assistance Group to Chechnya in 1995: the humanitarian office shut down for good in 2002. When the OSCE's SMM was deployed to Donetsk-Luhansk in 2014, Russia successfully vetoed an SMM presence (or any OSCE presence) on Crimea, claiming that that the just-annexed peninsula belonged to Russia. The Azov Sea has the official legal status of an interior water shared by Russia and Ukraine. As such, the chance that Russia would accept OSCE monitors in the Azov Sea was next to nil; particularly since extending the SMM from the conflict-torn Donbas to the Azov Sea would have implied that this Russian interior sea is also conflict-torn and susceptible to international oversight—an implication that is anathema to Russia. The Kerch Strait, meanwhile, is as much of a "sacred Russian" interior waterway as the "sacred Russian" Crimea, which has given Moscow full possession of the Strait. There was zero chance that Russia would accept the presence of the OSCE—or any international—monitors in the Kerch Strait. Nor would the Kremlin have accepted the image setback that would have resulted from such a presence.
Apparently, Berlin missed the repeated warning signals in this regard, that were contained in Lavrov's remarks and the Kremlin's press releases (see accompanying article). Apparently again, Berlin has understood some of these nuances, as Merkel indirectly communicated in her remarks to the Bundestag (see above). Perhaps the Normandy-format meeting intended for January would, if held, occasion more creative proposals from Berlin. However, failure remains likely if Germany and the EU refrain from adding economic sanctions on Russia, on the mistaken logic that more sanctions jeopardize a political solution. Whereas, in fact, more sanctions could facilitate a solution on Western terms.