Strategic Consequences of Russia's Economic Presence in the Suez Canal Zone
Publication: Eurasia Daily Monitor Volume: 16 Issue: 126
By: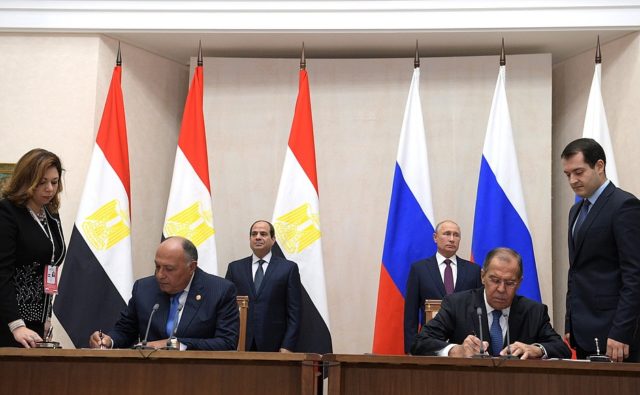 Belarus recently announced plans to join the Russian Industrial Zone (RIZ) in the Suez Canal. Eventually, Minsk intends to set up its own industrial park in the Egyptian Suez Canal Economic Zone (SCZone); but for now, Belarus is content to cooperate with Moscow in the RIZ, within the framework of the Russia-Belarus Union State (
Belta.by
, September 9).
Russia's own interests in Egypt are multidimensional. But among the most intriguing in the last couple years has been the Egyptian government's invitation to Russian businesses to implement projects in the SCZone, east of Port Said. The resulting territory allocated to the RIZ measures 5.25 million square meters, and it is being managed by the Russian Export Center company. The duration of the contract is 50 years. The RIZ will enable Russian exporters and suppliers to localize their assembly and production facilities in close proximity to markets in the Middle East and Africa (Exportcenter.ru, December 13, 2018).
The Russian Industrial Zone project originally came out of a 2014 meeting between Presidents Vladimir Putin and Abdel Fattah el-Sisi, in Sochi (Kremlin.ru, August 12, 2014). Since then, the two sides have agreed that the potential residents of the RIZ can include Russian automobile companies, manufacturers of building materials, river and sea transport companies, as well as firms producing energy equipment and pharmaceuticals (Government.ru, August 6, 2015). According to the SCZone General Authority, the first stage of the RIZ should launch at the beginning of 2021. The third and final of the project's stages will be completed in 2031. During their visit to Moscow this past winter, the SCZone General Authority signed the first eight memoranda of intent with the Russian Exports Center (Egypt Today, February 19, 2019). Moreover, Russia is encouraging other countries from the Moscow-led Eurasian Economic Union (EEU) to participate in the RIZ, with its Union State partner Belarus having already pledged its intention to join.
Russia's policy toward Egypt is anything but sporadic. In truth, Moscow is pursuing a multifaceted synergistic strategy consisting of:
Increased exports to promising markets for Russian industrial products, combined with the formation of sustainable production chains in importing countries;
Construction of the El Dabaa Nuclear Power Plant (west of Cairo) (Rosatom.ru, April 9);
Supplying train wagons for Egyptian National Railways and repair work on Egypt's railroad network. The latter will be done together with Hungarian enterprises (Minpromtorg.gov.ru, March 21);
Reconstruction and modernization of various industrial facilities in Egypt that had been built during Soviet times (Government.ru May 3, 2018);
Military-technical cooperation, including discussions of naval basing arrangements as well as sales of Russian combat helicopters, fighter jets and missile-defense systems (see EDM, February 14, 2018);
Active negotiations on the creation of a free trade area (FTA) between Egypt and the EEU (TASS, June 24, 2019), with the first round of talks completed successfully in January (Eurasiancommission.org, January 17). Some analysts argue that the Egypt case could serve as a model for a similar FTA to be negotiated with Turkey (Eurasia.expert.com, April 10, 2018). And considering that Egypt is already party to an FTA with the European Union, Russia might thus be able to negotiate a backdoor to European markets for its products through Egypt;
Engaging in "grain diplomacy" with Middle Eastern countries, which are among the leading importers of this Russian agricultural product, with Egypt and Turkey first on the list (Realnoevremya.ru, April 19, 2019). Total Russian grain shipments to the Middle East this past harvest season (2018/2019)—13.9 million tons—made up 34 percent of Russia's total exports of this commodity (compared to 17.8 million tons or 36 percent in 2017/2018) (Agroinvestor.ru, July 3, 2019).
By entering the Egyptian market, Russia is also effectively bolstering its access to the Common Market for Eastern and Southern Africa (COMESA), comprising 21 countries on the continent (
XinhuaNet
, April 4). Similarly, Moscow is looking to reach free trade deals with other regional economic organizations, such as the East Africa Community and the Southern African Development Community. And to further cement its overtures toward the continent via its relationship with Egypt, Russia is preparing to host two crucial events in Sochi on October 23–24. The first will be the bilateral Russian-Egyptian Economic Forum; and the second will be the first ever high-profile Russia-Africa Summit, under the leadership of the presidents of Egypt and Russia (
Kremlin.ru
, May 28). More than 40 African countries are expected to take part (
Ahram.org.en
August 12).
As such, Russia's efforts toward boosting economic relations with Egypt are only a small piece of a much larger Russian strategy aimed at building a new regional order in the Middle East. It is a multi-dimensional strategy including military, economic, financial and industrial (huge infrastructural) projects. This Russian approach in some ways marks a return to the Soviet policy toward Cairo (and more broadly Africa and the Middle East), but with a major difference—it is much more flexible than during the Cold War. Considering the underlying security dimensions defining the Russian-Egyptian relationship, Moscow's role here—including in the Suez Canal—deserves closer scrutiny, with an eye toward the ongoing shift in the correlation of forces in the region.