The Economic and Geopolitical Implications of Iran and Azerbaijan's Recent Engagement
Publication: Eurasia Daily Monitor Volume: 13 Issue: 47
By: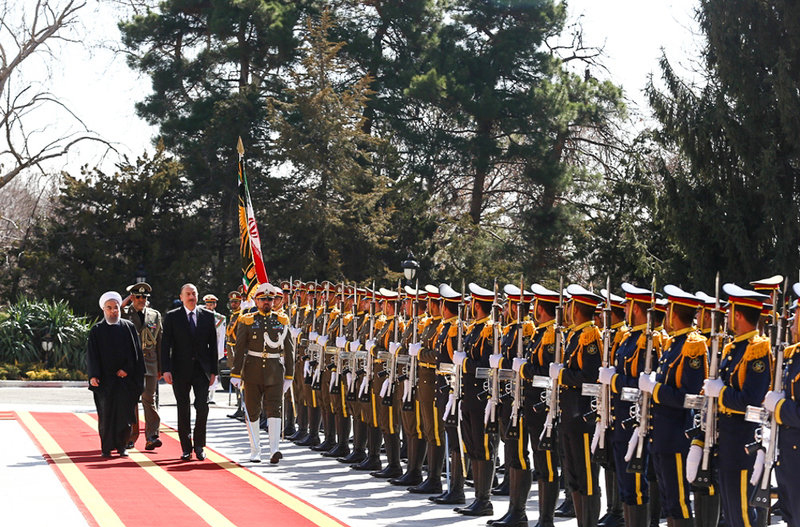 On February 23, Azerbaijani President Ilham Aliyev visited Tehran, where he met with his Iranian counterpart, Hassan Rouhani. Notably, the two presidents signed 11 memoranda of understanding (MoU) across several areas of cooperation, including energy, the economy and transport (IRNA, February 23). But the timing of the visit seems to hold particular importance as well: following the lifting of international sanctions on Iran, all three South Caucasus countries want to benefit from this new regional economic environment though intensive cooperation. And this is clearly also true for Azerbaijan. So although few details are publicly available regarding the newly signed MoUs between Iran and Azerbaijan, reports of these agreements nevertheless reveal the contours of Baku's cooperation with Tehran, as well as how regional competition is playing out in this regard.
One key bilateral accord signed by Aliyev and Rouhani was the framework agreement on coordination of railway networks, which deals with the completion of the North–South transport corridor linking Astara (Azerbaijan) with Rasht and Qazvin (Iran). This railway will ultimately connect Iran and Azerbaijan with Russia. For Azerbaijan, the economic benefits are one key factor. According to estimates, the transit distance and delivery times of goods will be three times lower, and the price of delivery through this corridor will become more competitive (Trend, February 29). But it is also important to note the geopolitical significance of this agreement; the North–South transport corridor essentially undermines any possible economic argument for building railway links between Iran and Armenia. The overall cost of the proposed Iranian-Armenian railroad project is close to Armenia's entire annual state budget (see EDM, February 2, 2015). The North–South transport corridor not only bypasses Armenia but also connects with Russia, thereby eliminating the possibility of reopening the Russian-Georgian railway though Abkhazia, which Moscow has pushed for. The latter route would create competition for the new east–west railway line from Baku to the Turkish city of Kars, running through Tbilisi (the BTK railroad).
During President Aliyev's visit to Tehran, another important agreement was signed on the construction and operation of hydroelectric power plants. However, in public, the emphasis was placed on the other aspect of energy cooperation, namely the agreement to develop a bilateral "oil swap" mechanism (Presstv.ir, February 27). In fact, this type of oil swap between Iran and Azerbaijan has only worked once, during the 2008 Russian-Georgian war. When Baku's westward export route (the Baku–Tbilisi–Ceyhan oil pipeline—BTC) was temporarily closed, Azerbaijan exported crude oil through Iran's port in Neka, on the Caspian Sea; in exchange Iran supplied oil to Azerbaijan's foreign customers via the Persian Gulf. However, setting up a new oil swap mechanism offers little benefit to Baku in the longer term, given there are currently no obstacles to Azerbaijan's exports to the West. Nevertheless, one Azerbaijani official has suggested that one possible "oil swap" agreement could involve supplying Iran with gasoline and, in exchange, buying naphtha and liquefied petroleum gas (LPG) from the Islamic Republic (Reuters, February 23).
However, beyond the oil swap deal, there are a number of more promising aspects. The State Oil Company of Azerbaijan (SOCAR) reached several MoUs with the National Iranian Oil Company and the Tehran-based Ghadir Investment Company, outlining the scope of joint exploration in the Caspian. The Iranian North Drilling Company (NDC), which specializes in the implementation of projects in the Caspian Sea, subsequently declared its interest as well (Azernews.az, February 25). This is important because the NDC is conducting drilling activities in the offshore Sardar-e Jangal oil and gas field. Discovered in 2012, the Sardar-e Jangal field is situated between Azerbaijani and Turkmenistani territorial waters, not in the Iranian zone (IranOilGas Network, January 27, 2015; Eurasianet.org, June 19, 2012). Regardless, Iran has been using its political and military muscle to explore this new oil and gas field, which might contain 10 billion barrels of crude oil potential. Along with Sardar-e Jangal, Iran and Azerbaijan are also in dispute over ownership of the Araz-Alov-Sharg fields, following a confrontation in 2001. Since then, there have been several unsuccessful attempts to reach a solution. Tehran sees those fields as disputed and closed for exploration pending the resolution on the legal status of the Caspian Sea. Therefore, the ball is in Iran's court; it needs to redraw its "red line" on linking the exploration of disputed oil and gas fields and reaching an ownership agreement with Azerbaijan. Without such an agreement on ownership, it suits Tehran to agree to a joint venture, which will effectively help legalize Iran's claims to these two fields. For Azerbaijan, given its current economic struggles and its need for additional gas supplies (see EDM, January 22, February 1, March 4), this kind of cooperation offers substantial benefits.
Looking at the broader regional context of the Azerbaijani president's visit to Iran, two important developments play to Russian interests even more than Iran's. On the one hand, Russia is using the Azerbaijani-Iranian transport talks as a pretext to propose a trilateral meeting of their foreign ministers (APA, February 29). This type of trilateral ministerial-level format is something of a Turkish foreign policy trademark in the region. Thus given the current standoff in Russian-Turkish relations, coupled with Tehran's own anxiety toward Ankara, this development appears to be a joint initiative by Moscow and Tehran, potentially aimed at weakening Turkey's active diplomacy in the South Caucasus. Baku has little room for maneuver in this respect.
On the other hand, Azerbaijan's position on the Syrian intervention is becoming an important question. Until now, Baku showed no urgency to join any of the antiterrorist coalitions operating in the region—including those headed by Saudi Arabia and supported by Turkey. During President Aliyev's visit to Iran, the Syrian question was also discussed. A day later, Putin and Aliyev talked about the Syrian issue by telephone (News.az, February 25). All this suggests that Tehran and Moscow are both hoping that Baku will not align itself with the Saudi-Turkish position or, at worst, will take a position of non-interference.
The Azerbaijani head of state's recent visit to Iran and the resulting new MoUs promise to bring economic benefits in the near future. However, the developments before and after the visit demonstrate that wider state interests are in play. Clearly, both Tehran and Moscow are seeking to use economic projects to strengthen their political ambitions in the region.