The 'Russian Columbine' Shooting in Crimea Highlights Youth Radicalization, Proliferation of Firearms
Publication: Eurasia Daily Monitor Volume: 15 Issue: 149
By: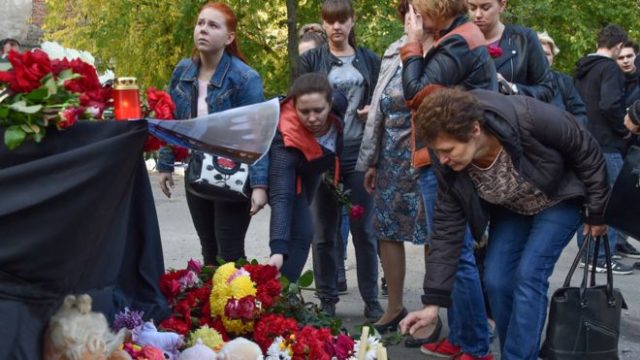 On October 17, 18-year-old student Vladislav Roslyakov walked into his polytechnic school in the Russian-occupied Crimean town of Kerch, ascended to the second floor of the building and opened fire from a rifle. Roslyakov had planned the assault so that an explosion would go off at the same time, thus adding to the casualty rate as well as confusion. Following his rampage, Roslyakov committed suicide, shooting himself with the same weapon he had used to carry out the assault. In total, Roslyakov killed 21 people and injured more than 40 (Novaya Gazeta, October 17). While such tragic incidents have been occurring repeatedly in schools across the United States, the October 17 tragedy became the largest mass shooting at a Russian school in recent history, leading some to quickly label it the "Kerch Columbine" (a reference to the Colorado high school where a mass shooting took place in 1999).
In the confusion following the Kerch school shooting, sources floated numerous conspiracy theories, ranging from a terrorist act carried out by Ukrainian authorities (considered especially feasible in the Russian media due to Kerch being the western end-point of the new bridge Moscow is building from Crimea to the Russian mainland) to one perpetrated by the Islamic State. Yet, the current investigation suggests Roslyakov was a lone wolf and had been radicalized by his fascination with the Columbine killers in addition to punk rock, anarchism, and anti-fascism. Reports suggest that Roslyakov was even dressed like Eric Harris and Dylan Klebold, who shot so many in Colorado nearly twenty years ago (Novaya Gazeta, October 17). Others have pointed to the fact that his VKontakte online social network page contained numerous bleak messages such as "only the good die young" and calls for violence (Vesti, October 18). Still others pursued a line of inquiry focusing on where Roslyakov obtained his gun and bomb-making skills. Notably, Yevgeny Satanovskii, from the Moscow-based Institute of the Middle East, claimed that there are always organizers behind such incidents and that the narrative of a single student arranging this massacre does not hold water (Infox.ru, October 18). Yet, no matter what the investigation discovers over the coming weeks and months, the Kerch tragedy suggests two important lessons about contemporary Russian society.
First, the Kerch massacre was not the first assault, or even shooting, at a Russian school this year. On May 10, a 17-year-old student at the Lunina technical transport college, in the Novosibirsk town of Barbinsk, entered his classroom with a smooth-bore gun and shot a fellow student before killing himself. Evidence soon emerged of online radicalization, as the student was a member of online groups promoting Nazi ideology (RIA Novosti, May 10). Nor have such school attacks in Russia been limited to killings using firearms: on January 14, just a few days after the end of winter vacation, two teenagers walked into School No. 127, in Perm, and proceeded to stab their schoolmates and teachers, injuring 15 (RIA Novosti, January 15). Reports differ as to the motive of those attackers, with some suggesting that at least one of the students had been a patient at a local mental hospital (RBC, January 15) and others saying the fight was a result of personal animosities between the students (RIA Novosti, January 15). Finally, on January 19, a ninth-grader armed with an axe and a Molotov cocktail attacked his classmates in the Buryatian city of Ulan-Ude, injuring seven people (including the attacker). The investigative committee found that the attacker had planned the assault with two other students who "shared the mood of the accused, knew about his plans, helped to make the incendiary bottle, ensured the students were in the class, and then kept watch to ensure no one detected their criminal intentions" (Novaya Gazeta, January 24). Undoubtedly, many other violent attempts never succeeded and so failed to attract media attention. Nonetheless, As a result of this string of attacks, numerous Russian schools have been following the US model and begun to install metal detectors and video cameras as well as hiring professional security guards (RT, January 23). Moreover, it is possible to discern a worrying trend in the radicalization of Russian youth, which is possibly being exacerbated by a domestic legal-political system that encourages dissimulation and restricts opportunities for open debate.
Additionally, the proliferation of weapons in Russia over the last two years has been pouring gasoline on the fire. The ongoing conflict in the North Caucasus, as well as the Kremlin-provoked war in eastern Ukraine, have resulted in many more firearms appearing on the streets across Russia (see EDM, April 11, 2017). For a society largely used to Euopean-style restrictions on gun ownership—i.e., banned for most people, although Roslyakov reportedly obtained his weapon via a legal permit on September 8 (Vesti.ru, October 17)—the growing appearance of weapons in Russian cities can be quite alarming. The horrible tragedy that occurred at the Kerch polytechnic school last week has served to put this reality in sharp focus.
It should be noted that news of mass shootings have become prevalent in many countries, notably the United States. From the Dunblane primary school shooting in Scotland in 1996 to the 2011 assault of Anders Behring Breivik on Norway's Utoya Island, seemingly no country has been entirely safe. Still, the Russian manifestation of this global phenomenon of online extremism translating into public mass shootings holds some important precautionary lessons for the authorities.