Belarus's 'Neutral' Role in the Russo-Ukrainian War (Part Two)
Publication: Eurasia Daily Monitor Volume: 20 Issue: 68
By: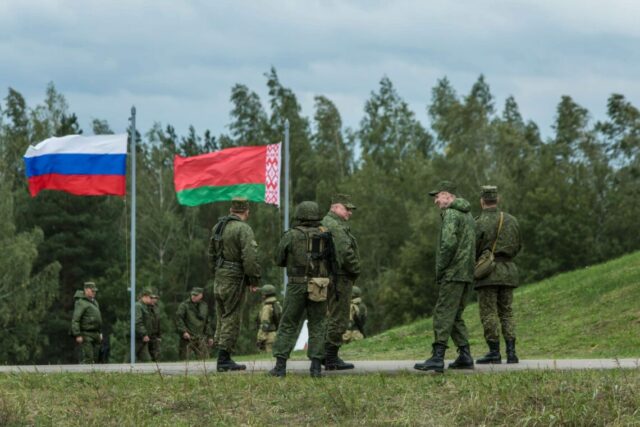 As Belarus seeks to maintain its "neutral" position in Russia's war against Ukraine, it is clear that Minsk is keen to mobilize recruits for military training and address key questions of manpower and equipment shortages (Ukrainska Pravda, February 26, March 14). In this, it should be noted that the continuous military exercises on Belarusian territory are still underway. These exercises entail not only an increase in the combat capability of units from the Belarusian Armed Forces but also the coordination and training of soldiers from the Russian Armed Forces. Currently, artillery and missile units of the Belarusian army are actively engaged in field training as well as combat exercises at a number of joint Belarusian-Russian training grounds.
At the Osipovichsky training polygon, a camp has gathered with artillery and missile units of Belarus's Northwestern Operational Command. Among those groupings participating in exercises at this site include: the 231st Artillery Brigade, 191st Artillery Regiment of the 19th Mechanized Brigade, 310th Artillery Regiment of the 120th Mechanized Brigade and 51st Artillery Brigade. For their part, servicemen of the 1st Howitzer Battalion (with 122-millimeter 2S1 Gvozdika self-propelled howitzers) engaged in direct-fire practice with fixed targets during practical exercises. The crews of the heavy howitzer battalion (with 152-millimeter Msta-B howitzers) engaged in direct- and indirect-fire exercises, launching from a number of positions at various ranges. Exercises regarding the reconnaissance of targets and the adjustment of fire have been carried out by the Russian-made Superkam S100 unmanned aerial vehicle of the 120th Mechanized Brigade (YouTube, March 17).
At the Gozhsky training grounds, a number of Belarusian units have engaged in a large-scale simulated field exercise. These include; the 841st Artillery Regiment of the 11th Mechanized Brigade, howitzer battalions (with 2S1 Gvozdikas and 152-millimeter 2S3 Akatsiya self-propelled guns), a fighter jet division (with Grad Multiple Launch Rocket Systems) and mortar units (with towed 2S12 Sani mortars). As part of the field training, classes were held on direct and semi-direct fire as well as on tactical and special operations measures. Additionally, the 350th Artillery Regiment of the 6th Mechanized Brigade has been involved, undergoing a comprehensive control exercise with live fire (Fakty.com.ua, February 26).
At the Brest training polygon, subdivisions of divisions within the 111th Artillery Brigade have carried out various field exercises (with Msta-B howitzers and 152-millimeter 2S5 Giatsint-S self-propelled guns). During training, combat fire and control exercises were conducted. As part of these exercises, not only conscripts and contract servicemen but also reservists participated to improve and maintain their skills on the battlefield. Furthermore, a tactical exercise was conducted with a mixed artillery battalion of the 103rd Airborne Brigade under the leadership of the brigade commander (YouTube, March 19).
From this, it is apparent that practically all artillery and missile units of the Belarusian Armed Forces are involved in some form of combat training: artillery regiments of mechanized brigades, artillery brigades of operational commands, as well as units from the Special Operations Forces.
Additionally, Belarus has been working to strengthen weak points within its armed forces. On March 23, the Belarusian Ministry of Defense reported that a new anti-aircraft missile regiment had been formed. It was announced that the regiment's permanent deployment point would be Luninets air base in the Brest region (T.me/modmilby, March 23). According to the government procurement portal, this regiment has been assigned unit number 10198 (Goszakupki.by, April 6). According to open-source data, along these lines, the 56th Anti-Aircraft Missile Regiment has been revived at Luninets. Previously, the 56th Anti-Aircraft Missile Brigade (military unit 01851, equipped with Buk surface-to-air missile systems) was deployed in Slutsk. However, at the end of 2014, the brigade was disbanded.
Judging by photos published by the Belarusian Ministry of Defense, it appears that this revived regiment has been equipped with S-300PS surface-to-air missile (SAM) systems. Most likely, the equipment (at least one division) came from another air defense unit within the Belarusian Armed Forces. It is also possible that the regiment was supplied with S-400 SAM systems as well. Earlier, in December 2022, it was reported that Belarus had received additional S-400 SAM systems from Russia that would be enough to form a regiment (Motolko.help, March 23).
Information about the naming and armaments of the regiment in question, as well as its staffing with servicemen from other units of the Belarusian Air Defense Forces, was confirmed by the 15th Anti-Aircraft Missile Brigade, as a number of servicemen from this brigade were transferred to the 56th Anti-Aircraft Missile Regiment for service (Fanipol.by, March 23).
Moreover, plans to deploy a new military unit at Luninets air base has been announced earlier in late January 2022, during Belarusian President Alyaksandr Lukashenka's visit to inspect facilities there. With Russian help, construction to expand the airfield started in early 2022 and carried on for the rest of the year (Svaboda, August 17, 2022). In addition to expanding the airfield, a residential building with 72 apartments was built to house the new regiment's servicemen. Thanks to data on government procurement of food, information about the deployment of the 56th Anti-Aircraft Missile Regiment at Luninets was confirmed in February 2023.
It should also be mentioned that mobilization efforts are ramping up for the Belarusian Armed Forces. For example, the head of the Belarusian Security Council, Alexander Volfovich, recently proposed conscripting students based on the experience of the Soviet army. Conscription of students into the Soviet army was carried out from 1982 to 1989. At the time, this solved the demographic problems with military recruitment for the ongoing war in Afghanistan. Yet, according to open sources, this approach seriously undermined the Soviet Union's potential human capital. Overall qualifications of college graduates decreased, and roughly 15 to 20 percent of those drafted did not return to their places of study (Belta, April 10
The renewed focus on mobilization efforts is a consequence of the experience with military operations in Ukraine. Both Russia and Belarus have come to the conclusion that a modern war can only be won by having a fully mobilized army, consisting of reservists with solid experience and strong strategic backgrounds (see EDM, June 14, 2022; April 13)
Thus, at the moment, the Belarusian army is not ready for the high-intensity combat operations that are now taking place on the Ukrainian battlefield. Even so, Minsk continues to chart a course to be better prepared for war. Studying the experiences of Russia and Ukraine, Lukashenka expects to approach the conflict as prepared as possible. Therefore, at the expense of some government budgets, uniforms are purchased and tenders are held for the repair of armored vehicles and the purchase of drones (see EDM, March 30).
Nevertheless, it will be problematic for Minsk to mobilize the required number of recruits necessary to fully staff its brigades. While Belarus may not approach a potential conflict comparatively better than Russia, it is necessary to take into account the current intensity of training for the Belarusian Armed Forces. If this intensive approach continues, it is likely that by the end of 2023, Belarus will be able to deploy battle formations faster than the Russian Armed Forces.