Belarus's Sovereignty and Russia's Brotherly Embrace
Publication: Eurasia Daily Monitor Volume: 16 Issue: 1
By: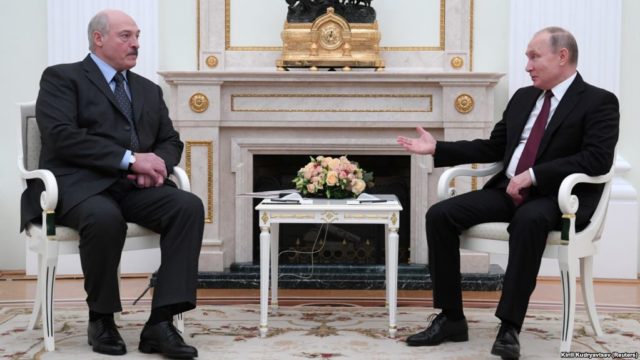 In just the month of December 2018, Presidents Vladimir Putin of Russia and Alyaksandr Lukashenka of Belarus met three times: in St. Petersburg on the 6th (see EDM, December 12, 2018) and in Moscow on the 25th and 29th. On the two last occasions, they negotiated over various economic and political matters for more than three hours. No official statement has been issued aside from an agreement to create a joint taskforce on the Russia-Belarus Union State.
To be sure, as early as December 14, during his traditional (14th) meeting with Russian journalists (80 journalists from 44 Russian regions), Lukashenka accused the Kremlin of a willingness to annex Belarus in exchange for cheap oil (EaDaily, December 14, 2018). He pledged to develop ties with Russia while being vigilant of its attempts to deprive Belarus of sovereignty. This statement was made on the heels of the meeting of Russian Prime Minister Dmitry Medvedev with his Belarusian counterpart, Sergei Rumas, in Brest (Sputnik.by, December 13, 2018). Not only did the two heads of government fail to sign the seemingly finalized agreement on mutual recognition of visas issued to citizens of third countries (see EDM, December 5, 2018), but Medvedev also declared that further financial support for Belarus will only be delivered once key provisions of the 1999 Union State agreement between Russia and Belarus are implemented. These include a single currency, joint customs, and a shared audit chamber. Labeled "Medvedev's ultimatum" in the media, this declaration led to an escalation of mutual rhetoric. For example, Russian Finance Minister Anton Siluanov suggested that Russia had never promised to compensate Belarus for its so-called oil "tax maneuver," which makes Russian oil vastly more expensive for Belarus (see EDM, September 11, 2018). He added that Belarus continues to smuggle banned European foods into Russia, that Belarus's pricing on cigarettes deprives Russian producers of profits, and that, overall, Moscow has lost trust in Belarus (RIA Novosti, December 25, 2018).
Still, considering the long-established tradition of Russia and Belarus resolving their most difficult bilateral issues through direct presidential contacts, Putin and Lukashenka's repeated failure to do so in this case was perplexing. And between Christmas and New Year's, both sides unprecedentedly took to openly commenting on the results of the two first December summits. In his New Year's address, Lukashenka stressed the necessity to defend Belarus's sovereignty (YouTube, December 31, 2018). Then, on January 9, during the annual Spiritual Revival award ceremony, Lukashenka uncharacteristically spoke Belarusian for more than two minutes. Purists did not fail to observe that Lukashenka's Belarusian is organic and superb (Svaboda.org, January 10, 2019), that is, devoid of Russian phonetical intrusions that Russophone people who learned Belarusian as adults are rarely able to shed.
Finally, on January 10, Lukashenka's pronouncements acquired clarity. At an ad hoc meeting devoted to Belarus's economic development in 2019, Lukashenka instructed the government to find ways to compensate the Belarusian budget, to the tune of $10.6 billion by 2025, for the consequences of Russia's "tax maneuver" within the framework of bilateral Belarusian-Russian exchange. That would imply charging Russia more for something yet to be identified (Belta, January 10, 2019). Moreover, Lukashenka declared that "should the Russian leadership choose to lose its only ally between Russia and the West, that will be their choice." With this in mind, he suggested his government should determine alternative sources of oil that would make it to Belarus through Lithuanian and/or Latvian ports (Belta, January 10, 2019). Commenting on this suggestion, Lenta.ru published an article under the telling title "Lukashenka Threatened Russia" (Lenta.ru, January 10, 2019).
In the meantime, a number of vociferous voices stoked passions from the Russian side. Thus, the flamboyant, nationalist populist politician Vladimir Zhirinovsky declared baselessly that, if a referendum were conducted in Belarus, the overwhelming majority would vote for unification with Russia (Svaboda.org, December 17, 2018). In turn, Andrei Illarionov, a former advisor to Vladimir Putin, averred that, "the absorption of Belarus has already begun" (Illarionov.livejournal.com, December 21, 2018). Similar opinions were shared by the author Dmitry Bykov (Baj.by, December 26, 2018) and the popular actor and socialite Mikhail Efremov, who recited, on Russian TV Channel One, a mocking poem. One stanza read, "Crimea has returned to its native harbor, now it is Minsk's turn" (Svaboda.org, December 24, 2018).
Some others also sought to cool passions. Thus, Dmitry Peskov, the Kremlin's press secretary, announced that nobody is entertaining the idea of Belarus joining Russia (Tut.by, December 29, 2018). And in a lengthy interview to TASS, Mikhail Babich, Russia's ambassador to Belarus, stated that Russia's aid to Belarus equals $4 billion–$4.5 billion per annum. Whereas, compensating Belarus for Russia's tax maneuver and selling natural gas at $70 per 1,000 cubic meters would amount to an additional $3 billion–$4 billion. According to Babich, if hydrocarbons are subtracted from mutual trade, then it is Russia, not Belarus that has a trade deficit. Processed foods (mostly dairy) accounted for 14.7 percent of Belarus's $12.8 billion export to Russia in 2017. Though this import category may soon be phased out as Russia's own food sector is developing fast, Babich claimed (TASS, December 17, 2018).
A credible line of counterattack for Belarus is that cost accounting alone, divorced from geo-strategy, is ill suited for brotherly relationships. It is in that sense, that Lukashenka once called Alexei Kudrin, then Russia's finance minister, a "storekeeper" (Lenta.ru, June 2, 2009). In his interview to the Japanese NHK TV, Belarusian Foreign Minister Vladimir Makei actually referred to "superficial and contrived cost-accounting" that occasionally become an obstacle to Russia and Belarus's relationship (Mfa.gov.by, December 19, 2018).
It is unclear if this argument is still valid in the Kremlin's eyes, especially considering that Minsk has not ensured tangible financial support from the West and may, therefore, be seen as cornered. However, in the opinion of usually level-headed Artyom Shraibman, Tut.by's political commentator, Minsk should by no means blink first: i.e., it should not commit itself to tighter integration with Russia. Otherwise, rumors of Putin becoming the president of the Union State in 2024 and thus extending his tenure beyond constitutional limits (for the president of Russia) may prove accurate. Instead, Minsk ought to just be grateful that Moscow's tax maneuver is to be applied incrementally over the course of six years, giving Belarus some time to reform its economy (Tut.by, December 26, 2018).
In any case, current developments are reminiscent of those of 2010, when Russia did blink first following Belarus's attempt to secure alternative (Venezuelan and then Azerbaijani) sources of oil. What will happen this time around remains to be seen.