Facing Few Obstacles and Scant Pushback, Russia Keeps Advancing in Africa
Publication: Eurasia Daily Monitor Volume: 17 Issue: 19
By: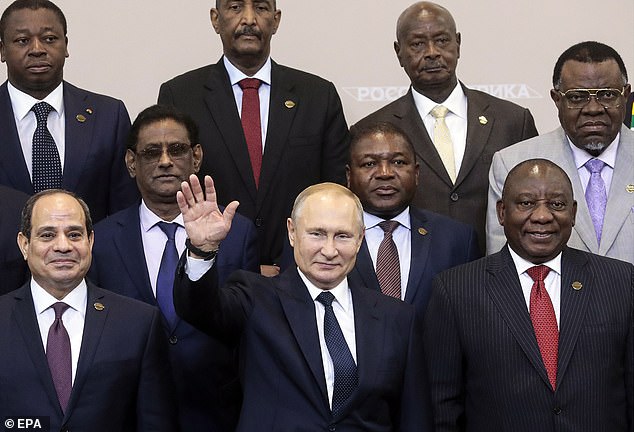 According to numerous analyses published by think tanks and journals in the United States and Europe, Russia lost its African adventure before it even started. Purportedly, Russia lacks the resources with which to compete in Africa against the United States and China, acts there in a ham-handed and overly corrupt manner, deals only with backward authoritarian states, has nothing to sell but arms, and is primarily motivated by economic rather than strategic objectives (Difesa.it, June 2019; Ifri.org, April 2019; Carnegieendowment.org, October 16, 2019). Despite these expert assertions, however, this is assuredly not how US African Command (AFRICOM) evaluates the situation.
In his testimony to Congress, AFRICOM head General Stephen Townsend, made clear that his Command's threat assessments see Russia (and China) continuing to seize all available opportunities to expand its influence in Africa. According to General Townsend, those activities are destabilizing and, extensive arms sales notwithstanding, do little to counter the epidemic of insurgency and terrorism endemic to places like the Sahel (Africom.mil, January 30, 2020).
So far, little has stood in the way of Russia's unremitting pursuit of influence across Africa. The country's state-owned oil major Rosneft is already in Egypt, Nigeria, and Mozambique (Aawsat.com, August 15, 2019; Rosneft.com, May 25, 2018; Nezavisimaya Gazeta, October 30, 2018); and the Democratic Republic of the Congo (DRC) is now negotiating with the energy giant for investment there (Oilprice.com, January 12, 2020). Equally importantly, Lukoil, which is already invested in Nigeria, has teamed up with Saudi Arabia's state energy champion Aramco to find new joint petroleum-and-natural-gas-sector opportunities in Africa (Interfax, October 23, 2019). Lukoil (along with geological exploration company Rosgeologiya) is also active in Equatorial Guinea; and this Russian oil firm has additional presence in Egypt, Ghana, Cameroon and the Republic of the Congo (Realnoe Vremya, January 16, 2020; Baobab.news, November 18, 2019; Spglobal.com, October 22, 2019; Lukoil.com, June 6, 2019). Moreover, reports are circulating of the imminent announcement of a deal involving Lukoil and the Russian steel pipe manufacturer TMK, which are pursuing a contract to lay an oil-products pipeline in west-central Africa. This pipeline will presumably connect the port of Pointe Noire (Republic of the Congo) to the Maloukou Terminal outside Kinshasa (DRC) and carry gasoline, diesel as well as aviation kerosene (Kremlin.ru, May 23, 2019; Oilprice.com, January 12, 2020). These deals only represent a fraction of the existing projects now being negotiated across the continent. Nor is Russia's influence exclusively connected to energy or other natural resource extraction sectors (Baobab.news, November 18, 2019).
For example, Russia has either sold or is negotiating the sale of nuclear reactors to African countries. Moreover, it has sought to secure partners and enablers in these African ventures. According to New Delhi's ambassador to Moscow, Venkatesh Varma, India may cooperate with Russia to build nuclear power plants and reactors in Africa and the Middle East (RIA Novosti, January 22, 2020). Not only are Russian nuclear exports booming (Rosatom.ru, December 27, 2018; The Moscow Times, May 9, 2019), Rosatom has solicited contracts from dozens of African countries and is working in at least ten regional states to win contracts to sell them nuclear power because they create "jobs at home and decades-long relationships" (The Moscow Times, August 29, 2019; Rosatom.ru, June 19, 2017, August 24, 2018, February 28, 2019; Daily News Egypt, April 15, 2019; Thisdaylive.com, January 8, 2019; Africa Times, January 27, 2020).
Moscow's efforts to penetrate Africa include illicit activities as well. Russian-speaking hackers are now reportedly attacking Sub-Saharan banks to use them as venues for money-laundering and to gain positions of influence and power in those countries (The South African, January 14; Albawaba.com, January 26). The Russian government has a long history of relying on criminal non-state actors to pursue state interests abroad (see EDM, May 2, 2014).
Finally, there is the vast military dimension of Russia's Africa policy (see EDM, October 22, 2019). It has long been known that arms sales to Africa comprise a substantial part of Russia's overall weapons export revenues. Notably, Russia has long had established arms sales relationships with North African countries like Algeria, Egypt and Libya, and those bonds are continuing (Euromesco.net, April 1, 2019). But Moscow is also branching out. In October, 2019, Russia sold Nigeria a dozen helicopters to help it fight against Boko Haram (Geopolitical Monitor, December 16, 2019). Additionally, Moscow has sold weapons to the DRC and the Central African Republic, where it additionally deployed both private and regular military forces (see EDM, January 23, 2019; Jamestown.org, January 10, 2020). And Moscow certainly believes that its non-military endeavors, like the major conference it convened at Sochi in 2019 with African leaders, will lead to even more arms sales (see EDM, September 18, October 22, 28, 2019).
The military dimension of Russian policy toward Africa also comprises exercises. Here again, it has an important outside partner: China. Illustratively, in late 2019, the Russian, Chinese and South African navies conducted joint, trilateral maneuvers off the coast of Cape Town. Beijing declared that these exercises "fully demonstrate our determination to work with partners to deal with maritime threats and challenges, safeguard world peace and maritime safety and build a marine community with a shared destiny" (South China Morning Post, November 27, 2019). Meanwhile, the South African military's spokesperson stated that the exercises with Russian and Chinese partners would contribute to "the maritime economy, interoperability and mending of relations between the participating navies" (Xinhua, November 26, 2019).
The last element of Russia's military outreach to the continent is a chronic pursuit of naval and air bases. Moscow is not only seeking bases throughout the Mediterranean basin, but has now also acquired a base in Berbera, Somalia, on the Gulf of Aden, and also looks to develop a naval logistics center in Eritrea (UNIAN, January 30, 2020; Interfax, August 31, 2019). The Central African Republic, which now depends on Russian forces for its security, has also apparently offered Russia a military base on its territory (see EDM, January 23, 2019).
Considering all the above-cited developments and trends, dismissals of Russia's multi-dimensional initiatives across Africa lack merit. In fact, Moscow's strategy on this continent utilizes all instruments of Russian state power—including, economic deals, defense cooperation, educational exchanges, illicit or semi-legal operations, as well as information warfare (see EDM, December 10, 2019)—and no amount of Western condescension or neglect will stop it. Moreover, Moscow clearly has allies or partners here. India, China, the United Arab Emirates and Saudi Arabia, to one extent or another, have all joined forces with Russia to advance their interests in Africa. Based on this evidence, complacency about Russian tactics and strategy is not only misconceived but also unwarranted.