The Kremlin's Game in the CAR: What Does the Façade Conceal?
Publication: Eurasia Daily Monitor Volume: 16 Issue: 7
By: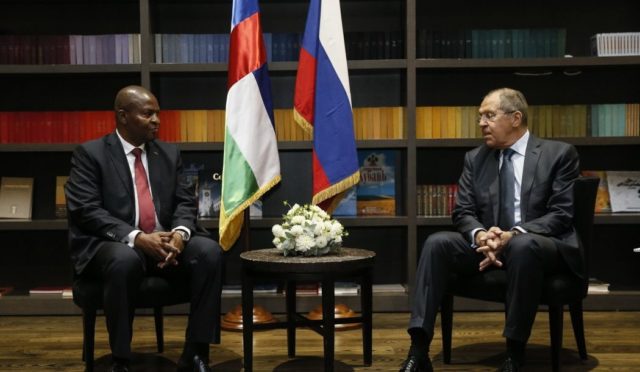 The minister of national defense of the Central African Republic (CAR), Marie-Noëlle Koyara, stated, on January 10, that a Russian military base might soon be created in the country (Business-gazeta.ru, January 10, 2019). If so, this step would usher in a qualitatively new phase in Russia's "turn to Africa" policy, with war-turn, economically broke and politically unstable CAR becoming Russia's new geopolitical base and a point of entry to the wider continent.
Russia started to demonstrate far-reaching interest in the CAR as early as October 2017, when Russian Foreign Minister Sergei Lavrov met in Sochi with the country's President Faustin-Archange Touadéra. And throughout 2018, Moscow took its first concrete steps toward cementing the nascent alliance. First, it increased its military support for the CAR with a significant shipment of weaponry (RBC, December 14, 2018) and sending in a number of military instructors (see EDM, April 30, 2018; September 4, 2018). Second, Russia intensified bilateral diplomatic ties and military cooperation with the African state. In May, President Touadéra appeared at the St. Petersburg International Economic Forum as a special guest of Vladimir Putin (Kremlin.ru, May 23, 2018), which was viewed in Paris as a challenge to traditional French influence over this part of Africa (France 24, August 8, 2018). Subsequently, in August, during the Army-2018 international military-technical forum (held in Kubinka), Defense Minister Sergei Shoigu signed an agreement with his counterpart from the Central African Republic on stepping up Russian training of CAR forces (RIA Novosti, August 21, 2018).
The most controversial aspect of the bilateral relationship is the issue of Russia's so-called "military instructors," who are playing an increasingly important role in the national security architecture of the CAR. Russian sources claim that, in addition to officially deploying 175 personnel to the CAR, Moscow has also sent there "several hundred mercenaries who have fought in Donbas and Syria" (Novaya Gazeta, August 2, 2018). Indeed, photographs taken of President Touadéra on August 15, 2018, captured images of employees of Sewa Security Services—de facto a Russian private military company (PMC) and rumored to be a "branch" of the more well-known Wagner Group. Sewa Security Services is reportedly closely aligned with Lobaye Invest, a firm headed by Yevgeny Khodotov, who in turn is said to have served as the head of security for Wagner Group financier Yevgeny Prigozhyn (Thebell.io, August 15, 2018).
Duma (lower chamber of the Russian parliament) defense committee member Viacheslav Tetekin has argued that a Russian military base in the CAR could become an important precedent, and other African countries might follow suit. He blatantly declared that Russia is ready to dismantle French dominance in this part of Africa. "France is a member of an adverse bloc… we have no obligations toward Paris… therefore, we need take no account of French opinion." Tetekin added that the "Chinese, who are also actively working in the region, pose no danger to Russia" (Vpk-news.ru, January 16, 2019). Leonid Nersiyan, a political commentator for the ultra-conservative Russian media outlet Regnum, declared that, despite "active military cooperation" and "the Wagner group being active in the CAR for long time… the creation of a full-fledged military base will be an extremely serious step that requires deep analysis of risks and opportunities." He also noted that "aside from a serious confrontation with France… Russian interests could clash with the Chinese" (Regnum, January 10, 2019).
It is frequently alleged that Russian is solely concerned with the CAR due to the latter country's vast natural resources, including diamonds, gold and uranium (Inosmi.ru, October 23, 2018). However, the true extent of local gold and diamond deposits is unclear, which raises doubts about the actual economic potential. More likely, Russia's involvement in the CAR is a façade for actions of much greater scope and outreach. Given its geostrategic location (the geographic "heart" of the continent) and the Kremlin's intensified pursuit of opportunities along the Libya–South Sudan–Democratic Republic of Congo–Ethiopia–Somalia–Yemen perimeter, control over the CAR is an indispensable element in terms of expanding Russia's influence throughout the whole of East Africa. Indeed, a closer look at Russia's intellectual debates regarding the continent reveals growing interest in Tanzania, Burundi, Botswana and even Angola, where Russia is already involved in the extraction of diamonds and has ambitions to grow its share in development of hydrocarbons (Valdaiclub.com, March 5, 2018).
Given its relative economic weakness, Russia's strategic outreach in the region is premised on two interrelated pillars: "security export" (eksport bezopasnosti) and asymmetricity. Taken together, these represent a synthesis of Russia's Syrian and Libyan experiences. And that approach has been vividly demonstrated in the CAR.
The former element is concerned with Russia's continued emphasis on participation in local affairs "by invitation of the legitimate political regime" (YouTube, December 19, 2018). At the same time, Russia is mixing diplomacy and threats of force: reaching out to both sides of the conflict (the Christian and the Muslim factions), while hinting at its military potential using the operation in Syria as an example (Tsargrad.tv, October 10, 2018).
The latter element rests on a combination of:
– "Information confrontation": For the past several months, Russia has unleashed a massive anti-French information campaign, which vilifies and ridicules French efforts but "praises Moscow's security-related initiatives as well as the 'thriving' cooperation between the two countries." Russian prestige has grown exponentially, whereas French officials "are no longer invited to any of the official ceremonies carried out in Bangui—an unprecedented phenomenon since the CAR gained independence," the Russian media alleges (Inosmi.ru, December 13, 2018). At the same time, the Russian side has used last summer's assassination of the three investigative journalists in the CAR (see EDM, October 2, 2018) for its own benefit: right after the tragic incident, journalists from the Federal News Agency (closely related to Prighozin's Internet Research Agency and said to have cooperated with the Wagner Group in Syria) made a trip to the CAR and portrayed the country as a no-go zone for Western observers (Tsargrad.tv, October 29, 2018).
– Exploitation of Western mistakes: Russia sharply contrasts the failure of France's massive Operation Sangaris and inefficient allocation of economic aid (France is said to be providing the CAR with 130,000,000 euros annually—a third of the local GDP) with Moscow's supposedly decisive, timely and concrete (at least on the surface) actions.
Russia's "comeback to Africa" is clearly gaining steam, and the CAR is a prominent testing ground for its broader strategy.