Kremlin Cover-Up of Murdered Russian Journalists in Central Africa Expands
Publication: Eurasia Daily Monitor Volume: 15 Issue: 138
By: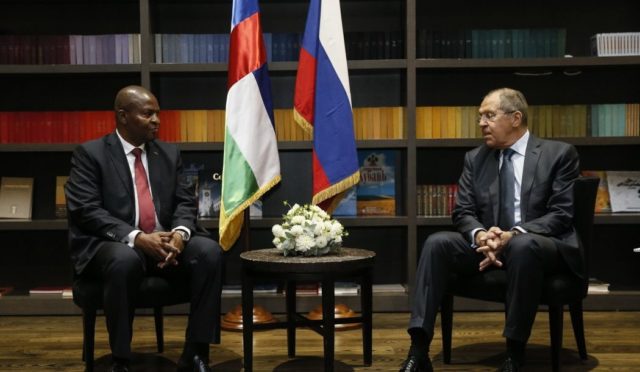 The Kremlin has seemingly taken another step to cover up the murders of three Russian journalists who were killed at the end of July in the Central African Republic (CAR), while investigating Moscow's dispatch of weapons there. Pyotr Verzilov, an activist linked with the Russian punk-rock group Pussy Riot, recently told Germany's Bild that he was forced to flee Russia after being poisoned by a person unknown to him. This attempt on his life, Verzilov believes, was taken by the Russian security services because he had been given a report about the journalists' investigations. That—and not his own critical writings on the World Cup, which Russia hosted this summer—was behind the security services' actions, he claimed (Bild, September 26).
If Verzilov is correct, his assertion suggests Moscow has far more to hide in the CAR and is prepared to act quickly and harshly to make sure those secrets stay hidden. All along, the Russian government has vociferously denied any involvement in the widely publicized murders of the three journalists, Orkhan Dzhemal, Aleksandr Rastorguev and Kirill Radchenko. And Russia has announced it had opened its own "investigation" into the deadly incident. At the same time, however, officials and Russian analysts have gone out of their way to deny that Russians in the CAR were in any way responsible for the reporters' deaths or that Moscow was acting covertly to undermine what stability there is in that country or anywhere else in sub-Saharan Africa (see EDM, September 4).
Verzilov's charges suggest, at a minimum, that it is time for another look. For one thing, Moscow already acknowledged that it has 170 private military company instructors in the CAR, and it has admitted that the president of that country agreed to take on a Russian citizen, Valery Zakharov, as his national security advisor. Notably, Zakharov will have responsibilities that include talks with the various armed groups competing for power in the CAR and also for exploiting that country's natural resources of gold and uranium, which Russia is vitally interested in (Newizv.ru), August 13).
That said, what Moscow still has not acknowledged—and what the three journalists told others they were investigating just prior to their death—is the flow of Russian weapons into the country. These arms sales may have two potential goals. On the one hand, arms deliveries to the CAR government would help shore up Moscow's influence with the regime. And on the other hand, weapons sent to the government's domestic opponents could help either put pressure on the regime directly or open the way for Russia to take control of key locations where the natural resources of that country are located (but which are not fully under government control). Given how little territory the CAR regime actually controls and how much the independent and anti-government militia groups do, any such flow of Russian guns to them could effectively transform that poor and landlocked African country into a Russian base for further subversion in Africa.
Just how sensitive this issue is for Moscow was signaled by Dzhemal, one of the journalists murdered in the CAR, before his departure to Africa. He reportedly told friends that he was planning to investigate not just the troubles in that country but the dispatch of Russian arms via its own private defense companies and even film these transfers in order to attract attention to what the Kremlin has been doing (New Times, September 28).
Since then, Moscow's Dozhd television launched its own investigation into the murders. One of the media outlet's sources within the Federal Security Service (FSB) said that he had told Dzhemal not to go to the CAR because of the sensitivity of the focus of his investigation. "Unfortunately," the FSB officer said, "he did not listen to me." The television channel added it had information that the three Russian journalists had timed their visit to the CAR to coincide with weapons shipments from Russia. They allegedly had learned from sources in the defense ministry that Russian weapons were going to be transferred to locally operating Russian private military companies, possibly for further distribution, on the day of their arrival (Dozhd, September 28).
Dzhemal knew he was fishing in troubled waters, his friend and fellow journalist Nadezhda Kevorkova, noted, in an interview with New Times. He told her that he feared he would be arrested by Russian police to prevent his trip to Central Africa. Another source told the independent journal that Dzhemal had stopped using his cellphone in advance of his travels, believing it was being monitored by the Russian security services (New Times, September 28).
Following the killing of the three Russian journalists, Russian officialdom has clammed up about not only the triple murder and the arms deliveries but also, according to a defense ministry source Dozhd television cites, about what Russian representatives of various kinds are doing in the CAR. Moscow government spokespeople insist that Russia has the right, under a United Nations Security Council resolution, to deliver arms. But contrary to these claims, UN officials have said that such indiscriminate weapons shipments may lead to "waves of re-arming among the groups now in revolt" against the central government (Dozhd, September 28).
Verzilov's recent declarations, together with the Dozhd and the New Times investigations, strongly suggest that what Moscow wants to hide in Central Africa is unlikely to stay hidden. Indeed, émigré opposition figure and former Yukos CEO Mikhail Khodorkovsky has now announced that his group will be looking into the incident as well (New Times, September 20). If Moscow continues to attack those trying to uncover its activities in the CAR, that will only serve to underline just how involved it is becoming in this fragile African country as well as highlight how prepared Russia is to extend its influence there and more broadly.