Moscow, Beijing Play the 'Pakistan Card' to Crack the Quad Over Ukraine War
Publication: Eurasia Daily Monitor Volume: 19 Issue: 34
By: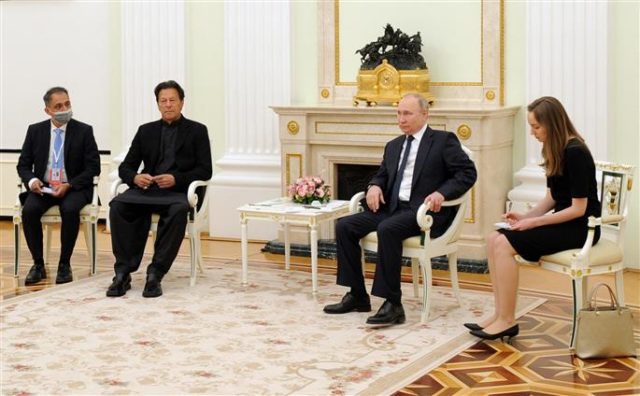 On February 24, Russian President Vladimir Putin met one-on-one with visiting Pakistani Prime Minister Imran Khan in Moscow. The two leaders discussed important regional and bilateral issues in a meeting that lasted more than three hours. Khan's trip to Russia, made at Putin's invitation, was the first by a Pakistani head of government in nearly 23 years (The News, February 24). Yet the timing of his arrival in the Russian capital—a mere hours before the Kremlin ordered its military forces massed on the Ukrainian border to begin the re-invasion—not only raised eyebrows in the West but prompted calls inside Pakistan for Khan to postpone the visit. Critics pointed out that going through with the summit in the middle of the spiraling crisis around Ukraine was sending the wrong signals to the United States and the European Union (Dawn, February 27).
The messaging stemming from the top-level Russian-Pakistani meeting, however, seemed to be aimed not so much at the West as at India. And that message was well received in New Delhi. Despite being a member of the Quad grouping with Australia, Japan and the US, India joined China (and the United Arab Emirates), on February 25, in abstaining from a United Nations Security Council vote on a resolution that would have condemned Russia's aggression against Ukraine. President Joseph Biden's administration continued to try to press India on the issue. But New Delhi even turned a deaf ear to Ukrainian President Volodymyr Zelenskyy's appeal to Indian Prime Minister Narendra Modi, asking for political support at the UN (Dawn, February 26).On March 2, India again abstained (as one of 35 countries) from a vote at the UN, this time on a General Assembly resolution condemning the Russian war and demanding the immediate and unconditional withdrawal of Russian troops from Ukraine (Hindustan Times, March 2). Pakistan also abstained, as did China. Washington had been trying to pressure New Delhi to take a definitive stand on the issue for days. Earlier, Biden declared, "any nation that countenances Russia's naked aggression against Ukraine will be stained by association" (Dawn, February 25).
Putin had opportunely and smartly played the "Pakistan card" by inviting Khan to Moscow, leaving India with no choice but to abstain from voting against Russia on the international stage. Namely, the Putin-Khan summit pushed India—Pakistan's arch rival—into a state of dilemma over the Ukraine crisis of whether to stand with the West against the Kremlin or to walk a tightrope without condemning the Russian war of aggression. The calculation in New Delhi seemed to be that if India stands with the West, it will lose Moscow—its long-time ally and biggest arms supplier—and provide Pakistan with an opportunity to move closer to Russia at India's expense.
The rapidly changing geopolitical realities have brought Pakistan more sharply into focus for Moscow. As one of the closest international partners of China—which has supported Russia over Ukraine—Pakistan thus finds rich opportunities to strengthen its relations with Russia. Some observers in the US have posited that China was actually responsible for arranging the Pakistani prime minister's trip to the Russian capital. The goal, these experts asserted, was specifically to provide the Kremlin with an opportunity to preempt India from joining the West in its denunciation of Moscow's war of aggression against Ukraine (Dawn, March 2).
It is clear, in retrospect, that Khan's Moscow visit and three-hour meeting with Putin strengthened the Beijing-Moscow-Islamabad nexus. That trilateral grouping had actually developed a week earlier, on February 4, during the opening ceremony of the Winter Olympics in Beijing, which was boycotted by the West over China's human rights record. Prime Minister Khan was the second leader, after Russian President Putin, to show solidarity with China amidst the West's boycott. And as widely concluded even at that time, Putin was there to win China's backing for his planned showdown with the US and its Western allies over Ukraine (Express Tribune, February 4; see EDM, December 16, 2021, February 3, 2022, February 7, 2022).
Imran Khan's February 24 visit to Moscow bears strategic significance in no small part to its timing—occurring as it did while the world has been recoalescing into opposing blocs over Russia's attack on Ukraine. If Ukraine has become the litmus test with which to assess the position of other governments—whether they stand with the West or with Russia—then Pakistan can be expected to mirror China's position on the Ukraine crisis. Meanwhile, the successful Sino-Russian courting of Pakistan has pushed India to de facto stand with China by not openly condemning Russia's re-invasion of Ukraine. What the situation has laid bare is that India is not willing to jeopardize its economic-military-technical ties with Russia over closer relations with the West. Therefore, Putin proved somewhat successful in rendering cracks in the Quad over the war in Ukraine by distancing India from the position championed by the other group's members—even though the outcome of Russian aggression in Europe's East is sure to have wider global implications.