Pro-Russia Forces in Ukraine Digging in the City of Donetsk
Publication: Eurasia Daily Monitor Volume: 11 Issue: 127
By: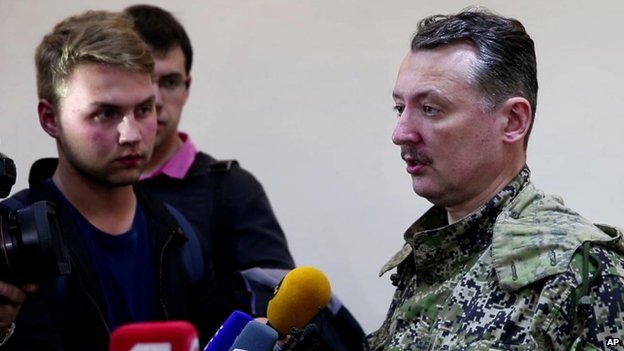 Defeated in Slovyansk and three other districts in Donetsk province on July 5–6 (see EDM, July 10), Russia's proxy forces have regrouped in the city of Donetsk. Anticipating a Ukrainian blockade or siege-type operation, the secessionists are consolidating their military organization, taking shelter behind the civilian population, and mopping up areas still held by pro-Ukraine forces in this city of one million people. The "Donetsk People's Republic's (DPR)" leaders hope to hold out for some months as they had in Slovyansk. Their hopes rest on Russian material support and Russo-German-French insistence that Ukraine negotiate an armistice with Russia's proxies (see EDM, July 10).
Outside Donetsk city, Ukrainian forces now control 13 districts out of 18 in the Donetsk province, as well as 10 districts out of 18 in the nearby Luhansk province. The secessionist-controlled territory is not compact, but shows gaps, and its size is diminishing (the areas around Mariupol and Krasnyi Lyman were liberated in June by Ukrainian forces). Shrinkage of territory should add to all the other considerations for disqualifying Russia's proxies from negotiations with Ukraine. Conversely, seating them at the negotiating table with the Ukrainian government would give the secessionists a new lease on life.
Pro-Russia forces have lost hundreds of fighters in combat around Slovyansk, and abandoned massive quantities of arms there. However, more than one thousand defeated fighters have withdrawn with their arms to the city of Donetsk. Thanks to this influx, Russia's proxies can now terrorize Ukraine-loyal groups into submission. Those groups, gravitating around the industrialist Rinat Akhmetov, still control the Donetsk city hall (mayor Oleksandr Lukyanchenko), a part of the police (under General Kostyantyn Pozhydayev, also linked with Akhmetov), and a few other local institutions. These, however, work literally at gunpoint; and even Akhmetov's loyalty to Kyiv seems to be wearing thin under such pressure. The Ukrainian military retains control of the Donetsk airport outside the city.
The "DPR defense minister," Igor Girkin/Strelkov, has outlined some of his plans in two news conferences and in a "DPR TV" appearance. "DPR prime minister" Aleksandr Boroday, having returned to Donetsk from consultations in Moscow, flanked Girkin/Strelkov at the news conferences, indicating political support for the latter's military measures (Interfax-Ukraine, RIA Novosti, July 7, 9, 10; www.62.ua [Donetsk TV website] cited by Ukraiynska Pravda, July 12).
In line with these measures, "minister" Girkin/Strelkov has additionally taken over the posts of commander in chief of "DPR" forces and city commandant of Donetsk. Moreover, he plans to create a "single military command of "Novorossiya," which would bring the Donetsk and "Luhansk People's Republic's (LPR)" forces under his overall command (they have operated separately thus far).
For all his "ministerial" title (in use since May) and media hype around him, Girkin/Strelkov's de facto authority was confined to the Slovyansk area until now. Several secessionist commanders have been operating autonomously with their units in the Donetsk city and province, resulting in the dispersal of command authority. Conversely, unity of command seems to prevail among the Luhansk secessionists, but they operate separately from "DPR" secessionists, including Girkin/Strelkov.
The secessionist authorities have blown up three of the bridges leading into Donetsk city. They plan to build obstacles and fortifications around the city, introduce a quasi-martial law regime (voyennoye polozhenie) in parts of the city, and prepare to evacuate the population from some outskirts of Donetsk city. According to Boroday, the evacuation could affect at least 100,000 residents, whom Russia should prepare to accommodate (Interfax-Ukraine, RIA Novosti, July 10).
"DPR" authorities plan to recruit local fighters on contract, paying salaries starting from the current month (July). The pay, at 5,000 to 8,000 hryvnya or 14,000 to 24,000 rubles ($430–$680), is supposedly "high by local standards." Conscription will also be attempted, but contract service is the main option. The enlistment target is 8,000 to 10,000 new fighters. According to Girkin/Strelkov speaking on Donetsk TV (would-be "DPR TV"), Donetsk city residents are generally unwilling to enlist as volunteers, hence the need to introduce service on contract.
With this, the "DPR" is openly resorting to mercenary enlistment. The source of cash remains unnamed, but it can only be from Russia. Recruitment of volunteer fighters had also failed completely in the occupied Slovyansk and the nearby districts (mid-April to early July), prompting Girkin/Strelkov to complain about this in his videotaped statements. He even mocked and taunted the male residents for their failure to enlist as volunteers.
This recurring experience confirms the weakness of local political support for the "DPR" or the "Novorossiya" project. These hardly motivate local enlistment with pro-Russia forces. There has been no shortage of volunteer fighters from Russia, but the response has been tepid in Ukraine's supposedly "Russian" Donbas. Meanwhile, Russian payments to mercenary units will only be "seed funding" and need not last long. Once established, mercenary forces can develop their own extortion system and become self-sufficient by plundering the resources of Donbas.