Total Rebel Defeat not Seen as an Acceptable Option in the Kremlin
Publication: Eurasia Daily Monitor Volume: 11 Issue: 125
By: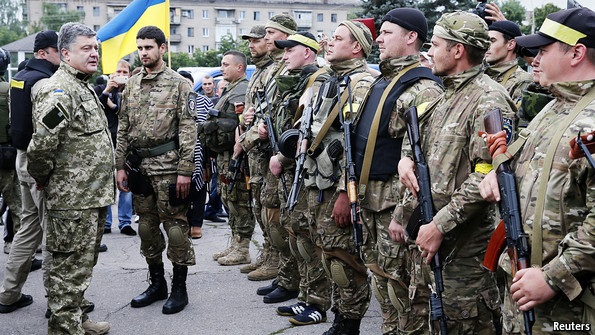 The pro-Russia separatist rebellion in the Donbas seems to be teetering on the brink of a humiliating and bloody collapse. Last Saturday, July 5, the rebels led by Igor Girkin (also known as Strelkov) fled the city of Slavyansk north of Donetsk—the scene of constant fighting and siege by Ukrainian government forces since last April. The rebels also abandoned nearby Kramatorsk, Artyomovsk and other towns in the region. The Ukrainian military, according to Strelkov, tightened the blockade of Slavyansk last week and "cut our last line of supply," which seems to have facilitated the retreat (RG, July 4). The rebels did their best to spin the retreat from Slavyansk and the surrounding region as "a brilliant tactical maneuver," while promising to defend the two major rebel-held cities: Donetsk and Luhansk. Ukrainian President Petro Poroshenko visited liberated Slavyansk to hail his military and promised to press on the offensive till Donetsk and Luhansk are liberated, the rebellion crushed and peace restored (Kommersant, July 7).
After the retreat from Slavyansk the rebels have been trying to regroup and reorganize their scattered forces. Strelkov declared himself the "military commandant of Donetsk" and announced plans to form "a central military council of the most prominent field commanders" to defend Donbas. Strelkov believes defending a large city like Donetsk, with a population close to a million, would be easier than Slavyansk, which is some ten times smaller (News.liga.net, July 6). A serious conflict is reported between Strelkov and the commander of the notorious "battalion Vostok" Alexander Khodakovsky. Vostok was the dominant rebel force in Donetsk before Strelkov and his men rode into town this week. Khodakovsky reportedly refused to subordinate himself to Strelkov's command, fled Donetsk with part of his men and has holed up in the nearby mining town Makeyevka. Strelkov in turn accused Khodakovsky of being an agent of the Ukrainian security services (Interfax Russia, July 10).
Conflicts between unruly rebels are not the only problems undercutting the separatists. The self-styled "peoples' governor of Donbas" Pavel Gubaryev told reporters this week that the rebel forces in Donetsk and Luhansk number some 20,000 and they "will be soon reorganized into a regular military force," with fighters paid regular monthly salaries of $600 to $900 (Business FM, July 9). Ukrainian military sources put the number of armed separatists in Donbas at 7,000 (UNN, July 10). According to Gubaryev, "We do not have enough men to hold the perimeter and control all the territory." Gubaryev accepted responsibility for a number of recent mine explosions that have disrupted rail and road transport in the Donbas and has promised the rebels will continue to mine "roads and bridges" (Novosti Donbasa, July 10).
Destroyed bridges and mined roads may hamper the maneuverability of the Ukrainian government forces, but it will also obstruct men, arms and munitions being supplied by Russia over its border with Donbas. At present, the Ukrainian government forces, instead of directly assaulting rebel-held Donetsk and Luhansk, are trying to fully secure the border with Russia, while also disrupting the lines of communication between Donetsk and Luhansk (Ukrainska Pravda, July 10). In these field clashes, the Ukrainian military have the upper hand due to superior firepower and the use of air support when rebels try to turn an ambush or a small skirmish into a regular battle. Despite the reportedly constant supply of Russian armor and other heavy weapons, including tanks and Grad multiple-rocket launchers, the rebels do not seem to be able to balance the military situation on the ground, while Ukrainian command of the air does not leave them much chances to succeed (Interfax Ukraine, July 9).
If the Ukrainian government forces prevail and deny the Donbas rebels their vital lines of supplies—by cutting off Luhansk from Russia and Donetsk from Luhansk—there would most likely be no need to go into the bloody mess of directly storming the big cities. Strelkov abandoned Slavyansk and the surrounding towns, despite all his previous bravado, without a fight after his lines of communication with Russia were cut. The same may happen in Donetsk. The Donbas rebellion may indeed be close to a military collapse, creating a problem for the Kremlin, which may not be ready to accept such an outcome. Valentina Matviyenko, the chair of Russia's upper house of parliament—the Federation Council—that is going into summer recess this week, has accused the government in Kyiv of deliberately refusing to negotiate a peaceful solution with the Donbas rebels and promised that Moscow "will continue to force the Ukrainian authorities to negotiate" (Regnum, July 8). Moscow has been pressing for an immediate ceasefire in Donbas that could prevent a military collapse of the separatist rebellion and has reportedly enlisted the support of Germany and France to put pressure on Kyiv to comply, but the Ukrainian forces seem to be reluctant to stop hostilities before the border with Russia is secured (Kommersant, July 7).
Matviyenko promised that the Federation Council might reconvene from recess at any time to grant President Vladimir Putin the authority to send troops into Ukraine, as a measure of last resort (Vzglyad, July 8). As a last step short of direct intervention, the Russian air force could be preparing for a covert action over Donbas to support the rebels, primarily in action close to the border in order to keep it open. The Luhansk rebels have announced this week they have acquired their own air force: a Ukrainian Su-25 Frogfoot attack jet was reportedly captured in workable condition and may soon be in action. The Ukrainian military have denied the rebel's claim. The separatists do not control any airbase or airfield and do not comment where the supposed Su-25 is maintained (Ukrainska Pravda, July 7). In a similar conflict in 1992–1993 in Abkhazia, Russian air force jets and Mi-24 Hind helicopter gunships attacked Georgian government positions, posing as unidentified rebel aircraft, while Moscow stringently denied any involvement—as today it denies sending arms and men into Donbas. If there is no ceasefire soon, the Russian air force may go into covert action over Donbas as early as next week.