The Meaning of Russia's Naval Deployments in the Mediterranean
Publication: Eurasia Daily Monitor Volume: 13 Issue: 44
By: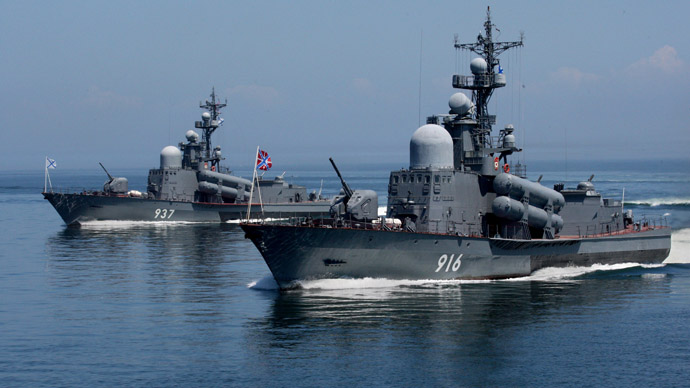 Russian ships equipped with the advanced sea-launched Kalibr cruise missile will now be perpetually present in the Mediterranean Sea as part of Moscow's naval operations connected to the mission in Syria. This is according to Admiral Aleksandr Vitko, the commander of the Russian Black Sea Fleet (BSF) (RIA Novosti, February 19).
Russia's growing presence in the Mediterranean dates back to 2013—i.e., well before the annexation of Crimea or Moscow's intervention in Syria—with the decision to create a permanent Mediterranean Squadron out of the BSF forces (RIA Novosti, March 11, 2013; see EDM, March 7, 2013). Since then, Russia has steadily augmented both that squadron's capability and that of its navy in general, including the BSF. This overall strengthening of the navy in critical areas like the Mediterranean is a general principle of Russian defense policy. For example, in the Pacific, one can observe not just the increase in conventional and nuclear naval capabilities, but also a level of activities that approaches that of the Cold War (Sputnik News, April 16, 2015). This steady expansion of capabilities pertains to both surface vessels and to submarines, the latter of which particularly raise concerns in the United States.
In February 2014, just prior to the invasion of Ukraine, Russia announced its intention to strengthen the Mediterranean Squadron by adding stealthy Varshavyanka-class submarines. The stated purpose of those deployments was to "thwart any threat to Russia's borders or security" (RIA Novosti, February 20, 2014). Given the mission and the situation in the theater at that time, this explanation could only mean thwarting "threats" from the North Atlantic Treaty Organization (NATO). Accordingly, since then, Moscow has built what Admiral Mark Ferguson, the commander-in-chief of NATO's Allied Joint Force command, calls an "Arc of Steel," which includes advanced air defenses, cruise missiles, new platforms, space, cyber and "hybrid warfare" systems, as well as submarines (Defense.gov, October 6, 2015). Notably, Russia has signed agreements with Cyprus about entering its waters and using its territory as a base. And Moscow also seeks similar access to Egyptian and Libyan ports (Russia-direct.org, March 4, 2015).
More recently, Russia has announced that its Kirov-class battle cruisers, the Pyotr Velikii and the Admiral Nakhimov, will receive hypersonic anti-ship 3M22 Zircon missiles as well as longer-range land-attack Kalibr cruise missiles, upgraded air defenses, and a naval variant of the S-400 anti-air missile by 2022 (The National Interest, February 19). And these are not the only ships receiving these capabilities. As noted above, Moscow also revealed last month that Buryan-M small missile corvettes equipped with the Kalibr cruise missile will be permanently deployed in the Mediterranean. The sea-launched Kalibr, which Russia fired in combat for the first time last October (see EDM, October 8, 2015), can penetrate complex air defenses and hit targets at supersonic speed from some 2,000 kilometers away. The Buryan-M cruise missile–armed corvettes will reportedly be tasked with supporting Russian anti-terrorist operations in Syria (RIA Novosti, February 19, 25; RT, February 20).
What can be concluded from these and similar announcements pertaining to Russian forces in the wider Mediterranean region? It is already well known that Moscow operates four naval and air bases in Syria and has been given free rein by the Syrian authorities to enlarge and upgrade the naval base at Tartus. Moreover, Russian ground forces, though their exact number is not known, are operating in Syria, along with naval and air forces (see EDM, October 6, 2015; October 22, 2015; November 10, 2015). Thus, Moscow has constructed the foundation—if not something more—for a long-term presence of combined-arms forces. And these units and command structure, while based in Syria, possess formidable capabilities, especially when added to Russian forces already present in the Caucasus and Black Sea, to strike throughout the Middle East and put NATO member Turkey in a vise.
Furthermore, it is also clear that Moscow wants to have regular access to, if not permanent bases throughout the Middle East, as the Soviet Union's Mediterranean Eskadra did in its heyday, in 1967–1971, when it had a base in Alexandria as well as in Syria. Thus, a major mission of the Russian Navy in the Middle East and the Mediterranean is power projection and the use of the fleet on behalf of state interests. More crudely stated, Russia is building a capability for permanent gunboat diplomacy missions in the region; indeed, it has already deployed its fleet for that purpose in 2011, to deter Turkish threats to Cyprus (see EDM, December 12, 2011).
Finally, and in line with the evidence presented above, it also seems quite clear that while Russia's new Mediterranean Squadron will have major missions in the Middle East and off the coast of the Levant, it is primarily configured to keep NATO forces out of the region. In effect, given the construction of anti-air and anti-ship missile systems, air defenses at air bases, as well as shore-based artillery, Moscow is unmistakably building anti-access, area denial (A2/AD) capabilities in Syria that will be used to keep the North Atlantic Alliance at bay and outside of firing range of Russian assets. Presumably, over the long term, Moscow will seek to expand its military influence beyond the Eastern Mediterranean, perhaps in the direction of the Aegean Sea or even further westwards to deny NATO forces access there as well. This would emulate the classic pattern of Moscow's sea-denial capabilities and missions familiar to students of Soviet naval practice and literature.
If Russia is successful in this endeavor, it would represent a strong challenge to the US and its regional and NATO allies in the Mediterranean—not least Israel and Turkey—as well as to the Balkans, and the Caucasus. Thus, an irresolute and reticent US posture in Syria and the Middle East could give rise, in tandem with intensifying Russian defense programs, to a much more far-reaching strategic transformation to the entire region.