Moscow Attempts to Extend Its Strategic Influence from the Black Sea to Mediterranean
Publication: Eurasia Daily Monitor Volume: 10 Issue: 43
By: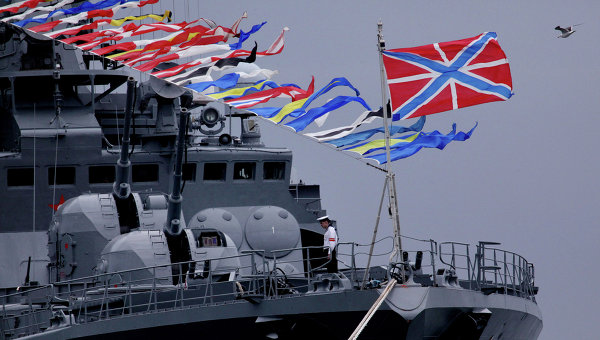 Last week (February 27), speaking at a gathering of Russia's top civilian and military officials led by President Vladimir Putin (the so-called defense ministry "extended collegium"), Defense Minister Sergei Shoigu officially confirmed plans to create a permanent "naval operational division" in the Mediterranean Sea to "defend Russian national interests" (RIA Novosti, February 27). According to defense ministry officials, last year Russian naval squadrons were deployed regularly in the Eastern Mediterranean near the shores of Syria for military exercises to demonstrate support for the embattled regime of president Bashar al-Assad and counter the United States and other allied navies in the region. Now the Kremlin has decided to make this naval presence permanent. Reportedly, the Russian permanent "naval grouping" may be six to ten ships strong (including warships and support vessels) and ready for deployment by 2015. Ships from the North, Baltic and Black Sea Fleets may rotate to form the new permanent Mediterranean flotilla, but the main base for the new "operational division" will be the Black Sea Fleet. Operationally, the Russian Mediterranean "naval operational division" may be subordinated to the Black Sea Fleet commanding admiral. The Russian Mediterranean "naval operational division" will use Russia's naval supply base in the Syrian port of Tartus and also, possibly, ports in Cyprus, Greece and Montenegro. According to defense ministry sources, the new Russian Mediterranean "naval operational division" will be modeled on the Cold War–era 5th Mediterranean Soviet naval squadron, which numbered 30 to 50 ships and was deployed until 1992 to counter the US 6th Fleet as well as support Russia's client Arab states in the region (RIA Novosti, February 28).
According to Admiral (Rt.) Victor Kravchenko (69), commander of the Black Sea Fleet in 1996–1998 and chief of the Main Russian Naval Staff in 1998–2005, "plans to recreate a Mediterranean squadron are loud-voiced statements that are not backed up by resources." As Kravchenko points out, Russia's North, Baltic and Black Sea Fleets are capable of deploying in the Mediterranean "only one or two ships each," and those will most likely require lengthy and costly repairs after a year's deployment. Sevastopol is the nearest Russian naval base to the Mediterranean basin, and during the Cold War most of the Russian warships in the Mediterranean Sea were from the Black Sea Fleet. Now the state of the Black Sea Fleet is pitiful: its blue-water warships were built in the 1960s or 1970s and only four Polish-made landing assault ships ("Project 775") have been in service since the second half of the 1980s. According to Kravchenko, before restarting a Mediterranean squadron, the Black Sea Fleet must be reinforced with new warships and a permanent base must be secured in the Mediterranean, "since Tartus is too small, run down and insecure because of fighting in Syria" (Interfax, March 1).
Efforts to strengthen the Black Sea Fleet are already underway. Russian naval shipyards in the Baltic are at present building six Project 636M (Kilo) submarines and six Project 20385 corvettes to reinforce the Black Sea Fleet. Up to ten smaller missile and gunboats are being built—all of these new warships must be deployed by 2020, and the first may be delivered already next year. But Sevastopol is in Crimea, Ukraine, and any reinforcement of the Black Sea Fleet must be endorsed by Kyiv. The 1997 agreement that allowed Russia to keep its naval base in Sevastopol until 2017 did not envisage any reinforcement of the fleet or the replacement of dilapidated weapons with new ones. In 2010, the present Ukrainian government signed and ratified the so-called "Kharkiv agreement," extending Moscow's lease of Sevastopol to 2042 in exchange for Russia charging less for natural gas. The Ukrainian defense ministry has recently acknowledged that Russia has requested to be allowed to "modernize" the Black Sea Fleet. Ukrainian Defense Minister Pavel Lebedev described Russia's request to rearm as "just," but noted that legal procedures to allow it have not yet been agreed on (RIA Novosti, February 23). This week it was announced in Kyiv that negotiations are continuing, apparently without much progress (RIA Novosti, March 4).
Kyiv wants Moscow to pay more for the use of naval facilities in Sevastopol and, more importantly, to rewrite the agreement that regulates the price of Russian natural gas and the conditions dictating Gazprom's use of the Ukrainian gas pipeline system. This week (March 4), President Viktor Yanukovych came to Moscow to meet with Putin, and gas was at the top of his agenda. Yanukovych may have calculated that concessions on the rearmament of the Black Sea Fleet could be traded for concessions on gas prices as had happened in Kharkiv in 2010. Kyiv has been offering to negotiate some form of partial Gazprom ownership of the Ukrainian gas pipeline system, but not full control. According to the official government newspaper Rossyskaya Gazeta, Putin did not seem interested in any partial agreements and presented Yanukovych with an "ultimatum"—to ether join the Customs Union with Russia, Belarus and Kazakhstan, or continue to seek a free trade agreement with the European Union and forget about cheaper gas. Putin also reminded his counterpart that by 2015 Ukrainians wanting to work in Russia may face restrictions, if their nation does not join the Customs Union (Rossyskaya Gazeta, March 5).
Moscow wants to speedily reinforce and rearm the Black Sea Fleet to dominate the Black Sea region and to have the capability to project naval power into the Mediterranean to prop up its last remaining client-state—al-Assad's Syria. Still, for Putin, the eventual reintegration of Ukraine into the new Eurasian Union—being built on the foundation of the Customs Union—is strategically a higher priority. Putin apparently believes Yanukovych, unpopular at home and under pressure from the EU to release political prisoners, is presently weak enough to be turned around from the traditional Ukrainian policy of balancing between Moscow and the West to throw in his lot with the Eurasian Union. Consequently, Putin declared: "Ukraine must make a political choice" (Rossyskaya Gazeta, March 5).