Al-Assad Leaves Moscow, Assured of the Kremlin's Unequivocal Support
Publication: Eurasia Daily Monitor Volume: 12 Issue: 191
By: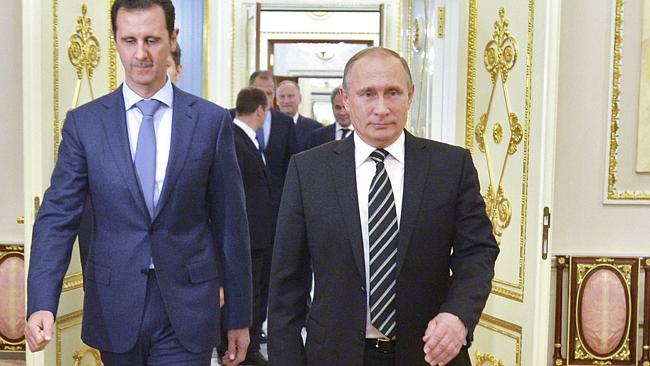 This week (October 20), Syrian President Bashar al-Assad visited Moscow for talks with his Russian counterpart, Vladimir Putin, in the Kremlin. Russia began an aerial bombing campaign in Syria on September 30, to suppress the Syrian opposition forces, which Moscow and Damascus indiscriminately designate as "terrorists." Three weeks later, Al-Assad came to Moscow to discuss further joint military action. According to footage provided by the Kremlin press service, Putin told al-Assad: "We believe that, based on positive results of military action, a long-term solution in Syria may be achieved through a political process involving different political, ethnic and religious groups." Al-Assad agreed that military action must be followed by political moves and that "the people must decide" (TV Channel One, October 21). Most likely, putting the decision back in the hands of "the people" implies the use of traditional Middle Eastern rigged elections to reinstate the present regime.
President al-Assad reportedly spent over three hours in the Kremlin, meeting Putin, Prime Minister Dmitry Medvedev, Defense Minister Sergei Shoigu, Foreign Minister Sergei Lavrov, as well as security and intelligence chiefs. This was the first foreign visit by al-Assad since 2011, when the Syrian uprising and ensuing bloody civil war began. The visit was officially announced one day after al-Assad returned to Damascus. The Syrian leader's airplane apparently flew to Moscow over Iraq, Iran and the Caspian Sea—the route used by Russian military and transport aircraft to deploy forces in Syria and bring reinforcements. Al-Assad's probable air route took him over northern Syria and Iraq, where jets of the United States and its allies conduct daily operations and Islamic State (IS) forces are on the ground. He was most likely flying to Moscow and back on a Russian plane to minimize risks, according to a Kremlin-connected website (Vzglyad, October 21).
Putin's sudden summoning of al-Assad to Moscow was interpreted by some in the West—like French President François Hollande—as a possible beginning of a new political initiative to end the Syrian civil war by pressing Syria's president to make concessions and step down (Kommersant, October 22). Such wishes seem farfetched: Putin would not invite and publicly honor al-Assad if the latter was expected to step down anytime soon. Kremlin rulers (going all the way back to the tsars) do not have a habit of publicly meeting and personally pampering disgraced leaders, even if they are eventually given refuge in Russia (say, like former Ukrainian president Viktor Yanukovych)—contacting a disgraced former ruler could infect the tsar with bad luck. According to Kremlin-connected sources, al-Assad's visit was deliberately made public to demonstrate Moscow's full unequivocal support in the war effort to wipe out the Syrian opposition, while talk of al-Assad "stepping down" must end. Russia is backing al-Assad militarily and will not tolerate any regime change by any means. The West and Sunni Muslim countries in the Middle East must accept al-Assad at the helm in Syria as a sounder alternative to the Islamic State, while Russia and its allies wipe out the armed Syrian opposition. Putin's Russia must be internationally accepted as a dominant power in the Middle East on par with the US (Kommersant, October 22).
After the Putin–al-Assad summit, the Kremlin spokesman Dmitry Peskov told reporters: "It is obviously impossible to discuss any political accord in Syria while the terrorist threat dominates and threatens [Syria's] political and territorial integrity. The first priority is to fight the terrorist extremist organizations and after will come the time of political resolution" (Interfax, October 21). According to the Kremlin's chief of administration Sergei Ivanov, the land offensive against "terrorists in Syria" must be carried out by the Syrian army loyal to al-Assad and its allies, including Kurdish forces. Ivanov told reporters: "It all depends on good coordination of land force operations and aerial bombing." Ivanov refused to spell out in detail the talks with al-Assad, but disclosed they were about "coordinating the Russian and Syrian forces and the possible future political resolution." Ivanov expressed hope that through diplomatic dialogue, Moscow could achieve a good level of cooperation with Middle Eastern countries—Saudi Arabia, Turkey, Egypt, Iraq and Jordan—as well as the US to work together against "terrorism" and with al-Assad (RIA Novosti, October 22).
Apparently, the Kremlin has publicly pledged to back al-Assad until victory in the Syrian civil war, assured with Russian air support. After al-Assad and his allies wipe out the armed Syrian opposition and the government in Damascus reasserts control, some political process may be envisaged, possibly involving new elections, which the incumbent head of state will surely rig and win, regaining legitimacy and one more presidential term. Any move by Putin to force al-Assad to relinquish power seems out of the question: This would be seen as treachery by many influential hardliners in Moscow (Vzglyad, October 21). According to a recent poll by state-controlled pollster VTsIOM, Putin's approval rating has reached an all-time high of 89.9 percent, and this is largely the result of armed action in Syria (Wciom.ru, October 22). To date, there have been no officially admitted Russian casualties in Syria, the US has been humiliated, and a deafening propaganda onslaught by state-controlled TV is creating a public vision of restored Russian superpower status in the Middle East. While the Russian economy is in the doldrums, the price of oil is low and living standards are falling, it would seem unwise for Moscow to risk shattering this superpower restoration dream by pressing for al-Assad to step down.
In fact, Russia has other plans for Syria. Last week, the deputy chief of the General Staff of the Russian Armed Forces, chief of the main operational directorate Colonel-General Andrei Kartapolov, who is apparently the overall coordinator of Russian military activity in Syria and the larger Middle East, told reporters Moscow is planning to create a joint permanent naval, army and air force base in Syria. This base would unite its long-time naval logistical support facility in Tartus and the newly established airbase in Latakia—both on the Syrian Mediterranean coast (Komsomolskaya Pravda, October 16). The Syrian authorities immediately agreed the Russians may have any bases they wish, and could even deploy land forces (Interfax, October 16). Of course, the armed Syrian opposition is still resisting, which seems to be the last obstacle that could alter Putin's grand plans.