Ukraine and Hungary Move to Settle Differences Over National Minority Legislation (Part Two)
Publication: Eurasia Daily Monitor Volume: 17 Issue: 81
By: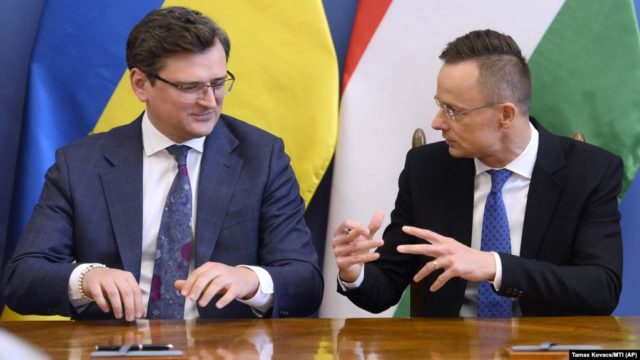 For almost three years, the Hungarian government has sought to instrumentalize the North Atlantic Treaty Organization (NATO) and some European Union institutions to pressure Ukraine into legislating certain entitlements for the Hungarian national community in Carpathian Ukraine. While still using these external pressure tools, Budapest currently seeks to achieve its objective through bilateral negotiations with Ukraine; and Kyiv is showing itself receptive to Budapest's overtures (see EDM, June 3, 4).
Budapest proceeds from a sui generis conception of Hungarian national communities' entitlements in all neighboring countries where these kin communities compactly reside. This conception includes fair access to native-language education, use of the native language in the local administration, the right to fly the Hungarian flag and other national symbols, an open door for Hungarian economic aid and investments targeted to the kin communities, due representation of these communities in local and central bodies of power, as well as Hungarian passportization of members of those kin communities (dual citizenship).
Most of these elements exist to a full or partial extent, de jure or de facto, in all of Hungary's neighboring countries, including Ukraine. Seeking fuller implementation de jure, Budapest has singled out Ukraine, partly because a non-member of NATO and the EU is a more convenient target, and partly because Ukraine (unlike Hungary's other neighbors) has inherited a complete system of primary and secondary schools with Hungarian language of instruction throughout, which Budapest wants to see preserved as an acquired right of its kin community in Carpathian Ukraine.
Budapest deems Ukrainian President Volodymyr Zelenskyy's government and the parliamentary majority as "less nationalistic" compared with the (previous) Petro Poroshenko presidency and, therefore, more amenable to negotiating bilateral solutions on that whole range of issues. Kyiv is also keen to overcome the stalemate and stop the spillover effect into Ukraine's relations with NATO and the EU.
On January 9, Hungarian Prime Minister Viktor Orbán declared that a personal meeting between himself and Zelenskyy would benefit state-to-state relations and the Carpathian Hungarian national community. On February 7, Hungarian Foreign Affairs and Trade Minister Peter Szijjarto conferred in Kyiv with senior government officials on the contentious issues. They agreed to handle these matters in bilateral negotiation channels. In parallel with this, the two sides decided to reconvene the Hungarian-Ukrainian inter-governmental commission on economic cooperation after a seven-year hiatus, and they agreed to prepare an Orbán-Zelenskyy meeting within the next few months.
On March 26, Szijjarto declared that Orbán would visit Ukraine after the coronavirus emergency is over, and as soon as the two ministers of foreign affairs complete the draft agreements for signing by the two leaders (MTI, Ukrinform, January 9, February 7, March 26). Those actions were, however, delayed by frequent changes in the Ukrainian government and the prolonged coronavirus pandemic crisis.
Ukrainian Foreign Minister Dmytro Kuleba chose to visit Budapest as his first destination in this capacity, on May 29, "to open a new page in bilateral relations." Kuleba and Szijjarto agreed to convene two specialized joint commissions: on national minority rights and on Hungarian-language education in Carpathian Ukraine, respectively, in addition to the inter-governmental economic commission (see above). The three commissions are supposed to meet during June to discuss the existing differences, work out commonly agreed proposals, and draft possible agreements for consideration by the top leaders.
Budapest's desiderata are fairly ambitious: for the two sides to draft a joint declaration that sets out the path for the future, including provisions for the Hungarian language, schools and other entitlements in Carpathian Ukraine; and for the Ukrainian parliament to adopt the law on national minorities (which is also foreseen by Ukraine's 2019 law on the state language) (Evropeiska Pravda, May 29; MTI, Hirado.hu, Ukrinform, May 27–30).
Hungarian and Ukrainian positions, as expressed through each side's talking points, show not only differences but also certain convergencies, with enough overlap to identify some common ground.
Budapest's positions, voiced during these meetings, include:
– Hungary seeks no territorial changes or other revisionist goals;
– For Budapest, the Hungarian national community in Carpathian Ukraine is more important than Ukraine's relations with NATO;
– The complete school system with the Hungarian language of instruction in Carpathian Ukraine is a time-honored "acquired right" that may not be taken away through Ukraine's education law;
– Budapest would accept any solutions that are acceptable to the Carpathian Hungarian community leaders as well as to Kyiv (this seems to devolve blocking powers to intransigent community leaders);
– Hungary expects Ukraine to draft the overdue law on national minorities in consultation with the Council of Europe's advisory Venice Commission on Democracy through Law ahead of the draft law's consideration by the Ukrainian parliament, not after the parliament had already adopted it;
– Pending solutions satisfactory to the Carpathian Hungarians and to Budapest as well as to Kyiv on these issues, Budapest will continue raising them in the EU and vetoing NATO-Ukraine senior-level meetings. The aim, however, is not to maintain the veto, but to achieve agreements;
– Hungary offers a €50 million ($56.5 million) tied loan for infrastructure projects, to be implemented jointly with Ukraine in Carpathian Hungarian-inhabited districts.
Kyiv's positions, voiced during these meetings, include:
– Ukraine does not seek to assimilate (Ukrainize) the Hungarian national minority. It aims to enable young Hungarians to learn Ukrainian to the level necessary for college education and employment in Ukraine's economy. The existing language barrier practically isolates the Carpathian Hungarians from Ukrainian society. Hungarian-language schools' students (along with those of Romanian-language schools in the Chernovtsy province) show the highest failure rate at state tests and college admission exams in all of Ukraine;
– Kyiv notes that Budapest no longer demands point-blank that Ukraine should change the laws on education and language. Rather, Budapest seems to hint that it would be content with elastic implementation rules and regulations that would have to be negotiated with Kyiv.
Overlapping positions of the two sides include:
– Both sides profess the aim of turning Carpathian Ukraine's Hungarian-inhabited districts into a "success story" of Ukraine-Hungary state to state relations;
– The goals of consolidating the Hungarian national identity in Carpathian Ukraine and better integrating that national minority into Ukraine's socio-economic life are mutually reconcilable goals.
This overlap allows identifying common ground. Kuleba has handed over in Budapest an official invitation for Viktor Orbán to visit Ukraine in July.