Belarus's Disappearing Flexibility for Geopolitical Maneuver
Publication: Eurasia Daily Monitor Volume: 20 Issue: 36
By: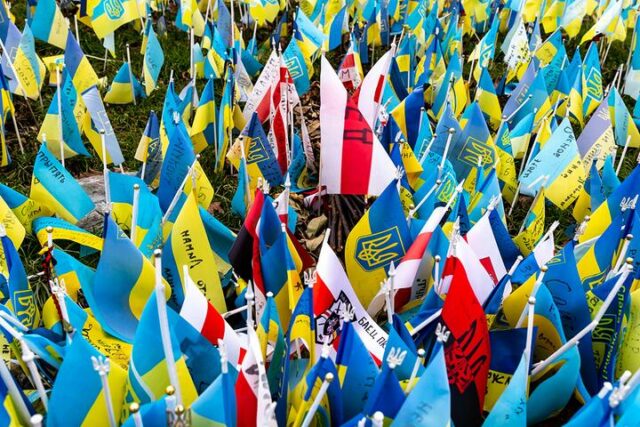 Squeezed between two major centers of power, Russia and the European Union, Belarus is supremely vulnerable to external influences. Consequently, one lingering area of inquiry is how exactly outside factors affect Belarus. Much of what has been published in conjunction with the one-year anniversary of Russia's all-out war against Ukraine addresses this question.
Several lessons that Yury Drakakhrust of Radio Free Europe/Radio Liberty drew from the war are a case in point. First, unlike Russians, Americans or Chinese who are seemingly accustomed to negative attitudes about themselves, Belarusians feel uncomfortable when falling out of favor with a particular community, in this case Ukrainians, according to several polls. Second, opposition-minded Belarusians felt betrayed when realizing that Kyiv's Belarus policy is leavened by realpolitik concerns—for example, not to irritate President Alyaksandr Lukashenka through contacts with Svetlana Tikhanovskaya, the recognized opposition leader. Third, the war has made some opposition-minded Belarusians more resolute in fighting the war on Ukraine's side, not in fighting the Belarusian regime itself, as the latter responds with brutal repressions. Fourth, while Belarusians at-large became united in their reluctance to participate in the war, that did not change their attitude to the warring parties—both of which are perceived as kin. And as a final lesson: "Russia is a dangerous country. When it believes that its interests are trampled upon, it defends them at any cost," and it does not take the interests of other countries and peoples into account. This fact, however, should have been clear for Belarusians since as early as 2020, when the Kremlin provided full support to Lukashenka and even "reserved a law enforcement unit to assist the Belarusian regime in case of a more serious turn of events" (Zerkalo, February 23). "This is a lesson for the future," believes Drakakhrust. "Unless the political will of Russia is utterly weakened during the war, in the event of a repetition of the events of 2020 in Belarus, it will act in the same way as it was ready to act then and as it is acting in Ukraine now."
If this last lesson is valid, then the so-called geopolitical maneuvering that Lukashenka and his late foreign minister, Vladimir Makei, brought to perfection between 2008 and 2020 was arguably the best-possible scenario for Belarus, especially considering the blurred identity of many Belarusians. Moreover, in hindsight, Makei's warning to the collective West that overplaying your (i.e., the West's) hand in Belarus was fraught with undermining that scenario and destroying civil society (see EDM, July 1, 2020), appears to be more a specimen of brutal realism than that of authoritarian speechifying.
Therefore, when Artyom Shraibman of the Carnegie Endowment for International Peace writes that the West "has no desire to try to snatch Minsk from Russian clutches" and that "there are few people left in Europe who consider this goal achievable" (Carnegie Politika, February 23), these sentiments seem to be realizations of a self-fulfilling prophecy. Indeed, if no such desire exists, and Minsk is prevented by the West from even transporting its much-demanded potassium fertilizers through a Lithuanian port, Russia's clutches only become tighter.
Incidentally, the situation may not be as bleak for Minsk, as some European countries, notably Portugal, insist on lifting the ban on the export of Belarusian potassium through Lithuania. Similar solicitation of a more general nature—for example, not overdoing the sanctions imposed on Minsk—continue to emanate from Kyiv (Svaboda, February 23).
Consequently, Shraibman's verdict that Lukashenka's "attempts to escape from uselessness" in the eyes of the West by visiting non-Western destinations are doomed, becomes debatable. Yes, it was hard for Lukashenka to break the international isolation of Minsk, but he did it anyway by delivering business deals with Africa, the Middle East and, above all, China and Russia. While on some level sanctions are effective, in 2022, Belarusian exports shrank by a mere 4.2 percent (Tochka.by, January 21); that is, they did not plummet. And, yes, Russia now accounts for 58 percent of Belarus's entire trade exchange (up from 45 percent in 2020) and China for 7.4 percent. Nevertheless, altogether, 148 countries have imported Belarusian goods; thus, the massive 30-percent decline in Belarusian exports to the European Union has almost been made up, though not yet in full (Myfin.by, August 31, 2022).
Interestingly, Shraibman considers Ales Bialiatski's appeal to national consolidation (see EDM, February 23) to be premature, as under current conditions opposition-minded and pro-government Belarusians would not lend each other a hand. Thus, in the future, overcoming a split in Belarusian society will be imperative (Svaboda, February 24). Compared with Yauheni Preiherman's April 2020 appeal to at least lower the tone of mutually hostile rhetoric (see EDM, April 22, 2020)—an appeal that faced an outright affront from the opposition—Shraibman's suggestion that, at some point, reconciliation will be imperative represents a step forward. However, it may be too timid a step, disproportionate with the menace emanating from Russia regarding Belarus's statehood.
Apparently recognizing that this lingering menace is exacerbated by some overly zealous proponents of the Russian world, Igor Marzalyuk, a Belarusian-speaking historian, who chairs the parliamentary commission on education, culture and science, issued a televised appeal to the Belarusian prosecutor general to reinforce the state's opposition to any kind of nationalism and, with this in mind, to investigate the activity of some bloggers denying the legitimate role of the Belarusian language in the public domain. Although his appeal was couched in terms of strengthening national unity, Grodno-based activist Olga Bondareva, one such blogger, responded with her own appeal to the prosecutor general, accusing Marzalyuk of "discrediting Russian" and thus pushing Belarus down Ukraine's path (Zerkalo, February 23).
The ensuing squabble indicates that, while the room for Belarus's geopolitical maneuvering has dramatically shrunk, it has not disappeared altogether. It might make sense then to contribute to the retention, or even expansion, of that space by means of more nuanced Belarus policies pursued by Europe and the United States. Pushing Belarus even further into Russia's embrace is hardly a wise option.