Putting the Belarusian President's Unexpected Press Conference in Context
Publication: Eurasia Daily Monitor Volume: 20 Issue: 32
By: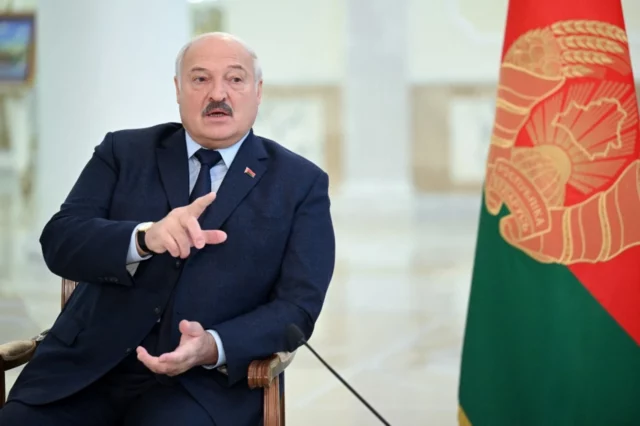 The verdict was swift. Even before the unexpected three-hour press conference held by Belarusian President Alyaksandr Lukashenka on February 16 for foreign journalists had not yet ended, Valer Karbalevich of Radio Free Europe/Radio Liberty already began discerning some fantastical outbursts on Lukashenka's part. According to Karbalevich, "Lukashenka tried to present himself as … a politician highly influential on the international scene. It was an attempt to revive the image of a peacemaker and of a donor of security under completely different conditions" (Svaboda, February 16). Likewise, Zerkalo, the immigrant offspring of the famed outlet Tut.by (2000–2021), debunked Lukashenka's numerous lies while dutifully noting in the introduction of their exposé that, "at the time of publication, Lukashenka [was still] communicating with foreign journalists" (Zerkalo, February 16).
This begs the question: Why the rush? Disparate observations allow for a hypothesis as they highlight the event's context. Thus, Artyom Shraibman of the Carnegie Endowment for International Peace (YouTube, February 15) mentioned that Lukashenka "managed to capitalize" on Belarus's immediate non-participation in the war—so much so that ordinary Belarusians overlook economic problems. According to Shraibman, one "popular narrative" within Belarus is that, "if Lukashenka had been subverted back in 2020, Belarus would now be a zone of war." This implies that old "criticisms have faded" and that "the rating of the powers that be has grown." Although the shock caused by the 2020 post-election protests has not fully subsided—otherwise repressions would have already stopped—it is beginning to abate. Shraibman also claims that, without Lukashenka recovering his self-confidence, no new thaw is possible—and only a thaw would reignite hope for political change. In his other analysis devoted to Poland closing yet one more border crossing with Belarus—now only two crossings remain open—Shraibman recognizes the regrettable primacy of the confrontation logic over care for ordinary people, as the latter are harmed by the border closure (Zerkalo, February 11).
Yet, more should be unpacked with the context in question. The internecine fighting within the exiled opposition has reached a fever pitch, whereas trust in its leaders is low (e.g., Zerkalo, February 9; Euroradio, February 17). Furthermore, in his closing argument in court, Ales Bialiatski, the Nobel Peace Prize laureate, who is being tried for "financing group actions that grossly violate public order" (which is how covering attorneys' fees for the participants of post-election rallies has been interpreted), declared: "Enough, we need to stop this civil war. … The only possible way out of the all-around crisis, in which Belarus has found itself, is a steady … search for consensus. … We need to start a broad public dialogue aimed at national reconciliation, no matter how difficult it may seem" (Svaboda, February 16). Emanating from an unexpected source, this appeal speaks volumes about the changing public mood in Belarus.
Finally, multiple opposition pundits (e.g., Svaboda, February 17) recognize that Lukashenka maintains behind-the-scene contacts with Kyiv; and the visit of Hungarian Foreign Minister Péter Szijjártó added to this context (Svaboda, February 13).
It is therefore hard to shake off the impression that hasty and impulsive debunking of Lukashenka's pronouncements reflect anxiety on the opposition's part.
In truth, what did Lukashenka convey to a group of journalists from nine countries, including the United States, the United Kingdom, France, Austria and Japan? (President.gov.by, February 16). Other than the familiar Russian trope that the war in Ukraine was provoked by the West, which rejected Russia's demand to stop the expansion of the North Atlantic Treaty Organization and guarantee Ukraine's non-alignment status, Lukashenka's statements fell into three groupings.
The first is markedly geopolitical. Thus, for the Belarusian president, the only party interested in the continuation of hostilities in Ukraine is the US. Interestingly, he portrayed the armed conflict as integral to the overall confrontation between the US and China, whereas Moscow is seen as Beijing's junior partner. The US, according to Lukashenka, has been keenly interested in severing ties between Russia and Europe and has taken the continent hostage, as the current state of play does not align with European interests. He, however, expects Europe will wake up and restore ties with Russia and Belarus.
The second grouping of statements was devoted to how the ongoing war can be stopped. In Lukashenka's opinion, the Americans demanded that Ukrainian President Volodymyr Zelenskyy terminate negotiations with Russia (held in Belarus and then Turkey), which were about to bear fruit. Today, the Belarusian president continued, the Ukrainian party to negotiate with—that is, the party prone to end "the war to the last Ukrainian"—is Ukraine's military, not its president, who has wasted his political capital. Lukashenka perceives a growing gap between the military and Zelenskyy. He drew a parallel between the latter and Mikhail Gorbachev who used to be applauded in the West, too, but whose political career did not end well. Taking into account US President Joe Biden's visit to Warsaw, only a half-hour flight from Minsk, Lukashenka impishly suggested that he could organize a three-party meeting in Minsk between Biden, Russian President Vladimir Putin and himself. "Two aggressors and a peace-loving president, why not?" And if Biden wants, Zelenskyy will be brought here too. In Lukashenka's view, counting on Russia's defeat in the war is much like counting on miracles (President.gov.by, February 16).
The third grouping was devoted to Belarus, whose army will not participate in the Russo-Ukrainian war unless attacked. Lukashenka described the closure of yet one more border crossing by Poland as an economic provocation that will be countered. The February 17 meeting between Lukashenka and Putin was largely devoted to the economy of the Union State. Additionally, Lukashenka boasted of his upcoming visits to China and then Iran, as well as his recent visits to Zimbabwe and the United Arab Emirates. In response to the usual reproach about dictatorship in Belarus, he resorted to whataboutism: "Neither dictatorship nor democracy reigns supreme in the West, only laxity does" (President.gov.by, February 16).
For the umpteenth time in his career, the Belarusian president demonstrated resilience; as usual, his exchange with journalists was unscripted and included elements of performance. But above all, Lukashenka revealed his keen interest in resuming contacts with the West.