New Russian Question: Who Is Mr. Prigozhin?
Publication: Eurasia Daily Monitor Volume: 15 Issue: 29
By: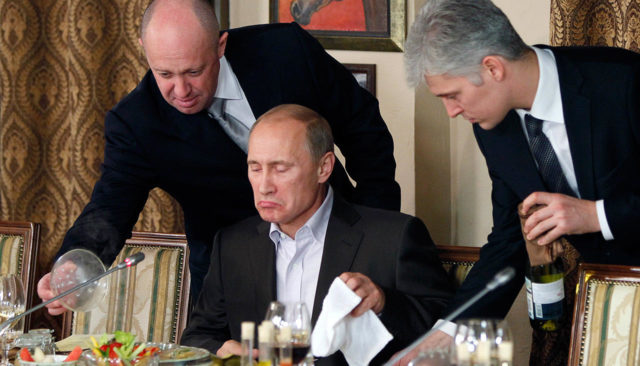 The past several weeks revealed new details about the inner workings of the shadowy side of Russian foreign and defense policymaking. The revelations—focusing mainly on the ongoing investigation into Russian interference in the United States' 2016 presidential election and the exposure of the recent debacle in Syria by the Russian private military company "Wagner Group" (see EDM, February 15, 20)—have brought to light a particularly sordid figure among the Russian elites (Moscow Echo, February 23). The political entrepreneur in question, Yevgeny Prigozhin, is not a household name in Russia and, until now, has been almost entirely unknown to many Western observers. So who is Mr. Prigozhin, and how is he connected to both Russian meddling in the US elections and the Syrian war?
The 56-year-old plutocrat has a more colorful past than many Russian tycoons. Notably, Prigozhin spent some eight years in prison for robbery and the induction of minors into prostitution—a page of his biography that he has taken great pains to try to erase (Meduza, June 9, 2016). He was in his element in St. Petersburg during the early 1990s, and at one of his restaurants there, he became acquainted with an influential and unscrupulous local official named Vladimir Putin (Svoboda.org, February 4). A decade later, this connection helped him gain lucrative contracts to supply ready-to-eat meals to the army and lunches to Moscow schools (Forbes.ru, March 18, 2013). Prigozhin channeled those profits into a variety of additional enterprises, including a luxurious real estate project on artificial islands that were to be built in St. Petersburg (Fontanka.ru, January 18). Yet, he is not in the same league of oligarchs as the likes of Gennady Timchenko or Arkady Rotenberg, who figure prominently on the US and European Union sanctions lists; Prigozhin sits "modestly" just below the first 100 in the Forbes list of Russian billionaires (Forbes.ru, accessed February 25). He is not rich enough even to purchase the Fontanka newspaper in St. Petersburg, which published the investigation into his sponsorship of the band of Russian mercenaries known as the Wagner Group, though he has certainly tried to shut the journalists down (Novaya Gazeta, October 31, 2017).
When investigative reporters first began looking into the Internet Research Agency—the so-called "troll factory" in St. Petersburg—and its role in influencing the US 2016 presidential election as well as the combat operations of the Wagner Group in Ukraine and Syria (see EDM, March 16, 22, 2017), Prigozhin denied any involvement. Indeed, the money trail linking him to both organizations had been carefully camouflaged. However, the February 2018 indictment produced by the investigation of Special Counsel Robert Mueller has uncovered much more detail about the Internet Research Agency and its conspiracy to defraud the US government. Yet, this "troll farm's" factually proven monthly budget of $1,250,000 is only a fraction of the total costs of employing hundreds of people and paying the rent for its prestigious head office (RBC, December 30, 2017). Prigozhin cannot run this non-profit business as a charity, but his non-transparent business Concord Catering makes for a perfect "roof" to channel money into the Internet Research Agency from sources about which no questions would be asked or answered (Vedomosti, May 19, 2017). Similarly, Prigozhin's business, on its face, would not be able to unilaterally finance the activities of the Wagner Group, which has, according to latest estimates, grown to a private army of 3,600 mercenaries with an annual budget of about $350 million (Republic.ru, February 21). This, then, raises yet another question: Where does the money come from?
Only anecdotal and circumstantial evidence can begin to answer this murkiest of Russian questions. The pattern of tensions between the regular Russian Armed Forces in Syria and Wagner's soldiers of fortune indicates that while the latter received the bulk of its armaments and supplies from the former, the money, which is the lifeblood of the mercenary business, was not coming from the defense ministry budget (Novaya Gazeta, January 22). The Russian military top brass has blocked legislation in the State Duma that would have legitimized private security contractors like Wagner Group. Moreover, Russian commanders have disavowed any responsibility for the failed "unauthorized attack" of a battalion group comprised of Wagner warriors, which was devastatingly routed by US air and artillery strikes (New Times, February 19). According to US sources, before the attack, Prigozhin had called high officials in Damascus to discuss due payments, but Bashar al-Assad's government is bankrupt and can only disburse money it obtains from external sources (Novaya Gazeta, February 21). The three Russians who presumably know everything about these money flows are Sergei Naryshkin, the director of the External Intelligence Service (SVR), Alexander Bortnikov, the director of the Federal Security Service (FSB), and Igor Korobov, the chief of the Main Directorate of the General Staff (GRU—Russian military intelligence), who together paid an extraordinary visit to Washington, DC, in late January (Republic.ru, February 5). They almost certainly knew that US intelligence services were targeting Prigozhin but did nothing to protect him, perhaps assuming that he would make for a perfect scapegoat. Which brings up the most unusual question: Where is Vladimir Putin in all of this?
Prigozhin cultivates connections with the Kremlin that go far beyond his catering business, which employs Dmitry Utkin—notably known as "Wagner" to his subordinates (RBC, November 15, 2017). According to US sources, Prigozhin had several phone conversations with Anton Vaino, the head of the presidential administration in early February (Moscow Echo, February 23). The Kremlin causally dismissed Mueller's indictment but remains completely numb about the Syrian defeat. Putin made a big show of his meeting with the family of Roman Filipov, the Russian pilot who had been shot down in Syria and awarded hero status (see EDM, February 8), but the Kremlin leader has yet to offer even a single word for the dozens of fallen Wagner mercenaries (Kommersant, February 23). Putin is supposed to be on the election trail, but the lackluster presidential campaign is barely moving toward its pre-determined triumph—election day is March 18. It is increasingly clear that he has no answers to the key political questions of where Russia should go from here, which are handled behind his back. And what is more, Putin himself is hardly an answer to Russia's many problems. He is merely the guarantor of a collective irresolution among the elite of how to face those political challenges.