Russian Private Military Companies—Redwater?
Publication: Eurasia Daily Monitor Volume: 14 Issue: 39
By: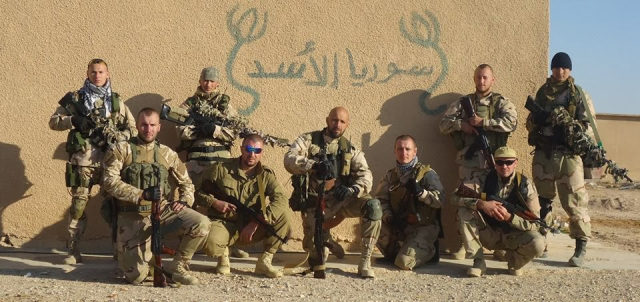 Since 2012, there has been a debate in Russia regarding so-called private military companies, PMCs, known in Russia as Chastnye Voennie Companiy (ChVK); and several attempts were made in recent years at introducing legislation to govern their activities. Internationally, PMCs blossomed in connection with the United States–led Operation Iraqi Freedom, sometimes referred to as "the first privatized war." And now, for the first time since the Afghanistan war, as Moscow busies itself with expeditionary warfare in Syria, Russian ideas about PMCs and how to use them are worth examining—not least as they can play a role in "hybrid warfare" (see EDM, March 16).
Analysis of PMCs in Russia has been particularly limited to date. When such studies were undertaken, the focus has been on the history of PMCs, their status in international and national legislation, or more often than not on the absence of such legislation domestically. In the Russian context, the military establishment has tended to view PMCs negatively because they undermine the state's monopoly on armed violence. But other aspects also attract attention. In their book The Future War, authors Igor Popov and Musa Chamzatov make an interesting distinction between PMCs and private armed groups, the latter defined as units financed by oligarchs who also task them. Their example of choice is the Ukrainian oligarch Ihor Kolomoyskyi, who, in the initial phase of the conflict in Ukraine, organized the Dnepr and Sturm battalions (Odnako.org, March 6). Although Popov and Chamzatov's distinction can be seen as part of the Russian denigration of Ukraine, it is nevertheless notable as an example of a feudal concept creeping back into contemporary conflict.
The Russian debate on PMCs gathered momentum in April 2012, when Vladimir Putin, then still prime minister, in his answer to a question from the Duma floor, supported the idea to organize PMCs in Russia (RIA Novosti, April 11, 2012). The ensuing debate about PMC legalization might have begun already in 2008, however, when Gazprom and Transneft were given permission to use armed force to protect their production facilities, albeit with limitations concerning the kind of weapons these forces might use (Svpressa.ru, January 16, 2009; Crime-ua.com, November 18, 2015). Nevertheless, the rights given to Gazprom and Transneft went unnoticed at the time—indicative of the limited interest this subject then raised among the general public and media.
Putin's positive attitude toward PMCs in 2012 led Alexei Mitrofanov, a member of the Duma, to suggest that a parliamentary commission should highlight the legal formalities related to the organization of PMCs in Russia and also how they would relate to Russian national interests (Vpk-news.ru, May 2, 2012). A legislative proposal was presented to the Duma later that same year, but to this day it has not resulted in an actual law. The actual prospects for this law are growing increasingly doubtful. On February 22, 2017, during his appearance before the Duma, Russian Defense Minister Sergei Shoigu was pointedly asked to reintroduce a review of the PMC legislative proposal, but he declined to comment on the matter (Inform-24.com, February 27).
Despite the absence of a law governing private military companies, at least ten such companies currently exist in Russia; and many of them routinely operate outside Russian jurisdiction (Top10a.ru, accessed March 20). Some of these companies are unquestionably "mercenary"-type forces and cannot be considered simply "security companies," which indicates that the authorities in some cases are turning a blind eye to them. This has obviously been the case with Group Wagner, a PMC that has garnered particularly heavy attention in the Russian media. This company, set up in 2014, is led by retired Lieutenant Colonel Dmitry Utkin, who previously served in the elite 2nd Spetnazbrigade (special forces brigade) in Pskov (Fontanka.ru, December 12, 2016; Gazeta.ru, March 31, 2016). Group Wagner is based at a range near Molkino, where the 10th Spetsnazbrigade is also garrisoned. Russian military aircraft have transported this private force to Syria, and pictures of fallen members of the company show equipment only used by the Russian special forces (Svoboda.org, December 13, 2016; Gazeta.ru, March 31, 2016; Fontanka.ru, October 16, 2015). Since the summer of 2015, Group Wagner operates in Syria and has, among other tasks, participated in the liberation of Palmyra (Soldat.prov, accessed March 20, 2017; RBC, April 25, 2016). The company has also been active in Ukraine, where its members have been referred to as "the cleaners," suggesting that its mission there is to uphold law and order in areas controlled by the separatists (Fontanka.ru, October 16, 2015).
Whether or not PMCs will ultimately become legal in Russia is not an easy question to answer. Presumably, the military establishment currently sees some advantage in utilizing such companies. PMCs ensure deniability, commercialize the loss of human life and thus help preserve public secrecy regarding Russian military operations abroad. The major disadvantage is the lack of control. However, an alternative to PMCs exists thanks to recently passed legislation on contract service (see EDM, November 9, 2016). This has opened up opportunities for Russian soldiers to sign up for shorter-term military service, up to one year. The short-term contract service is supposed to specifically provide Russia with sufficient personnel to counteract international terrorism outside the Russian Federation (Mil.ru, January 25, 2017).
Thus, two alternative routes for the development of private military companies in Russia seem to be at hand. One route is quasi-PMCs like Group Wagner, outwardly private companies but in reality supported by the military and thus controlled by the state. The other follows the implementation of the new short-term service law. A possible third arrangement being tested in Russia now is to bring PMCs under the auspices of the Volunteer Society for Cooperation With the Army, Aviation and Fleet (DOSAAF)—a Soviet-era paramilitary sport organization (Nation-news.ru, January 19; Vvesti.com, January 20). Once more, it seems, Russia has tried a Western model but found it wanting. Instead, a unique Russian solution to private military forces is in the making. Or, perhaps the signs were there from the very beginning of the debate in 2012, when Shoigu replaced Anatoly Serdyukov as minister of defense: services that had been outsourced under Serdyukov are now being brought back under military control.