Russia Accuses US of Supplying Missile That Brought Down Hero Su-25 Pilot Over Syria
Publication: Eurasia Daily Monitor Volume: 15 Issue: 20
By: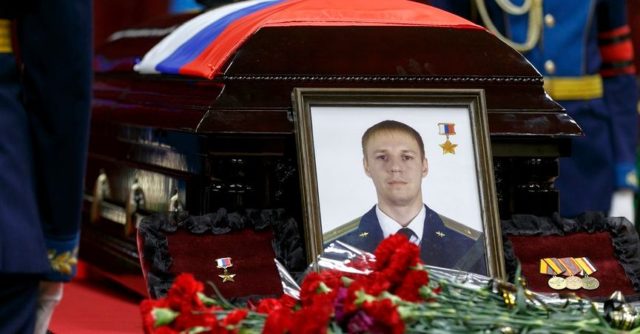 Two Russian Su-25SM attack jets were overflying the rebel-controlled Idlib province in northwestern Syria, on February 3, when one of the planes was hit by an infrared-signature- homing surface-to-air missile fired from a man-portable air-defense system (MANPADS). Russian commanders insist the jets were on a reconnaissance mission since Idlib has been officially declared a "de-confliction" or ceasefire zone. But the decision to send two heavily armed Sukhoi Su-25 Grachs to allegedly perform aerial reconnaissance sounds peculiar. This single-seat, twin-engine armored attack jet (NATO reporting name Frogfoot) lacks radar and does not carry special reconnaissance equipment. It is the tactical air-to-ground attack workhorse of the Russian Aerospace Forces (Vozdushno-Kosmicheskiye Sily—VKS), roughly the equivalent of the United States' A-10 "Warthog"; its intended mission is to deliver bombs and missiles. Unlike previous Russian aerial campaigns—particularly, in Afghanistan in the 1980s, and in Chechnya in the mid-1990s and early 2000s—in Syria, the Russian military have a fleet of operational reconnaissance drones, including the Israeli-designed Forpost, which can perform such missions more effectively and safely. Local Arab sources insist the two Su-25SMs were attacking targets in the Idlib ceasefire zone, but Russian command adamantly rejects such accusations (Kommersant, February 5).
The lead Su-25SM hit by the MANPADS missile was piloted by Major Roman Filipov, a deputy squadron commander and a VKS ace (attack pilot first class). His plane's right turbo jet engine was hit and burst into flames. Filipov reportedly communicated to base and to his subordinate pilot in the second Su-25SM that the situation was critical. He requested the immediate dispatch of a rescue-and-evacuation mission and bailed out close to the town of Saraqib, in Idlib province—some 120 kilometers northeast from the Russian Hmeymim airbase, in Latakia province. The subordinate pilot in the second Su-25SM, whose name and rank has not been disclosed by the Russian military, told the Ministry of Defense (MoD) daily Krasnaya Zvezda, that he witnessed the MANPADS missile hitting his commander's jet as well as the crash of the hit Su-25SM and Filipov landing by parachute. The unnamed pilot told Krasnaya Zvezda he disregarded an order by Filipov to "hide in the clouds" and attacked what he believed to be rebels closing in on the bailed Russian VKS ace. He repeatedly asked for help from Hmeymim but flew back to base after running too low on fuel (Militarynews.ru, February 7).
Help never arrived. Filipov was surrounded by armed Syrian opposition fighters and, after a short gunfight in which Filipov used his service Stechkin automatic pistol, the Russian pilot reportedly killed himself by exploding a hand grenade to avoid capture. Footage taken by the rebels of Filipov's last stand was posted on the Internet. His last loud yell in Russian can be clearly heard before the grenade goes off: "This is on you for the boys!" ("Eto vam za patsanov!") (Moskovsky Komsomolets, February 5). Patsan is a gangland term for rank-and-file members of criminal groups. It is believed the word entered Russian criminalized slang as a derivative from the (vulgar) Yiddish potz or putz (פּאָץ)—meaning a small or young fool. Some 50 years ago, patsan was widely used to simply mean "boy," but today it is almost exclusively a reference to a gang or bratva (criminal "brotherhood," mafia) member. President Vladimir Putin bestowed on Filipov the Hero of Russia medal three days after his death. Turkey, together with the Syrian rebels from the Free Syrian Army (FSA), returned Filipov's remains to Hmeymim, from where they were flown to the Russian capital. At the Moscow Chkalov air force base, a ceremony to commemorate Filipov was attended by the top military brass, led by Defense Minister Sergei Shoigu. Filipov will be buried with military honors in Voronezh. Filipov is being glorified today by state media as a true Russian hero, who chose to take his life in battle instead of surrendering. Plans have already been drawn up to commemorate Major Filipov with monuments and to name streets after him in many Russian cities, including Moscow. The state propaganda machine has done its best to hush-up and de-emphasize Filipov's gangland death cry as irrelevant (Interfax, February 8).
Jihadists from the former al-Nusra Front (since renamed Jabhat Fateh al-Sham) have reportedly claimed responsibility for downing Filipov's Su-25. The Russian military hit the town of Saraqib, where Filipov was shot down, with a bomb and missile barrage and claim to have killed at least 30 "al-Nusra" fighters (Kommersant, February 5). Beginning last December, pro–Bashar al-Assad forces, supported by the Russian VKS, have been attacking rebel positions in Idlib province. And the two Su-25SMs led by Filipov could have been on an air-support mission. Filipov's jet perhaps dived to launch missiles at some land target and dipped lower than four or five kilometers above the ground, into MANPADS range. Some Russian military experts believe the entire incident was a deliberate US-orchestrated ambush (Nezavisimaya Gazeta, February 6).
In the 1980s, in Afghanistan, Russian aircraft, including Su-25 jets, were frequently attacked and often hit by US Stinger MANPADS missiles, supplied to the mujahideen fighters by the Central Intelligence Agency (CIA). Today, many in Moscow believe the same could be happening again in Syria. However, Filipov's Su-25SM was not an Afghan War relic, but a modernized jet with an automated onboard missile-defense system that should have deflected a MANPADS strike. The defense system either malfunctioned or the MANPADS used to down the jet was too modern and sophisticated. The Russian military desperately wants to retrieve the debris of Filipov's Su-25SM to figure out what happened and possibly identify the type of MANPADS used (Interfax, February 5).
The Russian MoD insists "al-Nusra" jihadists are receiving technical assistance from the West, including MANPADS and attack drone technologies, apparently implying it is coming from the United States, but without accusing Washington directly (TASS, February 7). Blaming the US for being behind any and every Russian mishap is as popular in Moscow today as during the height of the Cold War. The official Kremlin spokesperson, Dmitry Peskov, even had to issue a warning not to make overly-far-reaching statements before the real facts are known (Interfax, February 5). Nevertheless, the Kremlin now has itself a war hero who can be the face of a patriotic propaganda campaign in the run-up to Putin's reelection, on March 18, 2018, to another six years as president.