Russia Grinds Down Ukrainian Troops While Western Support Is Elusive
Publication: Eurasia Daily Monitor Volume: 12 Issue: 21
By: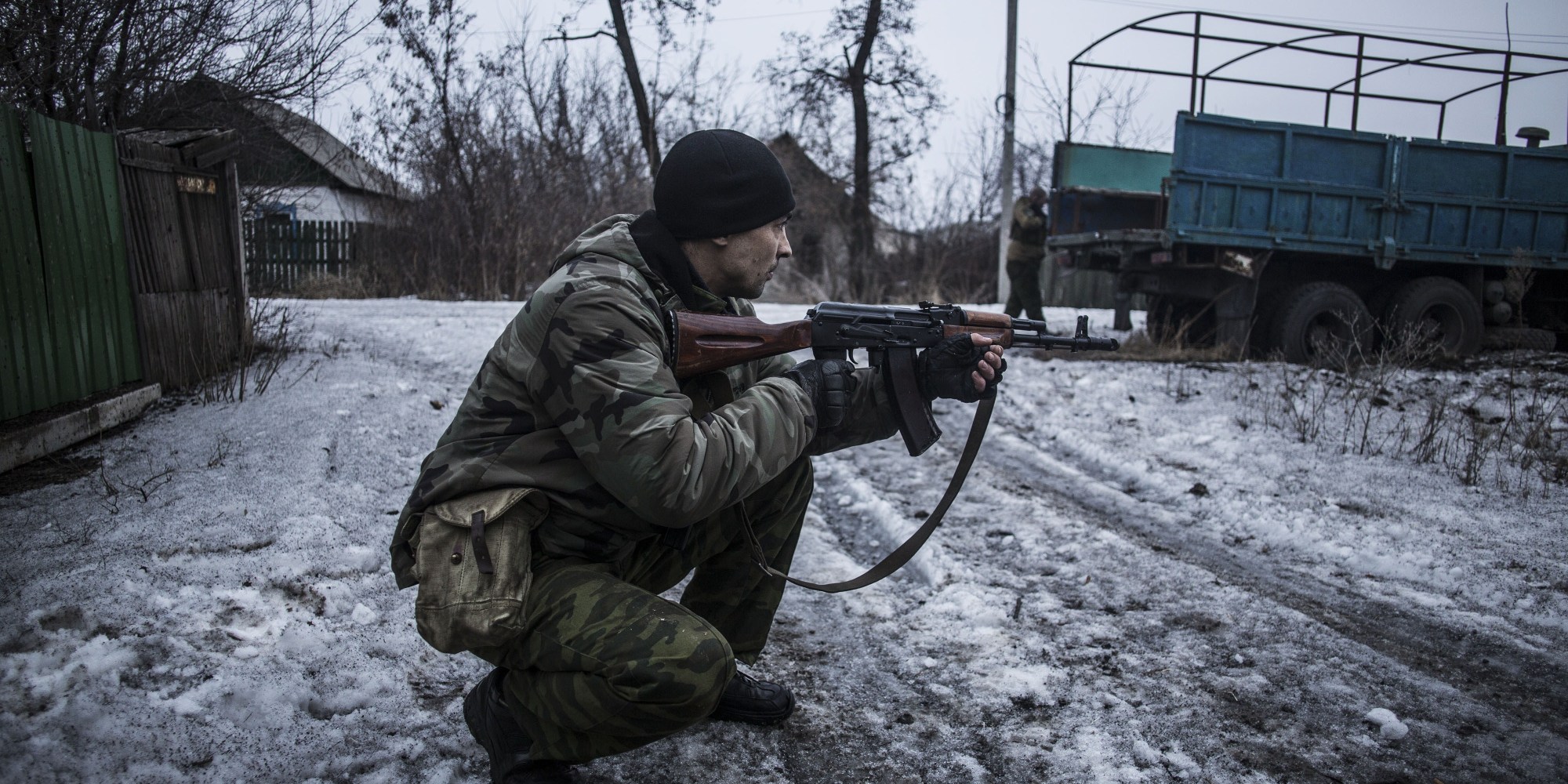 Russian and proxy forces are attacking Ukrainian positions at multiple points along the frontline since mid-January 2015, bringing to bear superior armored forces, unmatched heavy firepower and electronic warfare support. These offensive operations are mostly positional and attritional for the time being, with a distinct potential for breakthrough and forward movement into Ukrainian-controlled territory. The objectives are to grind down Ukrainian forces, bite off additional chunks of Ukrainian territory, and compel Kyiv to request another armistice on Russian terms, as a last resort for Ukraine to avoid further losses. This would largely reproduce the August–September 2014 scenario, possibly without resorting again to an overt, full-scale intervention of Russian conventional forces. The ongoing offensive seems so calibrated as to avoid additional sanctions on Russia (see EDM, January 22, 23, 29).
At the ongoing rate of attrition, Ukrainian forces may, at some point, run well short of replacement capacity for armor and artillery. Meanwhile Russia has launched a political warfare campaign to disrupt Ukraine's mobilization and conscription. Ideally, from the Kremlin's perspective, protests would erupt in Kyiv if Ukrainian troops yield more ground, or if the Ukrainian president and government are compelled to accept Moscow's terms for an armistice. Ukrainian military communiqués, understandably geared to sustaining war morale, do not reflect that military predicament.
Having defeated Ukraine in the battle for Donetsk Airport, Russian and proxy forces are currently attacking the Ukrainian-held Debaltseve salient. This is a critical railroad and highway junction. Ukrainian control of it is the last major obstacle to the establishment of direct transportation links between the Donetsk and Luhansk "people's republics." Conversely, "DPR-LPR" control of Debaltseve would enable them to reliably unify their territories, infrastructure and military forces as well as, ultimately, achieve the political unification of the two "republics." Russian and proxy forces have not managed to encircle the Ukrainian forces in the Debaltseve area completely. But they have captured the district center Vuhlehirsk and the long-fought over Nikyshne. They are attacking the salient on both flanks, reducing it in size, and squeezing some Ukrainian forces from it via the remaining corridor. According to President Petro Poroshenko's military adviser, General Oleksandr Kuzmuk (the former defense minister), full encirclement of Debaltseve would open the way toward Artemivsk, Slovyansk and further on (Ukrayinska Pravda, UNIAN, January 31; Sprotyv.info, January 28–February 2).
Bereft of Western military assistance, Ukraine is facing Russia one-on-one. Almost one year after Russia's first attack on Ukraine, the Obama administration "appears to be edging [sic]" (New York Times, February 1; Kyiv Post, February 2) toward reconsidering its denial of military assistance to Ukraine. But the White House itself—as President Barack Obama made clear in his latest interview—is not even "edging" in that direction. And Obama's deputy national security advisor, Ben Rhodes came out squarely against providing Ukraine with defensive weapons. Instead, "the answer is to apply pressure, try to get them [i.e., the Ukrainian government] to the table with the separatists, so we can see a peaceful de-escalation" (CNN, February 1, 2). This coincides with Moscow's entrenched position, equating the "separatists" with the Ukrainian government as parties to negotiations. Meanwhile, Washington's oft-repeated calls for "de-escalation" imply that freezing the conflict is a goal in itself, not a solution consistent with the shared Western and Ukrainian interests. The Atlantic Council's latest report, "Preserving Ukraine's Independence, Resisting Russian Aggression: What the United States and NATO Must Do" (Atlanticcouncil.org, February 1) has significantly shifted the tone of public debates, in favor of providing Ukraine with defensive weapons and training, so as to deter further Russian land-grabs. But the administration only conveys its reluctance to carry out the (admittedly nonbinding) Congressional mandate to assist Ukraine to defend itself (Ukraine Freedom Support Act, Atlanticcouncil.org, December 2014).
German Chancellor Angela Merkel is expected to discuss this matter at the White House in Washington on February 9. In the run-up to that discussion, Merkel has restated her view, ruling out any military assistance to Ukraine, even amid the deteriorating military situation. Merkel invoked her familiar argument that there can be no military solution, but only a political solution to this conflict (Bundeskanzlerin.de, February 2). This argument overlooks the fact that Russia is actually imposing its own military solution unilaterally. A political agreement, if signed, would merely confirm that military situation on the ground, with Ukraine's unwilling signature added. Failure to arm Ukraine would result either in that kind of "political solution," or in a protracted unresolved conflict on the model of Transnistria, Abkhazia, South Ossetia or, most recently, Crimea, with Russia the winner de facto. Given Merkel's staunch opposition to arming Ukraine, her upcoming meeting with President Obama may well result in a mutual reinforcement of their existing position on this issue.