Russia Pressures Ukraine to Change Minsk Armistice Terms
Publication: Eurasia Daily Monitor Volume: 12 Issue: 13
By: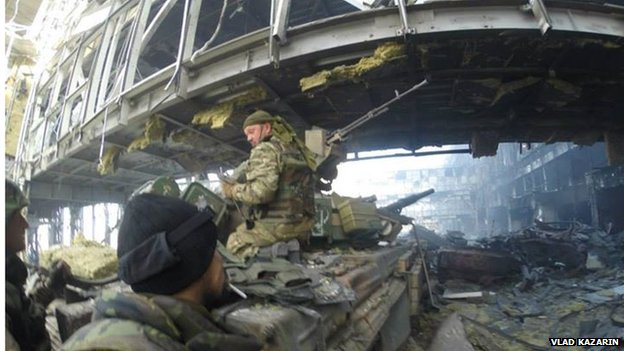 Russian regular and proxy forces have attacked Ukrainian positions at selected points along the entire length of the demarcation line in recent days. This operation threatens to shift the demarcation line and the whole existing basis of the September 2014 Minsk armistice. Russia has blocked the implementation of the armistice, turning it into a dead letter. It seeks to replace the existing armistice terms with a new set of arrangements, more favorable to Russia and the Donetsk and Luhansk "republics" (see below).
Moscow has initiated these military actions ahead of a proposed summit in the "Normandy format" (Russia, Ukraine, Germany, France) soon to be held in Kazakhstan. The Kremlin hopes to use such a summit for changing the Minsk armistice terms in Ukraine. The Kremlin may well calculate to influence the proposed summit by creating new faits accomplis on the ground. This could partly motivate Russia to start this offensive operation in the third week of January.
The ongoing military operation aims to coerce Ukraine into negotiating another ceasefire with Russia and the two secessionist "people's republics." Moscow would portray a re-negotiated ceasefire as a plan to implement the Minsk armistice terms under new conditions. If imposed on Ukraine under duress, however, the new terms would, in fact, supersede and further devalue the Minsk agreements. This would make it even more difficult for Ukraine and its Western partners to hold Russia to its obligations under the September 2014 armistice terms.
Moscow had decided to suspend major hostilities against Ukraine as of December 9 ("silence regime"—see EDM, December 12, 2014). It then singled out the Ukrainian foothold at the Donetsk international airport for a brutal attrition operation. Moscow played a cat-and-mouse game with Ukraine at Donetsk Airport, alternating attacks by proxy forces and covert negotiations with the beleaguered Ukrainian generals in the field. Kyiv's top political authorities authorized those negotiations in hopes of saving that outpost. Apart from Donetsk Airport, Russian proxy forces conducted relatively minor probing and skirmishing attacks.
On January 20, Ukrainian troops were ousted with heavy casualties from their remaining toehold inside Donetsk Airport. By this time, Russian and proxy forces were broadening the scope of their attacks significantly. No longer limited to Donetsk Airport, they targeted multiple Ukrainian positions, apparently aiming to overturn the Minsk armistice terms (Censor.net, Liga.net, UNIAN, January 19–22).
At the opposite end of the demarcation line, Russian forces moving in across the border shelled Stanitsya Luhanska and Schastiya, threatening to move against these Ukrainian-held towns outside the city of Luhansk. A successful advance in that direction would open the way for Russian forces into the Ukrainian-controlled northern part of Luhansk province.
Westward of Luhansk, Russian forces attacked and captured the Ukrainian Blockpost 31 on the Bakhmut Highway, moving onward against Blockpost 29. This now stands between Russian-led forces and the Lysychansk-Sieverodonetsk urban-industrial conglomeration.
In the central sector of the armistice line, Russian proxy forces are pressuring the Ukrainian-held Debaltseve salient, site of a vitally important railroad junction between Luhansk and Donetsk. In Washington, US Secretary of State John Kerry singled out the Debaltseve sector in criticizing Moscow's actions (Ukrinform, January 21).
Moving outward from Donetsk City, Russia-led proxy forces attacked the Ukrainian-held Peski (fallback position of Donetsk airport defenders) and shelled Avdiyievka, targeting the largest metallurgical coke coal plant under Ukrainian control. According to Prime Minister Arseniy Yatsenyuk, loss of the Avdiyievka plant would compel Ukraine to import the missing amounts of coke coal, seriously disrupting steel production (Ukrinform, January 21).
Apart from the goal of revising the armistice terms, Russia's offensive operation also aims to: divert the Ukrainian military from the task of inducting and training the freshly mobilized personnel (January marks the start of the first "wave" of three mobilization waves); undermine Ukraine's talks with the International Monetary Fund and other potential creditors and donors; and coerce Ukraine into signing a new ceasefire with Russia's proxies on terms that would compromise Ukraine's interests.
Donetsk Airport, totally destroyed in the protracted fighting, has become a high-value national symbol for Ukraine. A small number of mostly volunteer Ukrainian defenders held out during several months, inside a shrinking perimeter, against overwhelming odds. Without prejudice to that symbolic value, and even before the dust has settled on the final battle, Ukrainian military commentators are criticizing the army command's performance in the airport ordeal. Political fallout in Kyiv will undoubtedly ensue.
By January 19, Ukrainian intelligence identified two additional Russian battalion groups entering Ukraine. This raised the Russian regular troop count to some 9,000 on the Russian-controlled side of the demarcation line. Overall, Russian regular and proxy troops were deploying 180 tanks, 570 APCs, and some 220 heavy artillery systems after mid-January, according to Ukrainian military intelligence (UNIAN, January 19).
Officials from the United States and the North Atlantic Treaty Organization (NATO) publicly confirm that Russia has increased its military presence on Ukrainian territory in recent days. At the same time, Moscow has again calibrated its operation to a level that would elude a serious Western response, e.g. additional sanctions. The West's internal disagreements on this score allow Russia sufficient scope for these actions.
Russia may pursue these offensive actions for maximum advantage, or alternatively halt such actions as surprisingly as it had started them just days ago. Either course of Russian action is possible at a moment's notice, depending primarily on how the West responds. Russia holds the strategic initiative, whereas its tactics are flexible.