Russia Gives EU, Turkey and Azerbaijan an Ultimatum on 'Turk Stream'
Publication: Eurasia Daily Monitor Volume: 12 Issue: 13
By: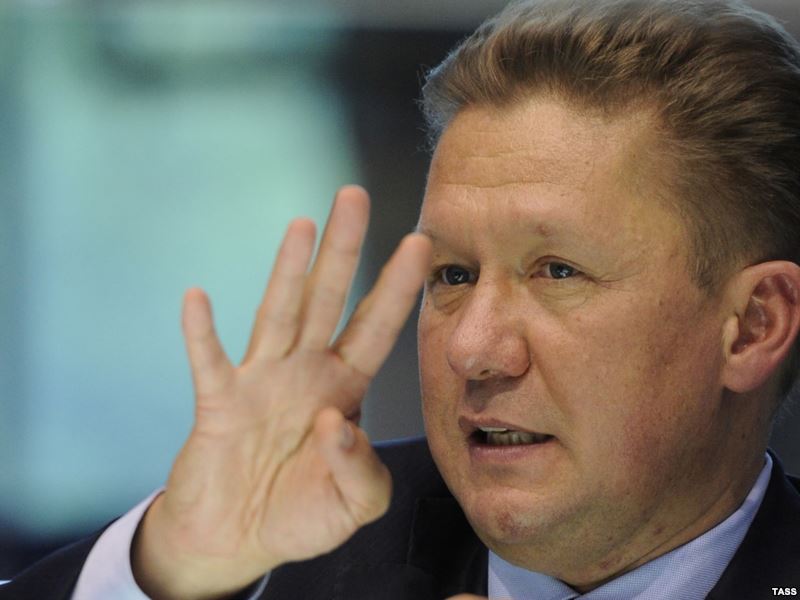 On January 14, 2015, Aleksei Miller, the CEO of Russia's state-owned natural gas giant Gazprom, sent a letter of warning to European Commission Vice President for the Energy Union Maros Sefcovic. In his letter, Miller wrote that Russia intends to stop all shipments of gas to Europe via Ukraine as soon as it completes a new pipeline corridor via Turkey. And he cautioned that, to avoid any future energy import disruptions, Europe will need to be prepared for that moment by building the necessary pipelines, interconnectors, and gas hubs now. "The EU has, at most, a few years to do this," he wrote, "To meet this deadline, work on a new pipeline in the European Union must begin immediately, today" (Wiadomosci.wp.pl, January 16).
Miller's warning was motivated by several goals of the Kremlin. First, Moscow is attempting to force an easing, if not an end, to European Union sanctions that were placed on Russia for invading Ukraine. In this respect, Russia intends to exploit what it perceives as publicly visible divisions within the EU over whether or not to ease sanctions (TASS, January 21).
Second, Russia is blackmailing Balkan and other European states into allowing it a free hand as well as major leverage on their economics and politics by threatening them with gas cutoffs, especially at the height of winter—a long-standing Kremlin policy. Third, Moscow wants to destroy any hope of Ukraine's self-rule by forcing it into eternal economic and strategic dependence on Russian gas by threatening to freeze it out. Moscow has also announced that it will no longer sell gas to Ukraine at subsidized prices after April 1, 2015 (UNIAN, January 20).
Fourth, Russia aims to prevent other former Soviet republics from pursuing European integration and also seeks to arrest the enlargement of the EU area by derailing Association Agreements (AA) and Deep and Comprehensive Free Trade Area (DCFTA) arrangements with countries of the post-Soviet space. In extending its gas leverage over European countries, therefore, Moscow hopes to inhibit that kind of European integration as well as undermine the expansion of the EU's remit within Russia's neighborhood.
Fifth, Moscow wants to establish Turkish dependence on Russia as the major, if not exclusive, provider of gas to that country. In this connection, Moscow's December 2014 decision (which was not an unplanned decision taken in a fit of pique) to terminate the South Stream gas pipeline project through the Balkans and reroute it through Turkey would, as Turkish analysts admit, generate an outcome whereby Turkey relies on Russia for over 70 percent of its gas (Interfax, January 20; Today's Zaman, December 2, 2014).
And finally, sixth, by rerouting South Stream through Turkey, Russia is (equally crucially) striking at Azerbaijan and, beyond it, at potential Central Asian gas exporters to Europe. Over the last couple years, under Baku's lead, Azerbaijan and Turkey have been working on bringing to fruition the so-called Southern Gas Corridor (SGC), which aims to bring Caspian-sourced gas through the Trans-Anatolian Pipeline (TANAP) to the Turco-Greek border and, from there, to Southeastern Europe via the Trans-Adriatic pipeline (TAP) and regional interconnectors; but both of these pipelines have yet to be built (see EDM, January 28, 2014). If Turkey becomes excessively dependent on Russia, Moscow could exploit that reliance to place enormous pressure on Turkey to downgrade the TANAP-TAP line and to block the SGC's intentions to connect Caspian-area gas producers directly to European markets. The failure to realize the potential of the SGC would marginalize Azerbaijan, restrict its access to key customers, frustrate its ability to move toward Europe, diminish its future cash flows, and entail the diminution of its sovereignty and influence.
Since Azerbaijan has moved strongly in the last four years to become a genuine player in Balkan energy markets and forge strong commercial ties with European energy companies, Russia's recent gambits clearly threaten vital Azerbaijani interests, including the SGC (see EDM, December 17, 2014). Indeed, attesting to the severity of this new threat to Azerbaijan, Turkey, and their European customers and partners, Russian commentators have approvingly noted that this decision speaks to Europe (and others) in the language of ultimatums (Russia Beyond the Headlines, January 19).
Such Russian posturing underscores what many Western commentators have always asserted about South Stream: namely, that it had no real economic justification other than to punish Ukraine and was a political as much as an energy ploy to isolate Kyiv, enmesh the Balkans in a web of dependency on Moscow, and prevent Azerbaijan and other Caspian producers from sending their gas to Europe while bypassing Russia (see EDM, May 5, 2014; July 17, 2014).
This pattern has already been observed before. In December 2013, Moscow increased the projected cost of South Stream's construction to over $22 billion, 50 percent more than previous estimates, and gave no explanation for doing so. Furthermore, Gazprom admitted that for the first quarter of 2012, the tariff for gas transit to Germany through the 55-billion-cubic-meter (bcm) Nord Stream pipeline in the Baltic was twice the transit cost through Ukraine. What this means is that Germany and other recipients are paying much higher prices so that Russia can circumvent and thus isolate Ukraine (Geopolitical Information Service, February 14, 2014). Essentially, European customers are subsidizing Moscow's power plays in Europe. Accordingly, South Stream—or "Turk Stream," as it is now being called—is a bad deal for Southeastern European states, as they will be paying much higher prices for a much less reliable gas supply that is subject to all manner of coercion and political use against them.
Yet, the obstacles to Turk Stream are considerable. No binding document detailing this pipeline exists, other than a vague memorandum of understanding (Christian Science Monitor, January 18). Neither is there any financing for this project and it is quite unlikely that the EU will rush, as Moscow is demanding, to build the infrastructure for this project to submit to Russian blackmail at a time when natural gas prices are falling through the floor and a global gas market has emerged with multiple alternatives to Russia (Interfax, January 20). Thus, Russia's gambit confirms that the failure of South Stream to materialize is, nevertheless, likely to propel the Balkans and Ukraine into front-line states in a serious struggle between the EU and Russia. And the implications of this current struggle will undoubtedly have enormous geopolitical and geo-economic consequences.