Russia Seeks Political Influence on Ukraine Via the 'Normandy' Group
Publication: Eurasia Daily Monitor Volume: 12 Issue: 14
By: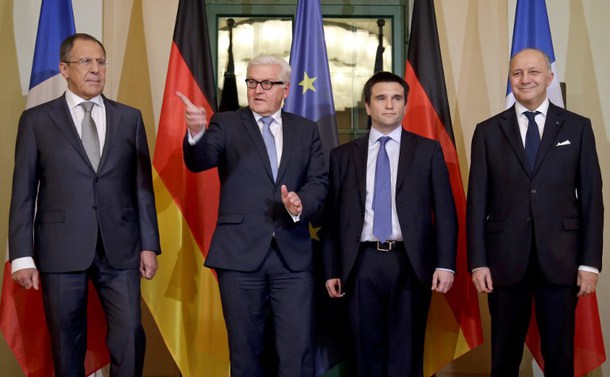 Foreign affairs ministers Frank-Walter Steinmeier of Germany, Sergei Lavrov of Russia, Pavlo Klimkin of Ukraine, and Laurent Fabius of France—representing the so-called "Normandy" group of countries—met in Berlin on January 21. Germany convened the meeting amid an upsurge in Russian-led attacks on Ukrainian positions along the ceasefire line (Ukrinform, January 22; see EDM, January 22).
Named after the venue of its inaugural meeting in France in June 2014, the "Normandy format" is designed to promote an armistice in Ukraine. The ongoing offensive by Russian and proxy forces represents the most serious breach yet of the September 2014 formal ceasefire agreements (which never took effect) and the December 2014 informal "silence regime" (which the Russian side broke from the second week of January onward). The ministerial meeting in Berlin was meant to defuse the ongoing hostilities in Ukraine and start preparations for a possible meeting of heads of state / heads of government in the Normandy format.
Kazakhstan's president, Nursultan Nazarbayev, had offered to host the Normandy group summit in Astana by January 15, a rush date undoubtedly coordinated with Russian President Vladimir Putin. German Chancellor Angela Merkel halted the rush to Astana in the nick of time. On January 10, Merkel asked Putin to ensure "substantive progress" in implementing the September 2014 armistice agreements, as a pre-requisite to a possible summit. Additional ministerial-level meetings in the Normandy format would be held to ensure that the ceasefire holds, ahead of a possible summit of the heads of state and government (Bundeskanzlerin.de, January 10, 14).
Putin intended, with a high degree of probability, to use the Astana summit for discussing constitutional reform and conflict-settlement in Ukraine. Russia, however, refuses to implement the armistice agreements signed in September in Minsk. The main provisions include: withdrawal of Russian troops and heavy armaments from Ukraine's east to Russia; working with the Organization for Security and Cooperation in Europe (OSCE) and Ukraine to secure the Russia-Ukraine international border; and allowing effective monitoring of the ceasefire and the demarcation lines by the OSCE. Contravening the armistice, Russia is building the Donetsk and Luhansk "people's republics" as proto-states on Ukraine's territory.
Moscow insists that Ukraine must change its constitutional structure and legalize those two "republics" as a pre-condition to Russia's compliance with the armistice agreements. This was Russia's implicit position all along; and has now become Moscow's official position.
Merkel, however, demands at least some progress toward compliance with the armistice first (see above), which is why she deemed Nazarbayev's proposal as premature. Merkel takes the position that too many summits on Ukraine have been held without results. She would attend another summit only if carefully prepared to produce "substantive progress." For his part, Steinmeier would be content with "small steps."
The Normandy group, as such, is not designed to come up with solutions or decisions, but only to encourage the "parties to the conflict in Ukraine" to do so through the Contact Group. This division of labor suits Russia perfectly because its Donetsk and Luhansk protégés are only represented in the Contact Group process (alongside Russia itself, Ukraine and the OSCE).
The January 21 Berlin meeting urged the Contact Group participants and Minsk armistice signatories to create preconditions for holding the proposed summit in Astana. The preconditions would be: restoring the "silence regime" (i.e., not the formal September ceasefire, but the informal one from December); withdrawing heavy weaponry on either side of the Contact Line as per the September 19, 2014, agreement; OSCE monitoring of that disengagement; agreement on humanitarian aid deliveries; and the continuation of the mutual release of prisoners (Auswaertiges-amt.de, January 21).
These preconditions look minimalist, however. They do not require a withdrawal of Russian troops and heavy armaments from Ukraine's east to Russia, nor control of the Russia-Ukraine border (these are core stipulations of the unimplemented armistice). The OSCE is supposed to monitor the ceasefire, although Russia is using its veto power to deprive the OSCE of the necessary resources. And Russia retains a free hand to build up the Donetsk and Luhansk "people's republics." In sum, the fulfillment of these preconditions would still leave Ukraine exposed to military threats and destabilization.
Russia has conclusively lost its influence on Ukraine's political system and governmental apparatus. Control of Donetsk and Luhansk is far from enough to manipulate Ukraine as a country. Perhaps the last remaining avenue of influence would be Russia's insertion into Ukraine's constitutional processes. This can come about either by negotiating a legal-political status of Donetsk and Luhansk vis-à-vis Kyiv, or by teaming up with some Western governments to reform Ukraine along "federal" lines, or by trying to combine these two processes.
The German and French governments expressed interest in Ukraine's "federalization" during 2014, following Russia's lead. Russia, Germany and France now apparently contemplate launching constitutional reform and conflict-settlement processes in Ukraine from the "Normandy" platform. Russia, de facto at war with Ukraine, apparently hopes to regain some degree of influence on Ukraine through the "Normandy" group.