Russia on an 'Unfriendly' Planet: The Psychological Origins of the Kremlin's Diplomatic War
Publication: Eurasia Daily Monitor Volume: 18 Issue: 84
By: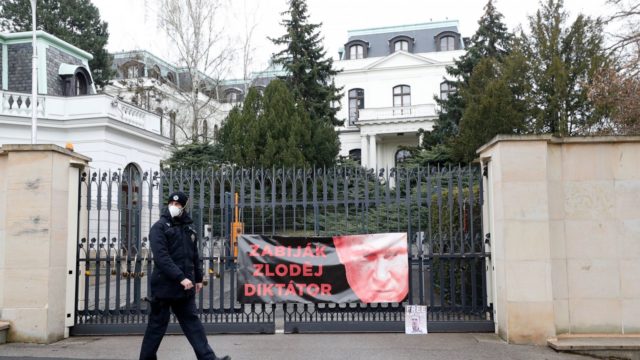 Over the past couple months, Russia and the West (the European Union and the United States) have mutually expelled more than 150 diplomats—high numbers in quick succession that, some observers argue, "did not even happen during the Cold War" (Newsru.com, April 24). And those numbers of expelled and counter-expelled diplomats continue to grow, extending to more and more countries.
From the European Union, the Czech Republic (Czechia), Poland, Slovakia, Latvia, Lithuania, Estonia, Romania, and Bulgaria as well as EU candidate North Macedonia all became participants of this diplomatic war with Russia. In the case of Ukraine, Russia even gave a double response: on April 16, the consul of Ukraine in St. Petersburg was detained and expelled from Russia; Ukraine responded by expelling one Russian diplomat from Kyiv, but Russia further escalated by declaring another employee of the Ukrainian embassy in Moscow persona non grata (Kommersant, April 26).
The diplomatic standoff between Russia and Czechia has become the most serious among EU member countries. At the beginning of this year, Czech investigators established that Russian military intelligence (GRU) officers were involved in explosions at two military warehouses in Vrbětice, in 2014; as a result, Prague declared 18 Russian diplomats persona non grata. In turn, Moscow responded by expelling 20 Czechs, harshly demanding that they leave Russia within just 24 hours. Consequently, the work of the Czech embassy in Moscow was practically paralyzed. In the end, the countries agreed on diplomatic parity—only 7 diplomats and 25 technical and administrative staff from each country would be allowed to remain in the other. These numbers are expected to be reached by the end of May (TASS, May 25).
The Czech demand for parity was a belated but still important reminder of international law in the field of diplomatic relations. The staffs of Russian embassies and the territories they occupy in many countries often continue to be as large as they were during the Soviet period (or sometimes inexplicably larger). And there are reasonable suspicions that these diplomatic missions are used not only for diplomatic purposes.
However, this conflict was not limited to embassy or consulate staffs. Russia also banned European Parliament Speaker David Sassoli from entering its territory, as well as several European experts who participated in the investigation into the August 2020 poisoning of opposition leader Alexei Navalny (Svoboda.org, April 30).
In May, the Russian government approved a list of "unfriendly countries," which so far includes only the United States and Czechia (TASS, May 14). More than likely, it will continue to expand to any country actively pursuing policies that do not meet the interests of the Kremlin. This initiative looks novel even in comparison with Soviet times. Of course, for the Union of Soviet Socialist Republics (USSR), all "capitalist" countries were considered "unfriendly" by default, but this was blamed on their governments, not on the entire populations of these states. Now, however, the countries as such are officially being declared "unfriendly"—in other words, hostile.
This naturally raises an interesting reverse question—which countries are considered "friendly" toward Vladimir Putin's Russia? After all, the Kremlin has managed to spoil relations to one degree or another with almost all countries of the post-Soviet space over the past decade, because, due to imperial inertia, it continues to consider them part of its "zone of privileged interests." In an indicative historical contrast, dozens of world leaders came to Moscow to attend the May 9 Victory Day military parades in the early 2000s, but this year, only the president of Tajikistan, where a large Russian military base is located, visited Red Square (Openmedia.io, May 9, 2021).
Members of the BRICS (Brazil, Russia, India, China, South Africa) geopolitical "bloc," founded in Russia in 2006, also do not look particularly "friendly" by some measures. A major Chinese interest vis-à-vis Russia, as noted five years ago (see EDM, April 28, 2016), consists of a neo-colonial transfer of its environmentally dirty industries to the Russian Far East; today, China is readying to construct a giant metallurgical plant in Sakha (News.ykt.ru, March 26). And "friendly" Brazil refused to register Sputnik V, the Russian vaccine against COVID 19 (Svoboda.org, April 27).
As for Moscow's actions against US diplomatic missions in the Russian Federation, the spiraling restrictions have significantly limited the US diplomats' abilities to serve the Russians themselves. In a word, the Russian government, wishing to punish foreigners, once again "bombed Voronezh" (see EDM, July 19, 2017). The US Consulate General in Yekaterinburg, the last such mission in a Russian city outside Moscow, closed on May 17 (Newsru.com, May 17). And as of May 12, the residents of Moscow and St. Petersburg also found themselves no longer able to obtain visas for travel to the United States. Joint cultural programs, student exchanges, and so on have all been interrupted. "We regret that due to the actions of the Government of the Russian Federation, we are forced to reduce the provision of consular services by 75 percent, which makes it impossible to provide visa services," the US embassy in Moscow posted to its website (Ru.usembassy.gov, accessed May 20).
The Kremlin's accusations of other countries' "unfriendliness" coincide with unprecedented repressions against the internal opposition, which is declared "extremist" (Novaya Gazeta, April 16). In general, it looks like a single interconnected strategy but one difficult to explain with reference to any rational interests of the country. Most likely, the explanation lies in the psychological sphere: indeed, German Chancellor Angela Merkel once observed that Putin lives "in his own world" (The New York Times, March 3, 2014). The president of Russia, after more than 20 years in power, seems to have honed the thinking that was instilled in him in the KGB. This thinking is built heavily on conspiracy theories: there are no independent partners, "everyone works for someone else." Therefore, there can be no independent Russian opposition or free elections, only "foreign agents" who dream of overthrowing him (see EDM, February 4). In supporters of normal federalism, Putin presumably sees those who want to "destroy the country." And in foreign policy, his obsession, apparently, is geopolitical revenge for the collapse of the USSR, which occurred "by order of the West"—naturally, the main enemy.
The Russian foreign ministry has listed the conditions under which it would lift restrictions on diplomatic missions. And these effectively boil down to the United States softening its attitude towards the Kremlin's aggressive policies (RBC, May 18). But will President Joseph Biden agree to such coercion during the June summit with Putin?