Navalny and Russia's 'Hybrid War' in the Streets
Publication: Eurasia Daily Monitor Volume: 18 Issue: 20
By: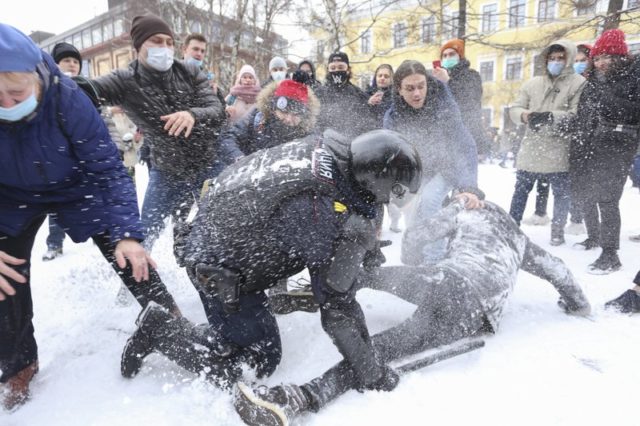 Russian opposition leader and anti-corruption activist Alexi Navalny (44) was poisoned by the nerve agent Novichok during a visit to the Siberian city of Tomsk on August 20, 2020. Navalny survived the attack—apparently carried out on government orders—but lapsed into a coma. After some hesitation and pressure from Western governments, the Kremlin permitted the transfer of Navalny to Berlin, Germany, for treatment. Western specialists discovered traces of a Novichok-type nerve agent on him. Moscow has rejected any knowledge or responsibility and accused the Western intelligence services of deliberately fabricating the Navalny-Novichok case as an anti-Russian provocation. After recuperating, and defying clear signals from the Kremlin that he would not be welcome back home, Navalny flew to Moscow on January 17, 2021. He was detained at the Sheremetyevo airport before he even managed to pass passport control. The flight Navalny took to Moscow was deliberately diverted to Sheremetyevo instead of Vnukovo, where his supporters had gathered. On February 2, a judge in Moscow, in the presence of the media and Western diplomats, sentenced Navalny to 32 months in a Russian penal colony on phony charges of embezzlement (Interfax, February 2).
Many pro-Navalny activists and supporters were detained preventively in Moscow and other Russian regions, but mass public protests still broke out across country over the past several weeks. The police and the Kremlin have insisted the number of demonstrators has been "low"—several thousand in Moscow and fewer in other places. But independent observers contend that tens of thousands braved the freezing weather and anticipated police brutality to take to the streets and support Navalny in peaceful protest. The Russian authorities declared all public demonstrations illegal and clamped down with previously unprecedented ruthlessness. During the mass rallies on January 23, January 31 and February 2, over 10,000 were detained or arrested in Moscow and all around the country. The law enforcement system was overwhelmed in Moscow and St. Petersburg. Detainees are being held in appalling conditions, for many hours, without food or sleep; many had to wait in cold police vans to be processed. Jails are overcrowded, and a detention center for undesirable aliens in the Moscow region has been repurposed to hold political prisoners serving administrative sentences (Newsru.com, February 4).
The Kremlin's spokesperson, Dmitry Peskov, told journalists: "The protest actions were illegal; there were lots of provocateurs and hooligans who attacked the police. It is impossible to have dialogue with those who take part in illegal activities—they must be suppressed using the full power of the law" (Interfax, February 1). Peskov acknowledged detention centers have been overflowing with detainees, but the protesters have only themselves to blame since they took part in illegal activities and provoked the authorities, he contended. Peskov insisted it is not the business of President Vladimir Putin (68) and his administration to look into human rights abuses committed by Russian law enforcement (Interfax, February 4).
After Navalny returned to Moscow and was arrested, his organization released an investigative documentary video about a massive multi-billion-dollar mansion estate, near the Black Sea coastal resort town of Gelendzhik, being built and rebuilt for some years, allegedly for the benefit of Putin (Newsru.com, January 19). To date, the film attracted more than 100 million hits on YouTube—roughly equal to the total number of Russians with access to the internet. The Kremlin and Putin himself have stridently denied any connection to or ownership of the Gelendzhik estate.
Eventually, billionaire businessman and close Putin ally Arkady Rotenberg (69) told reporters it was he who owned the Gelendzhik mansion and is planning to transform it into a luxury hotel (Interfax, January 30). In 1963, Rotenberg and Putin both joined a youth sambo wrestling club in Leningrad (now St. Petersburg). After 2000, when Putin became president, Rotenberg, together with his brother Boris, became billionaires mostly by acquiring a series of large government contracts. After some ten years of economic stagnation and declines to household incomes—a situation further exacerbated by the severe outbreak of the COVID-19 pandemic in 2020—Putin's super-rich associates are now the targets of accumulating public hatred, something Navalny has been skillfully fanning.
The Russian authorities, including Putin, have accused Navalny of being an agent of the West, working under the control of foreign intelligence services to destabilize Russia (Kommersant, January 20). Navalny's return to Russia, the Gelendzhik video, the massive protests that began after his arrest, and even the presence of Western diplomats at his trial are all seen as parts of a massive conspiracy—a purported act of "hybrid warfare" aimed at eventual regime change. According to one observer close to the Kremlin, Mikhail Rostovsky, the incoming Joseph Biden administration in the United States sees two major foreign enemies—China and Russia—with the latter considered the weaker link economically and politically, a declining superpower while China is on the rise. Conspiratorially minded Russian elites believe that the West, and primarily the US, have purportedly built a capable "fifth column" in Russia but lack one in China. Navalny's return was a signal to this "fifth column" to launch an all-out assault on the Kremlin (Moskovsky Komsomolets, January 20).
According to Colonel General (ret.) Fyodor Ladygin, a former chief of Russian military intelligence (GRU), the US sees Russia as an enemy and is using a combination of military and nonmilitary means, known as "hybrid warfare," to achieve overall victory without risking a full-scale military confrontation. With the future of Russia at stake, there can be no leniency: any illegal protest activity must be treated as the actions of the enemy's "fifth column" taking orders directly from Washington (Vpk-news.ru, January 18). Ladygin's words are not just a propaganda ploy. The Kremlin seems to genuinely be treating Navalny and his supporters as an existential threat. The authorities and law enforcement, thus, see themselves as opposing a perceived hybrid war in the streets of Russian cities by fighting the United States' "fifth column." Navalny, his supporters and apparently anyone who is ready to publicly protest is essentially treated as an enemy combatant or terrorist who must be defeated and subdued by any means. No quarter will be given until the internal enemy is vanquished. At present, political dialogue and compromise are essentially impossible.