Poisonings of Activists in the North Caucasus: A Low Threshold for Chemical Weapons Use Inside Russia?
Publication: Eurasia Daily Monitor Volume: 18 Issue: 20
By: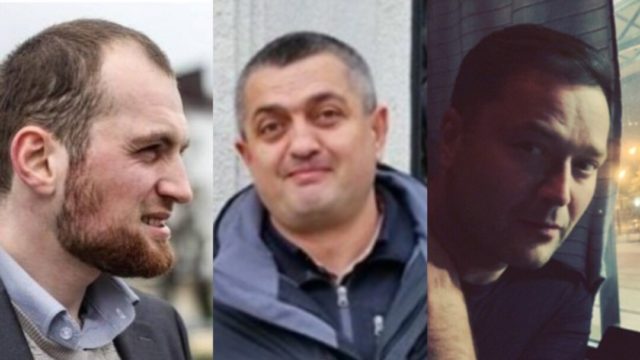 On January 27, a reputable team of investigators from the Bellingcat organization published a report regarding the activities of the Russian security services' poison squad. Investigators linked several Federal Security Service (FSB) operatives and civilian chemists to the death of journalist and activist Timur Kuashev in Kabardino-Balkaria in 2014, activist Ruslan Magomedragimov in Dagestan in 2015, and pro-Kremlin politician Nikita Isaev in 2019 (Ekho Moskvy, Bellingcat.com, January 27). The new investigation followed in the footsteps of the open-source intelligence outfit's previous efforts to identify the people and organizations behind the poisoning of the prominent Russian opposition leader Aleksei Navalny with a military-grade chemical agent known as Novichok (Meduza, September 2, 2020). Bellingcat convincingly showed that a group of at least eight people made up of FSB officers and chemists connected to the Russian security services were engaged in the poisoning of Navalny (Navalny.com, Bellingcat.com, December 14, 2020). Later, under the pretense of being a top Russian government official, the Russian opposition leader spoke on the phone with one of the members of the squad who confirmed many of the conclusions of the investigators (Meduza, December 21, 2020).
The latest report sheds new light on what appears to be a much larger government-sponsored program of poisoning activists inside Russia than previously thought. Namely, the investigators conclude, Russian government agents are allegedly directing a sizable part of the covert assassination program to the North Caucasus. Some of these cases have been known for a few years. Sources connected the death of the North Caucasus insurgency's leader Doku Umarov to poisoning by the FSB in 2013 (Lenta.ru, September 27, 2017). The Russian security services also boasted of killing another prominent militant, Amir Khattab, in 2002 (Rosbalt, January 8, 2018).
It is possible to rationalize the targeting of high-profile militants or opposition figures by the Russian government, even if such actions are illegal. However, the alleged poisonings of little-known (at the national scale) individuals such as journalist Kuashev and activist Magomedragimov indicate an apparently incredibly low threshold for Moscow to invoke its deadly program. Indeed, some observers have suggested that the killing of the pro-Kremlin politician Isaev was simply a "test" to pave the way for the FSB agents' attack on Navalny (T.me/s/ibarabanch, January 27, 2021).
The concepts of a low threshold for using military-grade poisons versus "testing" them on unwanted and relatively low-profile figures do not contradict each other. After the deaths of both Kuashev in Nalchik and Magomedragimov in Kaspiysk, their relatives reported that the victims had punctures on their bodies resembling traces of a syringe needle. Provided this information is correct, the perpetrators of the presumed killings likely employed a chemical agent that was different from the one used to poison Navalny. The latter was poisoned with Novichok, which can kill even after only touching bare skin. Moreover, the attackers did not take much care to establish a narrative that might definitively dissuade questions about whether Kuashev and Magomedragimov might have been assassinated. In both cases, there was widespread speculation not only that the victims were killed but also that they were likely poisoned. Conveniently, the same FSB lab that was implicated in Navalny's poisoning in 2020 had, earlier, provided a forensic exam that asserted lack of evidence of any traces of poisons in Kuashev's body.
Prior to his death at the age of 26, Timur Kuashev increasingly engaged in public activities, bringing disparate groups together, such as the mothers of killed rebels and police officers in Kabardino-Balkaria. As his local profile grew, many came to expect that he would eventually enter the political arena (Kavkazsky Uzel, January 27). Ruslan Magomedragimov, 45 years old at the time of his death, was an activist in the ethnic-Lezgin movement Sadval. In the 1990s, the organization advocated for the creation of an independent state out of part of Dagestan and Azerbaijan. Sadval's separatist activities, however, largely subsided soon after Heidar Aliev came to power in Azerbaijan in 1993. Some Lezgin activists continued to linger on in Dagestan, but they were not considered politically significant. Nevertheless another leader of Sadval, Nazim Gadzhiev was stabbed to death in Makhachkala in 2016 (Kavkazsky Uzel, January 28). Like Navalny, Nikita Isaev focused on combating corruption but did so at a much smaller scale and with the apparent approval of the state. Incidentally, he was employed for a short time at the Ministry for Regional Development with a specialization in the North Caucasus. For the last two years before his death, at 41, Isaev led the social movement Novaya Rossia (New Russia) (RBC, November 16, 2019).
Information on the Russian security services' poison squad is scant and incomplete at this point. More details might leak out if internal rifts among the Russian elites widen. The existence and activities of the FSB's assassination team sends a chilling signal to local activists, journalists and other figures in the public eye. It is also likely to introduce more uncertainty into Russia's domestic politics. For example, members of regional and national elites are bound to grow even more suspicious of their own government's subversive activities. Unexpected deaths of members of the elite, which are likely to occur, will inevitably be connected to the Russian security services—accurately or not. As the cases of Kuashev, Magomedragimov and Isaev illustrate, the Russian government's threshold for using poisons and deadly chemical agents is astonishingly low, targeting Russians with low as well as high profiles. By extension—as the infamous cases involving Alexander Litvinenko, Sergei Skripal and other Kremlin critics or "enemies" demonstrated—the Russian security services are ready and willing to use such lethal substances abroad, while disregarding the risks to innocent casualties. An eventual declassification of the official files pertaining to the poison squad is likely to spotlight new revelations about the clandestine war of the Russian government against its domestic and foreign foes, as well as ordinary people who were caught in the crossfire.