Baku and Ankara Deny Turkish Military Bases Being Established in Azerbaijan
Publication: Eurasia Daily Monitor Volume: 18 Issue: 19
By: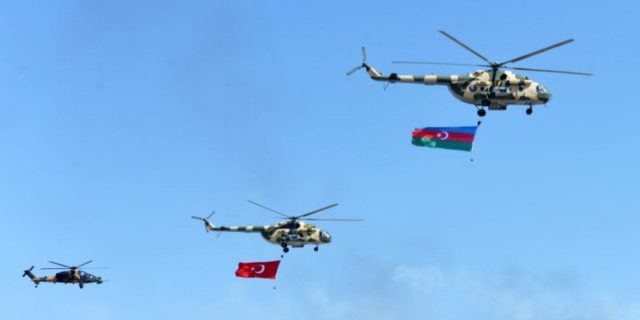 The Azerbaijani government has denied accounts, first published on January 8 in Haqqin.az but subsequently deleted, of three Turkish military bases allegedly being established in Azerbaijan as a consequence of Turkish military assistance to Baku during last year's 44-day Azerbaijani-Armenian conflict. The reports, if accurate, would represent a significant development in the geostrategic balance of power in the post-Soviet Caucasus (Lenta, January 8).
The official denials came swiftly: in response to the reports, the press service spokesperson for Azerbaijan's Ministry of Defense, Vagif Dargahli, told journalists that the government adheres to its policy of not hosting any foreign military bases in Azerbaijan, except for cases envisaged in international agreements that Baku had signed (Minval.az, January 8). Further bolstering his case for dismissing the allegations, Dargahli added, "It should be noted that Azerbaijan is a member of the [120-nation] Non-Aligned Movement and is chairing this movement in 2019–2022" (RIA Novosti, January 8). Also on the same day that the media reports appeared, the Azerbaijani defense ministry issued an official disavowal on its Facebook page in Azerbaijani, Russian and English (Facebook.com/wwwmodgovaz, January 8).
What is not in dispute is the notable Turkish military assistance to Azerbaijan following the latter's recent military confrontation with Armenia. According to FlightRadar-24, beginning last December, Turkish military aviation established an aerial logistical bridge to Gabala, Lankaran and Ganja, in Azerbaijan (Moskovsky Komsomolets, January 11). Moreover, on January 6, the Azerbaijani Telegram channel "Zamanaze" reported that up to seven Turkish military cargo aircraft arrived in Azerbaijan that day alone (T.me/zamanaze, January 6). On January 8, it published maps and details of the flights, documenting that, the previous day, five Turkish military cargo planes landed in Azerbaijan, several of them in Lankaran (T.me/zamanaze, January 8). Within hours, an Armenian Telegram channel, "Armenia_VVV," alleged that after up to 13 Turkish military cargo planes arrived in Azerbaijan from Turkey during January 6–8, Turkish military bases were consequently to be established in Azerbaijan near its western town of Ganja, northern town of Qabala and the southern town of Lankaran (T.me/armenia_vvv/11564, T.me/nashasredaonline, January 8). Russian media outlets report that the Turkish military presence in Azerbaijan is currently made up of approximately 600 advisors and instructors, including around 120 Air Force specialists scattered among the Gabala airbase as well as airfields in Ganja, Yevlakh and Dallar, (Svobodnaya Pressa, January 18).
By 1993, after five years of war with its eastern neighbor, Armenia controlled approximately 3,088 square miles (8,000 square kilometers) of Azerbaijani territory, including the former Nagorno-Karabakh Autonomous Region and surrounding areas—roughly 20 percent of Azerbaijan (The Daily Sabah, August 21, 2020). Azerbaijani-Armenian relations subsequently sank into a post-Soviet "frozen conflict." And for the last three decades, it has been one of the Azerbaijani government's highest priorities to reclaim those lost territories under Armenian occupation even as Armenia was equally determined to retain its military gains. Baku finally achieved most of its objective during the September 29–November 9, 2020, Second Karabakh War—in no small part thanks to the support it received from its closest ally, Ankara.
The growing Turkish assistance to Azerbaijan can be seen in light of a phenomenon increasingly commented upon in both the Turkish and international press: President Recep Tayyip Erdoğan's increasing "neo-Ottoman" political inclinations toward Turkic nations in the Caucasus and Central Asia. This ostensible restoration of Ottoman-like influence is encapsulated in the title of an article, published at the height of the Armenian-Azerbaijani clash last year, by Turkey's state-run Anadolu Agency entitled, "Turkish Soldiers Are in Azerbaijan Again After 102 Years" (Anadolu Agency, November 19, 2020).
The Turkish military initiatives assisting Azerbaijan have produced a seemingly inevitable Russian pushback, as Armenia remains its closest ally in the South Caucasus. In the wake of the Karabakh war, not only is Russia sending peacekeepers to the region, but Armenian media reports that it is also preparing to reopen Stepanakert Airport (Public Radio of Armenia, December 28, 2020). The Karabakh region's capital of Stepanakert (Khankendi in Azerbaijani) lies in a rump section of Karabakh that is still under de facto Armenian control, but safeguarded in its continued existence by Russian peacekeepers (see EDM, December 10, 2020).
In the wake of Azerbaijan's recent battlefield successes, burgeoning Azerbaijani-Turkish military cooperation continues to deepen. On January 17, 2021, Turkey's Ministry of Defense announced that the joint Turkish-Azerbaijani "Zima" ("Winter") military exercise would be held on February 1–12, and that participating service members from the neighboring allied country have already left for Kars. The choice of this Turkish town as the venue for the exercise was seen as a provocative action in Yerevan and Moscow. Kars sits near the border with Armenia, and up until World War I, its population was heavily Armenian (Sputnik News— Azerbaijani service, January 17). The Zima drills will focus on the operational capabilities of the two countries' weapons and military equipment in harsh winter weather conditions. Previous large-scale bilateral tactical and tactical flight exercises by Turkey and Azerbaijan were held in August 2020, about a month before the outbreak of the Second Karabakh War (Sputnik-georgia.ru, January 18).
Up until a few years ago, Turkey did not possess military bases outside its territory beyond those in the so-called Turkish Republic of Northern Cyprus (TRNC), established in 1974. Any potential future facilities on Azerbaijani soil, accordingly, would join Turkey's recent overseas military base acquisitions in Somalia, Qatar, Iraq and Syria. Nor has Azerbaijan limited its potential for foreign military contacts to the alliance with Turkey: on January 22, the United Kingdom's ambassador to Baku, James Sharp, declared that his country was greatly interested in developing military contacts with Azerbaijan, stressing, as an initial step, British assistance in de-mining the liberated Azerbaijani territories (Trend, January 22). Much to the Kremlin's chagrin, not one but two members of the North Atlantic Treaty Organization (NATO) are now vying for closer military-military relations with a strategically important South Caucasus country.