Russia's 'Peacekeeping' Operation in Karabakh: Foundation of a Russian Protectorate (Part Two)
Publication: Eurasia Daily Monitor Volume: 17 Issue: 176
By: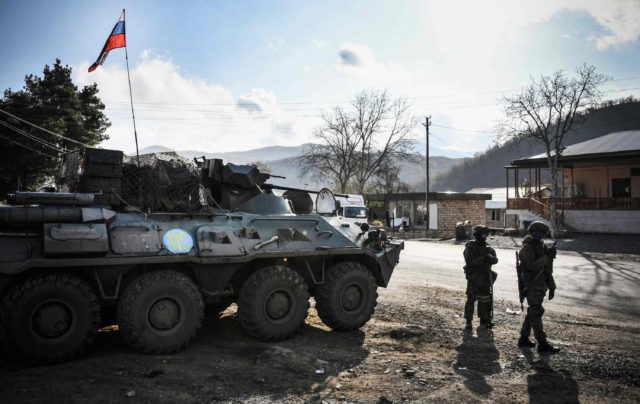 Russian troops deployed to Upper ("Nagorno") Karabakh exceed by far the number stipulated in the November 9 armistice agreement (see EDM, November 12, 13) due to the additional deployment of Russia's Humanitarian Response Center personnel. This supplementary manpower is drawn mainly from military or militarized institutions—Ministry for Emergency Situations, Ministry of Defense, Federal Security Service (FSB)—the numbers of which have yet to be disclosed (see Part One in EDM, December 8). That personnel, augmenting the "peacekeepers," has taken charge of civil-administration tasks in Upper Karabakh (post-conflict reconstruction, infrastructure maintenance, distribution of humanitarian assistance).
The "peacekeeping" troops' commander is a three-star general, Rustam Muradov, with another flag officer (Major General Andrei Volkov) as chief of staff. Such a high-ranking command looks disproportionate to the official number of 1,960 "peacekeepers." Prior to this mission, Muradov served as Russia's chief representative on a joint armistice observation center in Ukraine's Donbas, then as a combat commander of Russian forces in Syria (Hero of Russia award for the victory in Deir ez-Zor). Muradov is a native of Dagestan and an ethnic Tabarasan (Kavkazsky Uzel, November 12).
Although Russia does not officially recognize the Karabakh "republic," Russia's "peacekeeping" and "humanitarian-response" missions do cooperate with the de facto authorities (as Russia also does in the unrecognized Transnistria, and did in Abkhazia and South Ossetia long before recognizing them officially). Such cooperation with the de facto authorities is not only well-nigh inevitable for practical considerations but also politically useful, as it helps to entrench the de facto authorities and advance their eventual acceptance on the international level.
The Karabakh "republic's president," Haraik Harutiunian, "officially" received Muradov as early as November 13 and then received the department heads of Russia's emergency situations ministry, Lieutenant General Igor Kutrovsky and Vladimir Solovyov, on November 17. The meetings dealt with cooperation between Karabakh's authorities and the two Russian missions (Armenpress, November 13, 17, 23). According to Russia's Defense Minister Sergei Shoigu, "cooperation with Nagorno-Karabakh's leadership has been established" (TASS, December 4).
Russia's "peacekeeping" and "humanitarian" missions currently operate in Karabakh de facto, without a legal basis thus far. According to Foreign Minister Sergei Lavrov, Russia is only now "considering the legal implications of the Russian peacekeepers' area of responsibility" (TASS, December 7). Maps published by Russian military authorities show that area of self-arrogated responsibility covering the entirety of the Armenian-controlled rump-Karabakh (divided into a northern and a southern area of Russian responsibility). It does not currently extend to the Azerbaijani-controlled southern part of Upper Karabakh.
Russia's "peacekeeping" operation violates at least two cardinal norms established by the United Nations for legitimate peacekeeping operations: requiring a UN or other legitimate international mandate as well as barring troop contributions from neighboring countries or from countries already involved in the conflict at issue. Russia has also breached the consensus of the Organization for Security and Cooperation in Europe's (OSCE) Minsk Group and its co-chairmanship (Russia, United States, France), whereby any hypothetical peacekeeping operation in the Armenian-Azerbaijani conflict theater would have to exclude troops from countries allied to either side, from neighboring countries, or from the co-chairing countries. These exclusions, covering Russia and Turkey first and foremost, held from the Minsk Group's foundation in 1994 until October–November 2020, at which point Russia proposed and deployed its "peacekeeping" operation, blindsiding the US and French co-chairs as well as the OSCE and the UN.
Russia is not only Armenia's military-strategic ally but is now also accurately considered the "guarantor of Karabakh's security." Russia practically guarantees the Karabakh "republic's" separate existence, as opposed to its return to Azerbaijan without a "republic's" status. Above and beyond the local Armenian population's safety, Russia guarantees the continuation of the "Karabakh republic's" state structures: its own "president, government, parliament," complete with the Karabakh Defense Army. Similarly, Russia had protected the proto-states in Abkhazia and South Ossetia while recognizing Georgia's territorial integrity officially from 1991 through 2008, at which point Moscow recognized Abkhazia and South Ossetia officially. At present, Moscow continues recognizing Moldova's territorial integrity officially, even as it operates a Russian protectorate in Transnistria.
Moscow has taken the position all along that its security guarantees for Armenia do not cover Karabakh. This remains Moscow's official position, but its "peacekeeping" and humanitarian operations have turned Russia into the "Karabakh republic's" protector, a fact clearly recognized by all parties concerned. While respecting Azerbaijan's territorial integrity officially, Moscow acts to make the restoration of that integrity conditional on negotiation processes that Russia can decisively influence, thanks primarily to its military presence on the ground.
The United Nations looks content, as it has been all along (Tajikistan 1992–1997, Abkhazia and South Ossetia 1992–2008, Transnistria from 1992 to date), not only to tolerate Russia's breaches of the UN's own peacekeeping standards but to legitimize them directly or indirectly. UN Secretary General Antonio Guterres, informed Lavrov by telephone that he "welcomes Russia's role in achieving the armistice" and that "UN agencies will interact with Azerbaijan, Armenia and with Russia's peacekeepers to resolve the humanitarian problems" (TASS, December 3). Guterres's spokesperson, Stéphane Dujarric, followed suit, urging "all sides to carry out the armistice stipulations," and modestly confining the UN's own role to humanitarian assistance. Guterres plans to dispatch a fact-finding mission "to assess together with Russia" the needs for humanitarian assistance in Karabakh and adjacent districts. The UN Department of Peacekeeping Operations plans merely to send a humanitarian de-mining mission to Karabakh (TASS, November 23, December 3, 4).
The UN Department of Peacekeeping Operations presides over peace-support missions worldwide, excepting the conflict theaters in former Soviet territories. All UN secretaries general and their peacekeeping departments have, from 1992 to date, conceded a Russian peacekeeping monopoly there. Such a monopoly is a basic ingredient to Russia's sphere-of-influence rebuilding efforts.
Moscow does welcome international organizations to play auxiliary roles alongside Russian "peacekeeping" missions. A symbolic international presence on the ground confers a semblance of legitimacy on Russia's unilateral operations without influencing them in any way—not even objecting to Russia's breaches of the UN's own peacekeeping norms (see above). Russia has successfully used the UN and OSCE in this way in Abkhazia and South Ossetia, and it has played cat-and-mouse with the OSCE in Transnistria and in Ukraine's Donbas.
Russia currently encourages the United States and France, co-chairing countries of the Minsk Group, to associate themselves with Russia's "peacekeeping" efforts in Karabakh. According to Lavrov, the US and France could usefully participate by mobilizing international humanitarian assistance and contributing to the preservation of historical and religious monuments in the area (TASS, December 7).
Moscow agreed in principle, on November 11, to a limited presence of Turkish unarmed military-technical observers in a Russian-Turkish joint center on the ground "in Azerbaijan." However, Moscow currently obstructs the negotiations with Ankara regarding the parameters of the joint center. The Russian side apparently attempts to confront Turkey with the alternative options of having a modest Turkish presence or none.
The unrecognized Karabakh "republic's" state structures (president, parliament, government, army) are not going away but continue to exist and function under Russia's protection. This situation basically reproduces the cases of Abkhazia and South Ossetia before 2008, until Russia ended up recognizing them as independent "states." They were and remain Russian protectorates. The long road to their official recognition included Russian passportization of their residents and inclusion into Russia's security, economic, logistics, and information spaces (see EDM, June 18, 2014, December 2, 2014, December 7, 2020; see Commentaries, February 5, 2010). According to Kremlin spokesperson Dmitry Peskov, Karabakh's "parliament" is drafting "legislation" to confer "state-language" status on the Russian language alongside Armenian (TASS, December 2).