Will Russia Annex Abkhazia and South Ossetia?
Publication: Eurasia Daily Monitor Volume: 11 Issue: 110
By: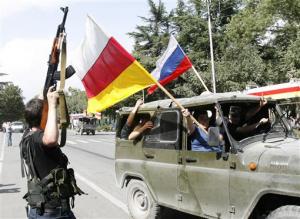 Against the backdrop of the quickly unfolding situation in Ukraine—the annexation of Crimea and the guerrilla war in eastern Ukrainian—there are growing fears in Georgia that Russia will also use similar techniques, including elections or referenda, to annex Abkhazia and South Ossetia.
Georgian politicians and experts are alarmed by the assumption that Russia has the same reasons for adversarial action toward Georgia, as it had in Ukraine. On June 27, Prime Minister Irakli Garibashvili is expected to sign the Association Agreement with the European Union in Brussels (georgianpress.ge, May 5). Indeed, according to a commonly held view, Moscow's openly negative attitude toward post-Soviet states integrating into Western institutions became the primary cause for the catastrophic developments in Ukraine.
Even more infuriating to Moscow is Georgia's continuing insistence on joining the North Atlantic Treaty Organization (NATO). Tbilisi hopes to receive a Membership Action Plan (MAP) at the September 2014 NATO summit in Wales (civil.ge, June 4), and Georgia's Minister of Defense Irakli Alasania offered to station NATO defense structures on Georgian territory (interpressnews.ge, June 1).
Recent events seem to support the view that Moscow is prepared to punish Georgia for moving closer to Europe, by finally annexing Abkhazia and South Ossetia. In the recent parliamentary elections in South Ossetia, the party United Ossetia enjoyed a landslide victory (ossetia.tv, June 10). United Ossetia advocates South Ossetia joining North Ossetia and creating a united Ossetian region inside the Russian Federation. The leader of the party, Anatoly Bibilov, stated that this is an age-old dream of the Ossetian people (rsonews.org, June 10). But the proposal significantly differs from the program of the former president of South Ossetia, Eduard Kokoity, who headed the republic during the five-day Russian-Georgian war. Kokoity advocated retaining South Ossetia's independence and made additional territorial claims against Georgia—including the mountainous gorge of Truso and Kazbegsky district (GHN, August 26, 2013).
"Regarding incorporation into Russia, there are two opinions now among the South Ossetian leadership: either to enter the Russian Federation as a separate region or as a united region with North Ossetia. But in any case, Moscow decides all," analyst Mamuka Areshidze told Jamestown (Author's interview, June 12). In Areshidze's opinion, Moscow has not yet made a final decision on this matter. Whereas, Dmitry Sanakoev, a former prime minister and defense minister of South Ossetia who switched sides and became pro-Georgian, told Jamestown that a total annexation of South Ossetia was not in Moscow's best interest right now because the world community would perceive it as yet another land grab—the second this year after Crimea—resulting in a new round of sanctions against Russia (Author's interview, June 12).
Events in Abkhazia are no less interesting, as former Soviet KGB officer Raul Khajimba and his followers deposed the elected president, Alexander Ankvab in late May (see EDM, June 12). Ankvab was known for his resistance to many important Kremlin proposals, such as Russian access to the Abkhazian real estate market as well as the return of the monastery in Novy Afon to the Russian Orthodox Church (Slon.ru, May 28).
Concern is rising both in Tbilisi and Abkhazia itself that the separatist region's new authorities may initiate a referendum on accession to Russia or sign an association agreement with Moscow. The main ideologue of Abkhaz separatism, Taras Shamba, has recently endorsed this solution (Vestnik Kavkaza, May 8).
However, analyst Giorgi Nodia told Jamestown on June 12 that Moscow may choose another tactic: "I do not think that the Russian Federation's leadership will now opt for the annexation of Abkhazia and South Ossetia. Apparently, Moscow considers these territories and their 'independent status' as useful tools of leverage [against] Georgia." Yet, Nodia does not rule out that Russia could soon use this tool to carry out ethnic cleansing of the Georgian population in the Gali district of Abkhazia. "It is unlikely," he said, "that Moscow was not involved in the latest events in Sukhumi, as the new Abkhaz leader, Raul Khajimba, threatens to expel ethnic Georgians from the Gali district. This will become a punishment for Georgia for formalizing the association with the EU."
Zurab Gogoberidze, an expert writing for the weekly Georgian paper Premier, has pointed out that even if Russia does not annex Abkhazia and South Ossetia, this will not mean that the risks to Georgia have been reduced. "On the contrary," Gogoberidze said, "[it] might mean that Moscow is gearing up for aggression, but using Abkhaz and Ossetian separatists" as a way to deny Russian direct involvement by claiming that Moscow does not control these "independent stats"—just as it is doing in Donetsk and Luhansk, in eastern Ukraine (Author's interview, June 12).
Amidst these growing fears, Prime Minister Garibashvili is trying to display calm. In a recent interview for BBC, he stated that the situation in Abkhazia and South Ossetia "is different from Crimea, and the comparison with Crimea would be a mistake. Russia recognized Abkhazia and South Ossetia as independent states in 2008, and since then there has been no progress toward their accession into the Russian Federation," the Georgian prime minister said (Rustavi 2, June 12).
In the same interview, Garibashvili noted that Georgia managed to establish a precedent by successfully cooperating with Russia while maintaining its course toward NATO and EU integration (Rustavi 2, June 12). However, the opposition regards the prime minister's optimism as unfounded and the success of Tbilisi's policy of complementarity as illusory. "These two courses are incompatible with each other. Irakly Garibashvili's statements contradict the interests of our country," Nugzar Tsiklauri, a parliamentarian from the United National Movement party, told Jamestown on June 12. "Russia will never tolerate Georgia's real independence and will use all the leverage it has to put pressure on our country," Tsiklauri added.
The kinds of tools Moscow will use to counter Georgia's pro-Western course will become apparent in the coming months. The annexation of Abkhazia and South Ossetia is only one possible option for Russia; the resumption of its embargo on Georgian produce is another. The prime minister's special representative for the settlement of relations with Russia, Zurab Abashidze, told Jamestown on June 12 that Russian diplomats promised him Moscow would abstain from obstructing Tbilisi's signing of the association agreement with the EU. But given what is happening in Ukraine, such promises are difficult to believe.