Belarus and Russia: Relationship Irritants
Publication: Eurasia Daily Monitor Volume: 11 Issue: 110
By: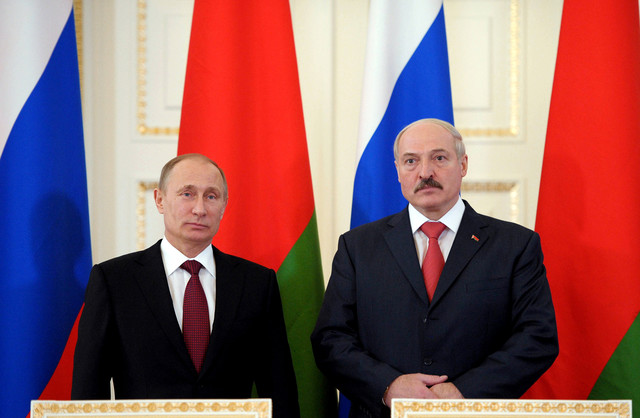 Two fundamental circumstances affect the incredibly close relationship between Belarus and Russia—the signing of the Eurasian Economic Union (EuEU) treaty, which goes into effect on January 1, 2015, as well as the ongoing conflict in eastern Ukraine. Both circumstances exert ambivalent pressures on those relationships.
The formation of the EuEU tightens Belarus's economic integration with Russia, the scope of which is already significant. However, the EuEU is not exactly a frontier-free market, as the obligation for Belarus to continue to pay (to Russia) export duties on exported refined oil products is still there—although the size of payments has been reduced. Independent experts underscore that cheap resources and loans from Russia make it possible for Belarus to eschew economic reform, preserve its current statist economic model, and make the Belarusian economy oil-dependent. Indeed, this month (June 2014), Belarus will receive one more loan of $1 billion to be issued by Russia's VTB (Vneshtorgbank) bank. According to Bloomberg, by 2018, the share of oil in the Belarusian GDP will amount to 13.9 percent, up from just 0.5 percent in 1993. The government of Belarus intends, however, to fight tooth and nail to preserve and expand Belarus's economic benefits. Specifically, the government established five goals. They are to eliminate export and/or import duties in mutual energy trade, preserve low natural gas prices, annul the existing order of paying export duties on refined oil to the Russian budget, eliminate quantitative limits on oil imports, retain the existing level of state support to agriculture, and ensure access of Belarusian producers to the segments of the national markets of Russia and Kazakhstan that are sustained by government procurements. The very fact that such tasks were set after the EuEU has been ushered in is telling. Each member of the Union expects maximum benefit but is committed to minimum sacrifices of its economic sovereignty (Belorusskie Novosti, June 2).
The ongoing armed conflict in eastern Ukraine, meanwhile, has had at least two effects on Belarus—shifting Belarusian public opinion in Russia's favor and simultaneously raising concerns within the Belarusian government. On the one hand, the geopolitical leanings of ordinary Belarusians have decidedly shifted toward Russia and away from the European Union. This finding was first reported by the Independent Institute for Socio-Economic and Political Studies (IISEPS—see EDM, April 24) and based on its March national survey. Now, the second reputable Belarusian pollster that uses Western funding, Novak, reported the identical result with reference to its own national survey conducted in April. Novak's chief, Andrei Vardomatsky, currently a professor at Warsaw University (Poland), notes that 60 percent of Belarusians expressed preference for some sort of union with Russia, whereas only 18 percent indicated a preference for hypothetical accession to the EU. Much like IISEPS's founder Oleg Manaev, Vardomatsky attributes this to Russian and Belarusian government-run TV channels constantly comparing life in Belarus with that in Ukraine—a country now expressly seeking EU membership. Also, 65 percent of Belarusians approve of the annexation of Crimea by Russia, and only 15 percent disapprove of it. For many Belarusians, thinking about Europe brings to mind the long lines in front of Western consulates and expensive visas. Although Belarusians receive more Schengen visas per 1,000 people than any other country in the world, Vardomatsky suggests that those traveling to the EU from Belarus are usually the same people; they do not need to be persuaded of the appeal of the European way of life. Those, however, who hold different attitudes, often cannot travel to Europe due to visa difficulties (Deutsche Welle—Russian Service, June 10).
On the other hand, events in Ukraine—and more specifically, the potential for a Russian invasion—continue to worry the Belarusian government. One of the clearest indications of that concern has been a June 12 article by Pavel Yakubovich, editor-in-chief of the major government-controlled Belarusian daily Belarus Segodnya. Yakubovich expressed his views under the guise of criticizing a June 10 episode of a talk show directed by Arkady Mamontov, one of the major disseminators of Moscow's propaganda on Russian television. In Yakubovich's opinion, Mamontov's June 10 TV episode prepared public opinion for a possible Russian invasion of Ukraine. All the participants of the show demanded a "liberation" war (i.e., the liberation of eastern Ukraine) (sb.by, June 12).
Yakubovich also criticized a speech by Aleksandr Dugin, the principal Russian nationalist and neo-Eurasianist ideologue. During a June 11 rally on Suvorovskaya Square in Moscow, Dugin declared that Vladimir Putin "should have sent troops [into Ukraine] today at the latest. But nothing happened amidst voices of Kremlin experts exhorting Putin to retain calm… Either Putin deploys troops or he commits [political] suicide. If there is no Novorossiya [as part of Russia], there is no Crimea [a reference to the fact that land routes from Russia to Crimea go through southeastern Ukraine—an area historically known as "New Russia" or "Novorossiya"]; and if there is no Crimea, there is no Russia. If there is no Russia, then there is nothing there. Our collective name now is Igor Strelkov [a reference to one of the separatist's leaders in Donetsk], and our capital is Slaviansk [eastern Ukrainian city where much of the fighting has centralized]. Putin, send troops! The time is up. History will fall on your head as a granite slab." According to Yakubovich, such zealous militancy is not accidental; it shows that serious pressure is being exerted on Putin by Russia's self-proclaimed patriots (sb.by, June 12).
"The nearest future will show how the president of Russia will respond to appeals of some of his fellow countrymen who have fallen into a dangerous delusion," Yakubovich concluded, making it crystal clear where the preferences of Minsk lie. What is less clear is how and whether the Belarusian government will attempt to bring the country's popular opinion more in line with what Minsk considers to be Belarus's national interests regarding the crisis in Ukraine. President Alyaksandr Lukashenka is usually well-attuned to the ideas of the people in the street, but in the case of the conflict in southeastern Ukraine, it appears that his views are diverging from those of his country's population.