Afghanistan and Desire for Closer Relations Top Agenda of US-Uzbekistan Meeting
Publication: Eurasia Daily Monitor Volume: 17 Issue: 176
By: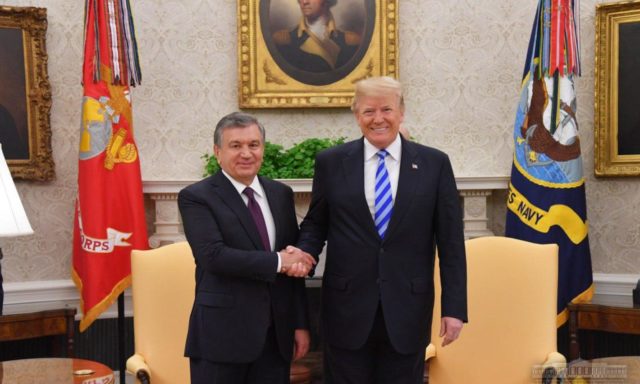 The Eighth Annual Bilateral Consultations between Uzbekistan and the United States were held in Washington on November 15–22 (The Tashkent Times, November 22). Tashkent had two main goals for these high-level talks. First, it sought to reconfirm Uzbekistan's foreign policy of maintaining equally favorable relations with all powers that have interests in the Central Asia region. Second, Tashkent wanted to secure the support of the militarily and financially strong United States for Uzbekistan's ongoing efforts to work with neighboring Afghanistan.
Uzbekistani-US relations have never been as favorable as over the past four years, having experienced a major course correction soon after the change in administration in Tashkent, according to Senator Sodiq Safoev, a main foreign policy advisor to President Shavkat Mirziyoyev (The Tashkent Times, November 23; YouTube, November 17). Bilateral activities during this period have been mainly shaped by US plans to withdraw from Afghanistan and Washington's attempt to leave behind a relatively stable country. The latter objective, in particular, has impelled the US to seek more tangible help from Afghanistan's regional neighbors—including Uzbekistan—to prevent the war-torn country from reverting back to a safe haven for militant groups or becoming a breeding ground for other security challenges. Tashkent and Washington's present cooperative partnership can be qualified as the third high-water mark in bilateral relations: the first peak took place immediately after the breakup of the Soviet Union, and the second followed the terrorist attacks of September 11, 2001, when Tashkent availed itself to provide logistical support for the US-led military campaign in Afghanistan.
One of the noted outcomes of last month's inter-governmental meeting in Washington was an agreement to upgrade the US-Uzbekistani Annual Bilateral Consultations format, first launched in 2009, to the level of a Strategic Partnership Dialogue (SPD), starting 2021. The new designation for these ongoing bilateral talks is meant to signify both sides' determination to tighten their collaboration (Gazeta.uz, November 21), but that largely symbolic upgrade has come relatively late. For comparison Kazakhstani-US bilateral relations were boosted to the level of SPD in 2012 and up to Enhanced SPD in 2018.
Washington's strategic and Tashkent's economic interests converge in Afghanistan. Inevitably, the issue was high on the agenda of the latest Bilateral Consultations between the two states. And the November 15–22 discussions apparently resulted in the US government finally dropping its previous objections to provide financial support to Uzbekistan for the latter's infrastructure development plans in Afghanistan. Namely, the US Development Corporation Fund, a state institution tasked with financing private economic improvement ventures abroad, announced its interest to set up a Central Asian Investment Fund to underwrite large infrastructure projects. Also announced was the planned formation of a trilateral Uzbekistan-Afghanistan-US discussion format (Kun.uz, November 20). Although reportedly not specifically raised in Washington last month, Tashkent has started seeking investments for the construction of the Mazār-i-Sharīf–Kabul railroad, slated for ground breaking in September 2021, according to a recent Uzbekistani presidential decree (Kun.uz, November 15).
Uzbekistan tirelessly speaks about how developing robust ties and overland links with a stable, more safely traversable Afghanistan is key to the Soviet Central Asian republic better positioning itself as a strategic regional transit country as well as diversifying its own transportation routes. And that accessible transit corridor role, in turn, is needed to expand Uzbekistan's trade relations with major economic powers in and around the region, such as China. In pursuit of this strategy, President Mirziyoyev recently adopted a decree to strengthen economic cooperation with Afghanistan. Accordingly, bilateral trade volume is to increase to $2 billion by 2023 (in 2019, the volume was $615 million), and the Trade Ministry of Uzbekistan will institute a new official position of deputy minister for economic cooperation with Afghanistan (Kun.uz, November 15).
Although Tashkent's political role in peacebuilding in Afghanistan is less prominent compared to the economic benefits it is seeking, Uzbekistan nevertheless views itself as a significant player. In particular, the Uzbekistani government credits its efforts with helping to reinvigorate the global community's attention back to Afghanistan after overwhelming focus on Middle Eastern conflicts (YouTube, November 17). And to maintain its legacy in the peacebuilding process, Tashkent is ready to work more closely with Washington. Boldly, Senator Safoev predicted earlier this year that "Peace in Afghanistan will lift Uzbekistan to a different geopolitical and geo-economic level" (Kun.uz, February 20).
At the same time, Uzbekistan believes cooperation with the US is important to uphold its international image as a country moving toward liberal democratic values. As Tashkent has been opening up in its foreign policy over the past four years, its progressively growing enthusiasm for working with the Western powers has not abated. And by upgrading relations with the US to a new—even if mostly symbolic—strategic format, Tashkent indicates not only a commitment to continue relations but also to bring them closer. That determination to engage with the US was not dampened by concerns that it might cause irritation among other Eurasian powers, particularly Russia, which are especially sensitive to third countries becoming more involved in the former Soviet space.
Economic growth and increased trade relations are the utmost priority for Uzbekistani officials, whom the current president holds accountable to deliver. Building new trans-Eurasian transportation routes via Afghanistan is thus a key objective for Uzbekistan to be able to boost its own economy. But such infrastructure mega-projects clearly cannot be implemented until Afghanistan more fully stabilizes. Tashkent is, thus, willing to contribute and cooperate with Washington as a partner in this endeavor.