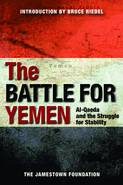 The Battle for Yemen: Al-Qaeda and the Struggle for Stability
The Battle for Yemen is a rare and comprehensive volume that tackles the facets of instability that currently plague Yemen. It offers a wealth of analysis and keen observations from the experts of The Jamestown Foundation, who have monitored the developments within Yemen since 2004. Combining indigenous sources with original analytical insights, this book represents a vital research tool for those seeking a detailed account of Yemen's struggle for stability, the various movements that shape the security environment, and the radical personalities that strive to undermine the Saleh government and its partnership with the United States.
*Physical copies ship only inside the United States.