Moscow Invites Chinese Factories to Move to the Russian Far East
Publication: Eurasia Daily Monitor Volume: 13 Issue: 83
By: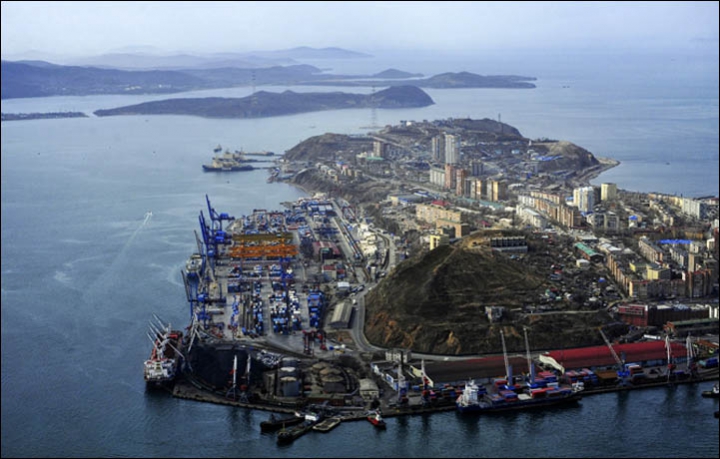 Chemical, metallurgical and cement plants may soon be transferred from their current locations across northern China to the Russian Far East. This was the agreement reached in early April 2016, during Russian Minister for Far East Development Alexander Galushka's visit to Beijing. The feasibility of the transfer of various Chinese industries and enterprises to Russia's Far East territory is, in itself, questionable. But Russian officials argue that such a project is both achievable and will strictly adhere to Russia's environmental standards (RIA Novosti, April 6).
However, such promises appear to gloss over an obvious contradiction. Namely, China's interest in this project is clearly linked to a desire to relocate the biggest polluters from regions that had suffered from ecologically damaging forced industrialization during the late 20th century. Indeed, these Chinese regions are still struggling with the catastrophic deterioration of the natural environment and constant smog (China Daily, January 18, 2016; Global Times, December 22, 2014).
Concerns about the strict enforcement of environmental standards following the transfer of Chinese factories to the Russian Far East were clearly voiced by Yevgenia Chirikova. A Russian social activist, Chirikova became famous for organizing multiple campaigns in defense of Moscow region's Khimki Forest, which the authorities planned to cut down to build a new motorway linking Moscow and St. Petersburg. Regarding the issue of the Chinese plants that are to be moved to the Russian Far East, Chirikova noted: "The Russian authorities like to seek out 'foreign agents.' But in this case, they are themselves [acting as] agents of another country. If the Chinese were unable to maintain normal environmental conditions in their own country, it is unlikely they will be more careful with our regions" (Aru.tv, April 8).
Meanwhile, the overall scale of Russian-Chinese economic cooperation is growing ever larger. For example, during the 2015 St. Petersburg International Economic Forum, Moscow and Beijing triumphantly announced the signing of 29 investment agreements worth over $20 billion. Among these were a joint $18.4 billion contract between several Russian and Chinese railway companies to build a high-speed railroad connecting Moscow and Kazan. Additionally, and more controversially, China Daily had previously reported that Russian authorities had begun leasing agricultural land to China in Russia's Trans-Baikal Region, located on the border with China and Mongolia (see EDM, June 24, 2015). And more recently, it became known that the Chinese National Petroleum Company (CNPC) has expressed interest in buying shares in the state-owned Russian oil giant Rosneft (Interfax, April 21).
Representatives of the Ministry for the Development of the Russian Far East (Minvostokrazvitiya) promise that Chinese businesses will receive tax breaks and administrative preferences if they relocate to eastern Russia. The interest of Russian officials is clear—they seek to attract Chinese partners. Apparently, Minvostokrazvitiya was created in 2012 largely for this purpose. China is considered Russia's most obvious ally ever since the Kremlin's proclaimed need for the country to "turn to the East" (BBC—Russian service, April 7).
Yet, even though "patriotic" Kremlin politicians regard China as a "geopolitical alternative" amidst Russia's struggle against the West, China itself is not interested in such a quarrel with the Western world. Indeed, China and the West are too economically linked for Beijing to follow Moscow's obstinate policies in this regard. Rather, China has only pragmatic interests in mind—particularly, concerning Russia's vast territory. Practically speaking, what is at play here is a form of economic colonization.
The Far Eastern Federal District occupies 36 percent of Russia's entire landmass, yet this territory is only populated by around six million people. And it is unlikely that such a small population will be able to sufficiently fill the workforce needed for the heavy Chinese enterprises that are supposed to be transplanted to the Russian Far East. Nor are a significant number of Far Eastern Russians likely to be well versed in properly operating Chinese technologies. Therefore, the bulk of workers to man these displaced plants will probably also have to come from China. Additionally, the goods produced at these factories will almost certainly be shipped back to China. After all, Russian officials discussing this deal specifically spoke of welcoming Chinese "export-oriented" industries. This is a peculiar case of castling: once, Russia was considered a more economically developed country than China and built Russian factories there. But now, the opposite is happening.
The transfer of Chinese plants to the Russian Far East has caused controversy among some members of the State Duma, even those typically united in their anti-Western views. One of the leaders of the ultra-patriotic Liberal-Democratic Party of Russia (LDPR), Igor Lebedev, has expressed fears that this project will lead to the annexation of the Russian Far East by China (Amurpress, April 12). And Communist Party parliamentarian Nikolai Kharitonov, who chairs the Duma's Committee of the North and the Far East, has called the transfer of Chinese plants "far-fetched." He has promised that members of his faction will vote against it (Rusnovosti, April 6).
But any Duma deputies or Russian politicians genuinely opposed to such projects are politically constrained by the centralized character of their country's decision-making processes and the practical absence of constitutional federalism in today's Russia. The Ministry for the Development of the Russian Far East, which signed the agreement on the transfer of the Chinese plants, is notably located in Moscow. At the same time, there was no discussion of this project with the locals. The transfer of Chinese factories to Russian soil could ultimately by stymied by economic factors. But a political decision regarding this grand project can only come from the Kremlin.