Fortress Russia: Pushing Foreigners Back
Publication: Eurasia Daily Monitor Volume: 13 Issue: 83
By: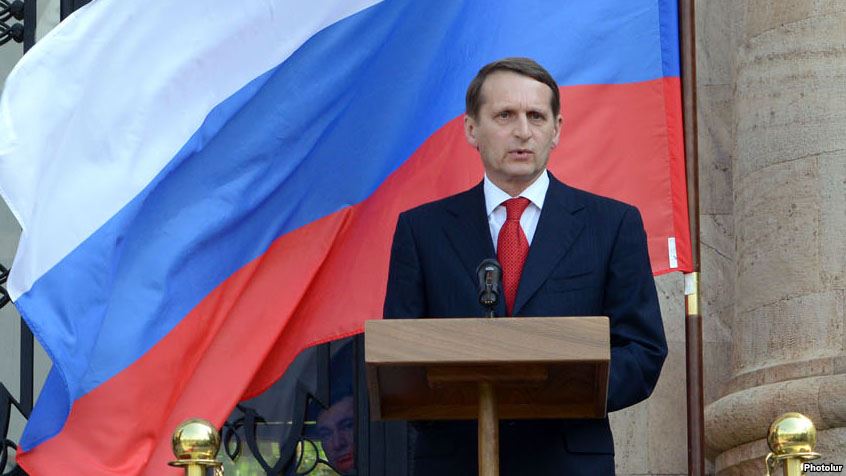 This week marked the 30th anniversary of the April 26, 1986, Chernobyl reactor meltdown—a nuclear disaster that saturated northern Ukraine, southern Belarus and parts of western Russia with radioactivity in the worst fallout in human history. But in the present atmosphere of acute anti-Western sentiment in Russia, even Chernobyl is being used by Moscow as a pretext to attack the Ukrainian government and the United States. Duma speaker Sergei Naryshkin published an official Chernobyl anniversary statement in which he accused the West of ignoring the threat of Ukrainian nuclear power stations being badly managed and open to possible terrorist attacks. Naryshkin called on European countries to discontinue following commands from Washington and start pursuing their true vital interests: "The US is across the ocean, while a possible future nuclear disaster could affect hundreds of millions of Europeans" (Duma.gov.ru, April 26).
Moscow is annoyed by Ukrainian plans to stop buying Russian nuclear fuel and replace it with US sources, which, according to Naryshkin, may lead to disaster. At present, Russia supplies reactor fuel to Ukraine and takes spent fuel rods back for storage and reprocessing. The newly appointed Ukrainian Prime Minister Vladimir Hroysman announced plans to assess the possibility to produce and reprocess nuclear fuel within Ukraine, cutting ties to Russia. A facility to store undamaged fuel rods from the reactor that exploded in 1986 is being built in Chernobyl, using Western grants. Ukrainian authorities hope the same facility may be used to store used rods from other Ukrainian nuclear power plants long term, diminishing dependence on Russia. Moscow of course, does not want to lose either its influence or its premier position in a nearby a nuclear services market (RIA Novosti, April 25).
Russia has used blunt military force, armed hybrid war subversion, acute propaganda, trade sanctions, natural gas shipment cuts and an overall trade blockade to force Ukraine into submission. Yet, none of it seems to have had a desired effect for Moscow: Ukraine is clearly in turmoil and disrepute, but still struggling to break out of Moscow's grip. Of course, the Kremlin is sure that all its failures are the result of Western (US) plotting and scheming to deprive Russia of its self-declared right to dominate Ukraine.
On April 25, speaking to a regional gathering of activists of the All-Russian People's Front (ONF) in Yoshkar-Ola—the capital of the Mari El Republic in the Volga region—President Vladimir Putin declared that Western diversions were the core reason of Russia's problems: "There is an information standoff, initiated by Western opponents jealous of Russia becoming strong." According to Putin, "information attacks" against him, like the attempt to link the Kremlin to the so-called "Panama Papers," are in fact attacks aimed at Russia. "If we nodded and agreed with the West, relations would have been good," continued Putin, "But then we would have lost our standing and, after that, our sovereignty, which is absolutely unacceptable." Putin announced: "We are ready to seek compromises, we do not want anything from anyone, but only what belongs to us." Apparently, Crimea and the rest of Ukraine all "belong" to Russia. "They [the West]," continued Putin, "in the last 15–20 years have forgotten what are our interests; and now when we are forcefully manifesting them, they are trying to push back" (Kremlin.ru, April 25).
Putin used the occasion to issue an unequivocal warning: "This is the logic of fighting for interests, and we must not step over designated red lines, but we will not allow others to step over our red lines—we demonstrated that recently." Apparently Putin was referring to Russia's use of military force in conflicts in Syria, Ukraine and possibly Georgia. In an additional twist of apparently growing xenophobia, Putin told the ONF activists: "Some foreign foundations are attempting to impose themselves in our schools and kindergartens. We are, of course, open to everything new, but this is very dangerous—our traditions and culture may suffer" (Kremlin.ru, April 25).
Putin's subordinates follow the chief's lead without hesitation, and there seems to be something of a contest regarding who can accuse the "treacherous West" of worse crimes. Prosecutor General Yuri Chayka, speaking at a Federation Council session, announced that the Panama Papers exposé was a "special operation"—the work of an unnamed foreign intelligence service, under orders from an unnamed foreign state, as part of the information war against Russia (Interfax, April 27).
The same day, at an international security conference in Moscow, Defense Minister Sergei Shoigu denounced the West and its "uncompromising information war against Russia." According to Shoigu, European security is in tatters, and last week's session of the NATO-Russia Council in Brussels was a failure. "Old arms control agreements are obsolete and are often misused by the West," continued Shoigu, "while a new security architecture of conventional arms control in Europe is hard to build because of acute lack of mutual trust." Shoigu complained that Moscow is falsely accused of threatening European countries while the North Atlantic Alliance is considering armed deterrence. In fact, according to Shoigu, "it is the other way round"—NATO is advancing its military infrastructure to Russia's borders. "NATO must show Moscow respect, if it wants to restore relations," announced Shoigu (Interfax, April 27).
Arms control agreements that ended the Cold War are indeed turning dysfunctional. These agreements were primarily intended to build mutual trust, which is now absent. Moscow left the 1989 Conventional Forces in Europe (CFE) treaty, in December 2007, as it was preparing for the August 2008 war with Georgia. The Organization for Security and Cooperation in Europe's (OSCE) Vienna document on trust building is constantly violated by massive Russian snap military exercises, held without prior warning or foreign observers. The Open Sky Treaty is faltering. Moscow does not want Western prying as it prepares for possible military action, and the West could begin to respond in kind. Moscow has officially rejected any further nuclear arms control talks with Washington (Interfax, February 6). The defense ministry has published footage of the launch of long-range (450 kilometers), land-based cruise missiles using the Iskander-M missile launcher (Tvzvezda, April 23). The range of the Iskander cruise missile apparently could be easily increased, so the Intermediate-Range Nuclear Forces (INF) Treaty seems in danger, as well.
In 1987, the INF, signed by Ronald Reagan and Mikhail Gorbachev, signaled the beginning of the dismantling of the Cold War standoff. Now, all seems to be in freefall mode back to pre-Gorbachev times.