Lukashenka's Report to the Nation: Rhetoric Versus Reality
Publication: Eurasia Daily Monitor Volume: 13 Issue: 82
By: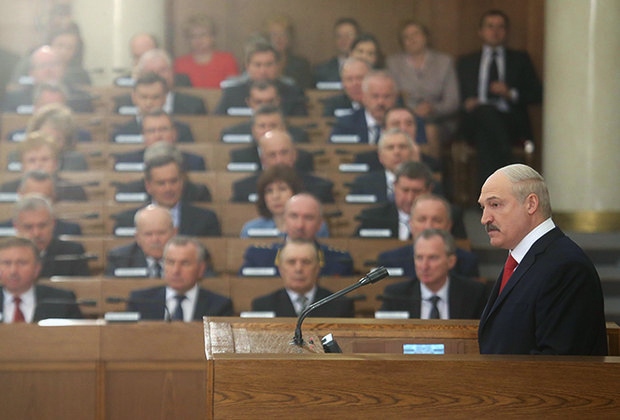 On April 21, President Alyaksandr Lukashenka delivered his annual "report to the Belarusian people and the National Assembly [parliament]." When speaking about the economy, Lukashenka did not use the words "crisis" or even "decline"; yet, he recognized the country's inadequate labor productivity and competitiveness (Tut.by, April 21). He also acknowledged that without foreign direct investment (FDI), it would be impossible to return to growth. The government, thus, plans to attract at least $1.5 billion in new FDI before the end of 2016. He paid particular attention to the upcoming resumption of the credit line by the International Monetary Fund IMF, which he called "not a panacea but an indicator of openness of our economy" (Tut.by, April 21). He envisaged job cuts at major Belarusian industrial giants and urged the government to create 50,000 new jobs to employ those laid off. He acknowledged that the retirement age (see EDM, April 19) should have long been increased, but that the negative experience of pension reform in Russia and Ukraine convinced him that Minsk was right for not reforming the system haphazardly (Tut.by, April 21).
For the umpteenth time, the Belarusian president stated that the all too routine zero-sum-game query—Are you with Russia or with the West?—is pointless. There is no way to choose. "Russia is our strategic partner… But the high-tech West is not indifferent to us either." Lukashenka, however, observed that criticism of Belarus's foreign policy most frequently emanates from Russia. On the contrary, "the European Union and the United States are advising us to conduct a dialogue with all international partners… I would like Russians, especially the country's leaders, to understand: We are not going to be their bottle-washers. We are an independent sovereign state; with you we share a house, but in it we have a however small but separate apartment… And certain structures in Russia should stop talking about some soft Belarusization and turning away from them to some other side."
The Belarusian president observed that Russia does not always abide by its obligations within the Union State. The Minsk Wheel Tractor Plant (MWTP) is a case in point. It produces tractor trailers for transporting Russian ballistic missiles. Russia has long declared its desire to buy the plant, but the sides have not agreed about the price. "I cannot understand why Premier [Dmitry] Medvedev would visit Kamaz [the truck factory in Naberezhnye Chelny, Russia] and suggest they set up the respective production line there since Belarusians decline selling their plant. What about our agreement not to open competing production lines? We also have interests in Russia. We buy from them 22 million tons of oil and 25 billion cubic meters of natural gas. So in exchange for the MWTP, why not you give us an oilfield so we could extract 10 million tons of oil from it?" (Tut.by, April 21). Such trademark Lukashenka diatribes in regard to Russia have long become habitual.
Even more habitual are the refrains of criticism of his remarks. Thus, two doyens of domestic opposition-minded journalism, Alexander Klaskovsky and Valer Karbalevich, have likened Lukashenka's speech—in its tenor and wording—to typical speeches made by Soviet leaders. In particular, they disparaged the Belarusian president for not recognizing the scale of the economic catastrophe when, in fact, the dollar value of monthly salaries has declined from more than $600 in 2014, to $307 on April 1, 2016. Instead, Klaskovsky and Karbalevich complained, Lukashenka glossed over the real problems (Svaboda.org, April 24) and expressed no commitment to structural reforms. Furthermore, they argued, in his speech, Lukashenka did not abandon the failed idea of "brotherly" Eurasian integration, but maintained his Soviet-era leadership style (Naviny.by, April 21).
A peculiar contrast to these habitual refrains is an article by Igor Tyshkevich, a Belarusian journalist living and working in Ukraine. Published just a day before Lukashenka's speech before the parliament, it points to Belarus's success in three areas: foreign policy, government cadres, and economic reform (Hvylya, April 20). Whereas Ukraine's experience, Tyshkevich claims, showed dangers of balancing along the Russia-EU axis, Belarus took precautions, including improvement in its relations with the US as well as cooperation with China. The "Polonez" multiple launch rocket system was developed apart from Russia and then tested in China. China and India also reportedly helped Belarus to squeeze out a Russian competitor from a diamond extraction business in Zimbabwe.
From 2013 to 2016, Belarus effectively conducted a cadre revolution, Tyshkevich wrote. The leadership of all the ministries, including the department chairs, has changed. Now, the average age of ministers and deputy ministers of justice, economy, industry, transport, natural resources and agriculture ranges from 46 to 49 years. The average age of the department chiefs in the ministry of finance is 39; and the first deputy minister of the economy is 34. Most of the new appointees are outsiders in the corridors of power; many used to do research and/or received all or part of their university-level education in the West, like First Deputy Prime Minister Vasily Matyushevsky, a graduate of the London Business School. Belarus is ahead of schedule in the EU's MOST program, which provides internships in Europe for 1,500 government and business specialists from Belarus during 2016–2017 (Most-belarus.eu, accessed April 27).
Finally, the government is clearly moving forward on promised reforms. Within just two months, Belarus has increased the retirement age, removed several price controls, and cut back on utility subsidies. In contrast, Ukrainian authorities have been arguing about these identical measures for the past two years. Moreover, Belarus's leaders have been open about the fact that living standards in the country are expected to worsen at least for the next 1.5–2 years. Social guarantees in Belarus are also less generous than in Ukraine. The minimal duration of work required for a social pension is 20 years, and it does not include service in the army, years spent on a college education, or maternity and sick leaves (Hvylya, April 20).
It could be that out of a desire to teach an edifying lesson to Ukraine, Tyshkevich blew the Belarusian case out of proportion. But it actually does not seem likely. Many positive trends and developments in Belarus are indeed either not articulated or deliberately couched in general terms. After all, "Big Brother" (i.e. Russia) is watching. But if this is the case, it is actually worth learning more about, not shrugging off.