Lukashenka in Turkey: Establishing Economic Ties
Publication: Eurasia Daily Monitor Volume: 13 Issue: 76
By: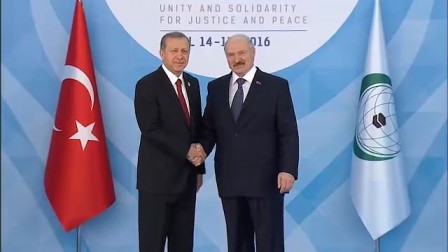 Belarusian President Alyaksandr Lukashenka paid a visit to Turkey, last week, in conjunction with the April 14–15 Istanbul meeting of the Organization of Islamic Cooperation (OIC). Founded in 1969, the OIC has 57 members and holds meetings once every three years. At the Istanbul meeting, 33 countries were represented by the heads of state or prime ministers and the rest by foreign ministers (RIA Novosti, April 14).
Many Russian media outlets lambasted Lukashenka for visiting Turkey at this time—i.e., while relations between Moscow and Ankara have been frigid following Turkey's downing of a Russian bomber that had violated Turkish airspace near the border with Syria. For example, Pravda.ru observed that Lukashenka habitually tries to extract benefits from Russia's conflicts with other countries, like he has from the conflict with Ukraine (Pravda.ru, April 15). Analogous reproaches were expressed by the news agency RIA Novosti (RIA Novosti, April 15) and by the online business publication Vzglyad (Vzglyad, April 14).
According to Dzianis Melyantsou, of the Belarusian Institute for Strategic Studies, a Minsk-based think tank, Lukashenka's visit to Turkey was a risky gambit along the lines of his previous exploits, including his statements about Russian-Belarusian trade wars and regarding Russia's wars in Georgia and in Ukraine (Svaboda.org, April 15). As a matter of fact, two weeks earlier, on April 2, Minsk issued a statement about the rekindled Karabakh conflict that also deviated from Russia's official line. Specifically, Minsk referred to the necessity of "securing sovereignty, territorial integrity and inviolability of state borders." In Yerevan, this was interpreted as rendering support to Azerbaijan. These words were fairly consistent and in line with Minsk's earlier support for the territorial integrity of Georgia and Ukraine. However, after the Belarusian ambassador to Yerevan was summoned and reprimanded by the foreign minister of Armenia, Minsk published a new commentary on the Karabakh conflict, in which the above wording was absent. Armenia and Belarus, after all, together are members of two Russian-led groupings, the Eurasian Economic Union and the Collective Security Treaty Organization (CSTO). Whereas, Azerbaijan, though a much more significant economic and financial partner of Belarus compared with Armenia, is not. No wonder then that Armenia proceeded to criticize Belarus's new military doctrine (see EDM, February 29), which explicitly prohibits the Belarusian army from participating in foreign conflicts and thus violates the spirit of the CSTO's collective security agreement (Tut.by, April 15).
Two experts, Alyaksandr Klaskousky from Belarus and Fedor Lukyanov from Russia (Lukyanov is an influential pundit who edits a bilingual periodical Russia in Global Affairs), reject the multiple conspiracy theories that showed up in the media in conjunction with Lukashenka's Istanbul visit. Klaskousky believes the major reason for Lukashenka's visit was to seek out new destinations for Belarus's export. Indeed, Lukashenka spoke with his Turkish counterpart, President Recep Tayyip Erdoğan, about increasing mutual flights, carrying out joint projects in the area of tourism, and about boosting Turkish investments in Belarus. In addition to his discussion with Erdoğan, Lukashenka met with ten other dignitaries, including presidents, vice presidents and the Emir of Qatar. In his turn, Lukyanov thinks that Lukashenka bashing in the Russian media does not necessarily reflect how Lukashenka is actually perceived in the Kremlin—that is, "loyal but not quite tamed." So while the Belarusian leader's fixation on "his own" interests does not bring joy to Moscow, this is nevertheless seen as a customary thing. Moreover, as Russian Foreign Minister Sergei Lavrov once claimed, cast-iron discipline reigns supreme within the North Atlantic Treaty Organization (NATO), where no one is allowed to deviate from the hegemon. But Moscow, Lavrov continued, is more flexible and does not engage in arm-twisting as long as there is a consensus on fundamental issues. Nonetheless, Lukyanov believes, Lukashenka understands clearly who his major economic sponsor is and would never cross any red lines. At the same time, Lukyanov argues, the Kremlin trusts that the West will never accept Lukashenka as one of its own (Svaboda.org, April 17).
By most accounts, Lukashenka's major tasks in Istanbul were to broaden Belarus's economic contacts and to take a step forward in realizing his long-stated goal of equally dividing up Belarusian exports among three destinations: Russia, the European Union and the rest of the world. The last segment has always been most problematic; but now that Russia's demand for Belarusian industrial products has shrunk, the solution to this problem appears within grasp.
The second leg of Belarus's strategy to alleviate its ongoing economic crisis has been to solicit the resumption of the International Monetary Fund's (IMF) credit line "in exchange" for structural reforms (see EDM, February 3). With this in mind, on April 15, a group of liberal-minded Belarusian officials, including Deputy Chairman of Belarus's National Bank Dmitry Kalechits, Deputy Finance Minister Maxim Ermolovich, Deputy Economics Minister Alexander Zaborowski, and Lukashenka's aide on economic issues, Cyril Rudy, conducted a day-long meeting at the headquarters of the International Monetary Fund (IMF), in Washington. It seems that a delay notwithstanding (Minsk earlier suggested that the loan program agreement was to be signed in February), the credit line will be resumed (Tut.by, April 15). Apparently the unpopular decision to increase Belarus's retirement age by three years—Lukashenka signed the corresponding decree to this effect on April 11—was also one of the IMF's requirements. Beginning on January 1, 2017, the retirement age will increase by six months each year, up until it reaches 63 years for men and 58 for women (Tut.by, April 11). On the one hand, steadily low fertility has shrunk the country's working-age population and changed the ratio between it and elderly dependents in favor of the latter, hence the imperative of increasing the retirement age. On the other hand, life expectancy in Belarus—67 years for men and 78 years for women (Naviny.by, February 16)—is not as high as in Western Europe, where 65 is the retirement age in most countries.
The perception of economic crisis fuels criticisms of the current economic system and industrial policy. Thus, according to Valery Obukhovich, Belarus's industrial structure is stuck in the 1970s, and the country missed several opportunities to change it. Today, everything depends on attracting foreign investors—the government's utmost priority (Tut.by, April 11). And judging by the intensity of the multi-directional effort to overcome the economic crisis in Belarus, it may well produce positive results.