Belarus, the IMF and Reforms: To Be or Not to Be?
Publication: Eurasia Daily Monitor Volume: 13 Issue: 23
By: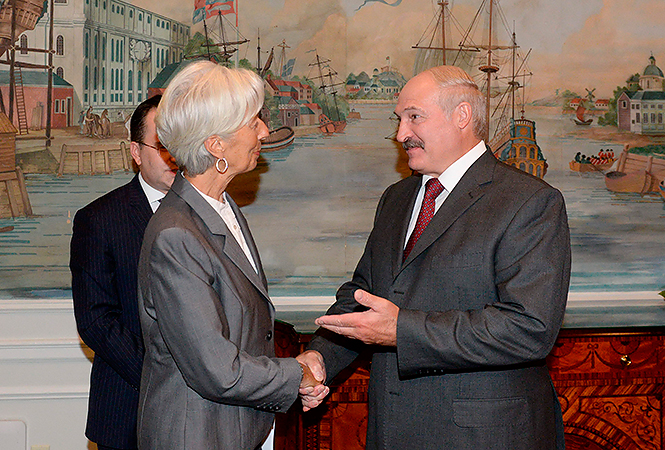 The government of Belarus hopes to initiate a new credit program with the International Monetary Fund (IMF) in February of this year (BelaPAN, January 11). Representatives of the IMF confirmed in recent months that they have seen considerable progress in their negotiations with the Belarusian authorities, but point out that several issues remain unresolved and necessitate further discussions (Naviny.by, January 11).
These discussions have been ongoing since early 2015. Last spring, Belarus fully paid back its previous IMF credit, issued within the Stand-By arrangement, which was worth $3.5 billion in 2009–2010 (NasheMnenie, January, 19). In March 2015, Minsk initiated negotiations about a new loan. It currently requests a three-year Extended Fund Facility arrangement of $3 billion, for a period of ten years, at a 2.25 percent interest rate (Tut.by, December 1, 2015). The IMF is ready to continue cooperation with Belarus but expects clarity and decisiveness from the leadership of the country regarding structural reforms. In its statement at the outset of the current negotiations, the IMF urged the Belarusian authorities, among other things,
[…] to adopt and implement an ambitious and frontloaded reform agenda, unambiguously aimed at enhancing the market orientation of the economy. This agenda should include decisive price liberalization, including a time-bound plan to bring utility and transport tariffs rapidly to full cost recovery; the swift phase out of mandatory targets for enterprises; credible plans for privatization in the corporate and banking sectors; and a strengthening of safety nets to protect the vulnerable (Imf.org, March, 17, 2015).
In the second half of 2015, the negotiations intensified, both at the political and expert levels. In September, during his visit to the United Nations General Assembly, President Alyaksandr Lukashenka held a meeting with the IMF's Managing Director Christine Lagarde (BelTA, September, 28, 2015). World Bank representatives were also invited to participate in trilateral negotiations (Belarus–IMF–World Bank) about a roadmap of Belarusian reforms in order to increase the legitimacy and effectiveness of the country's request (YouTube, January 28).
The ongoing negotiations are being held behind closed doors, and their details remain unknown. However, in November, the sides announced that they had come close to an agreement and that only one issue—utility tariffs—has remained unresolved (Tut.by, November 20, 2015). Nevertheless, the most fundamental issue is, of course, broader than utility tariffs or reforms in a specific sector. Essentially, it is about the government's readiness to finally launch a systemic transformation of the existing socio-economic model. The Fund keeps reiterating: "a new IMF-supported program continues to require credible commitment at the highest level to a comprehensive package of deep structural reform and consistent macroeconomic policies" (Imf.org, March, 17, 2015). And this is, indeed, the central Shakespearian question for contemporary Belarus: to be or not to be?
For the Belarusian economy, which is dominated by the state sector and overwhelming government regulations, today the prospects of structural reforms present a classical dilemma: it can no longer endure in the present condition, but serious reorganization will almost certainly expose the country and its leadership to tough times and multiple unknown variables. Typically, there is a growing understanding at all levels of society that reforms are inevitable, but little willingness exists to suffer their costs.
According to the Independent Institute of Socio-Economic and Political Studies (IISEPS), 57 percent of Belarusians support reforms, whereas 27.8 percent oppose them (Iiseps.org, December 29, 2015). Interestingly, during a recent edition of the popular political talk show "Delo Printsypa" ("Matter of Principle"), the majority of the telephone voting participants expressed approval of liberal reformist views rather than statist ones (YouTube, January 19). However, more detailed polls reveal that many of the supporters have a specific understanding of reforms. Thus, 43.3 percent of the respondents in a 2014 poll wanted reforms to actually further elevate the government's role and its hold on various spheres of the economy (Belinstitute.eu, June 24, 2014). Also, only 20.3 percent agreed with the need to increase the retirement age, even though the government has started making the case about the inevitability of this scenario (Iiseps.org, December 29, 2015).
A clash of opinions about reforms is also noticeable within Belarusian state structures. The younger generation of civil servants, particularly in the economic block of the government, is in a clear ideological battle with an informal alliance of state enterprises and agricultural lobbyists, representatives of law enforcement agencies (siloviki) and Soviet-minded bureaucrats (Ej.by, October 26, 2015). The latter, predictably, worry that reforms will strip them of influence and government subsidies.
Given the specific nature of Belarus's political system, reform proponents have to provide arguments and positive examples of reforms not so much to the general public or certain societal groups but to the president. The latter acts as an arbiter sitting above the debate. At the same time, however, the president rarely does what the majority of public opinion disagrees with.
As the economic situation worsens, non-reform is becoming an increasingly damaging option. Therefore, the reform-minded members of the government should find it easier to explain their message. To date, members of this group have already used a variety of different means to present this policy goal, including by making public speeches and even publishing a book, edited by the president's economic aide, with contributions from independent analysts and foreign scholars (Tut.by, November 4, 2015; Sb.by, January 11).
However, Lukashenka has never been a strong supporter of the free market. On the contrary, since his rise to power, he has branded himself as an anti-liberal politician, one who saved Belarus from the horrors of Russian liberal reforms. And he would be happy to eschew any reforms endlessly. Yet, the dire state of the Belarusian economy, which shrank by 3.9 percent in 2015 and has little hope of returning to business as usual against the growing problems of the main trading partner Russia, does not offer him much choice (BelTA, January 18).
Thus, the real question for Minsk regarding Belarusian reforms is "how fast and to what extent" rather than "whether." As the World Bank's Belarus Country Manager Young Chul Kim has recently noted, "Reform is entirely possible, but somehow you need to find guarantees to persuade those above you that there will be results" (YouTube, January 28). The sooner this internal battle of ideas is settled, the faster Belarus can begin undertaking the economic restructuring it needs to end the current stagnation.