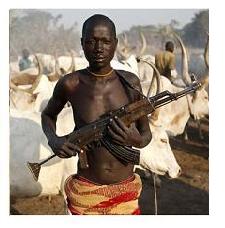 Conflict in South Sudan: A Militant Leadership Monitor Special Report
In this Quarterly Special Report (QSR) on the conflict in South Sudan, we focus on the civil wars, border disputes and rivalries between ethnic groups that have resulted in over half a century of violence in the country. The QSR begins with an overview by Andrew McGregor of South Sudan's turbulent history, leading up to and following the country's independence from Sudan. He highlights political and ethnic conflicts that maintain instability in South Sudan, as well as the lack of effort to diversify the nation's economy, which remains dependent of oil for 98 percent of government revenue.
The following articles examine the themes raised in the introduction and are arranged in order of publication. The QSR also includes profiles of South Sudan President Salva Kiir Mayardit, General Gabriel Tang, Colonel Gatluak Gai and David Yau Yau. The QSR concludes with a timeline, which highlights various political and tribal conflicts that have taken place in South Sudan.