Russian-Ukrainian War Should Doom the '5+2' Negotiations on Transnistria (Part Four)
Publication: Eurasia Daily Monitor Volume: 20 Issue: 19
By: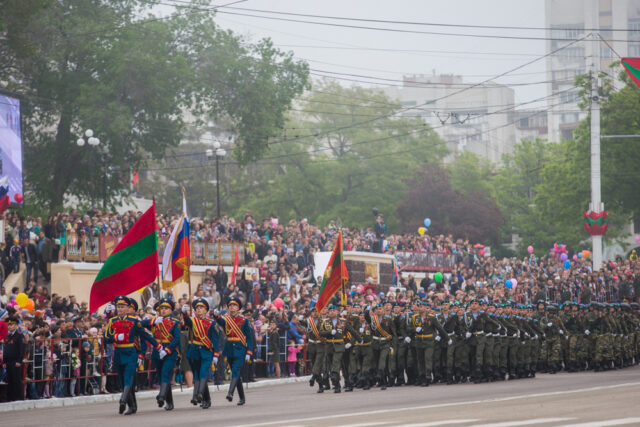 Russia, immersed in its war against Ukraine, does not currently have Moldova in its crosshairs, at least as long as Ukraine holds out. Russia has adopted a reactive posture regarding Moldova. The Kremlin seems to refrain from any significant initiative toward Moldova—for example, re-launching the "5+2" process on Transnistria—unless and until the course of the war in Ukraine might open that and other opportunities for Russia.
Moscow has certainly noticed Chisinau's hopes in replacing the 5+2 format with one free from Russian control (see Part Three). The Kremlin's reactions thus far have been low-key, infrequent and voiced by mid-level officials. Thus, the Russian ambassador-at-large, Vitaly Tryapitsyn (the Foreign Ministry's representative in the 5+2 process), has called for "reanimating this forum … as an opportunity for Russia to renew diplomatic contacts with Ukraine and with the Western countries" (RIA Novosti, September 6, 2022). This statement confirmed Russia's hopes to use a reconvened 5+2 process as an opportunity to break out of isolation and re-enter international diplomacy with great-power status.
Russian officials continue describing the 5+2 forum as indispensable and immutable even if it is inactive at this time. "This format, irrespective of the halt in its work, remains the only multilateral mechanism for seeking a comprehensive resolution of the Transnistria question. Alternatives to it do not come into consideration," declared the Foreign Ministry's CIS Affairs Department Director Aleksei Polishchuk (TASS, October 9, 2022). And according to spokeswoman Maria Zakharova, commenting on Chisinau's wish for alternative platforms: "We definitely disagree and regard this as an attempt to break up an internationally recognized format to resolve the Transnistria conflict" (TASS, August 2, 2022). Yet, Moscow's sporadic comments reflect a low level of attention to this issue for the time being.
Germany is a key stakeholder in diplomatic activities around the "Transnistria conflict" but is not a participant in the 5+2 format. The European Union is supposed to represent the views of Germany and the other EU member states (outsiders to this process) in the 5+2 negotiations, but Brussels cannot do so effectively from its perch as a mere observer. Germany has therefore tried to carve out an independent role, commensurate to its weight in Europe. Berlin has consistently disclaimed any intention to substitute for, let alone compete with, the 5+2 arrangement. The disclaimers have probably aimed to reassure primarily the Russian side that Berlin would not act against Moscow's interests.
Germany's diplomatic involvement has taken three forms, all temporary. In 2010, then-Chancellor Angela Merkel submitted the Meseberg Memorandum to then–Russian President Dmitry Medvedev, proposing to create an EU-Russia Political and Security Committee to oversee European security affairs. The Kremlin was asked to provide a token of good faith by helping "resolve" the Transnistria conflict. Berlin, at that time, insisted that Moldova's "federalization" was the solution, which had all along been to Russia's liking but unacceptable to Moldova. The German proposal circumvented not only the 5+2 format but also the EU and the North Atlantic Treaty Organization, as Berlin acted unilaterally without a mandate from either of them. Medvedev embraced the proposal but, most likely for that reason, President Vladimir Putin did not deign to pursue it when he returned to the presidency (see EDM, October 22, October 22, 2010; March 31, 2011).
In 2016, then–German Foreign Minister Frank-Walter Steinmeier, chairing the Organization for Security and Co-operation in Europe (OSCE) that year, introduced the "Berlin Package" of  "small steps," amounting to the erosion of Moldova's titles to sovereignty in Transnistria (see Part Two). Unlike Merkel in 2010, however, Steinmeier did not circumvent the 5+2 forum but acted directly through it in 2016, loading it with the "small steps" agenda for the ensuing years.
For an extended period, the German government hosted the "Bavarian Conference" process, which involved informal meetings of fairly large delegations from Chisinau and Tiraspol. The meetings were held in various Bavarian localities behind closed doors. The German government took the position that these meetings were held under the OSCE's auspices and that they were linked with the 5+2 process. In practice, however, the German government was in every respect in charge of these meetings, acting in a full-fledged mediator's role. This format fostered the impression of political equivalence between the Moldovan government and the unrecognized Tiraspol authorities. The Bavarian Conference process had to be suspended in 2019, sine die, for the same reasons as the 5+2 process: back-to-back Moldovan electoral cycles culminating in the advent to power of pro-Western forces.
The 5+2 forum has been a major success for Russian diplomacy during the 14 years of its active operation (2005–2019). It should be allowed to fade away quietly as it cannot be fixed. Russia designed it as a process not for conflict resolution, but for conflict conservation, namely on Russian terms. Various interested parties—particularly Moldovan governments in years past—complained that the 5+2 process was "dysfunctional" and "ineffective." Such complaints were naive. This forum functioned quite effectively for its Russian-designed purpose of "freezing" the conflict—as well as freezing any resolution on terms that would have been compatible with Moldova's statehood and its European integration.
This format cannot be redeemed by upgrading the roles of the EU and United States from observers to full-fledged members. This sort of repair was already undertaken in 2005 when Russia allowed the EU and US to enter the forum as observers. These Western actors joined the Russian-designed structure and ground rules. They legitimized it without affecting it. Instead, they adapted themselves to it, ultimately touting the Western-Russian "unity of views" in the 5+2 forum.
Moldova and Ukraine are now candidate countries for EU membership. This requires emancipating these two countries from conflict-resolution formats and security arrangements that include Russia. Accepting Russia back into these formats would block the European integration path for both countries. It would also open the door for Russia's return to the European concert with destructive implications continent-wide. Ukrainian President Volodymyr Zelenskyy understands those implications and has accordingly proposed a transformative concept for Ukrainian and Euro-Atlantic security, excluding Russia from participation (see EDM, December 16, 2022).
The Moldovan government understands this, as does Kyiv, but Chisinau is at peace (at least for now) and the government is less vocal.
Russia's conduct in Ukraine (capping Russia's long record in that regard) would make the reopening of the 5+2 forum morally untenable on top of all other considerations.
To denounce the 5+2 arrangement, or officially declare it as expired, would however be superfluous and counterproductive. This forum can be allowed to fade away quietly, simply through no longer convening it. The current, three-year inactivity can be prolonged informally, indefinitely.