Medvedev Deflects Merkel-Sarkozy Proposal on Transnistria at Deauville Summit
Publication: Eurasia Daily Monitor Volume: 7 Issue: 191
By: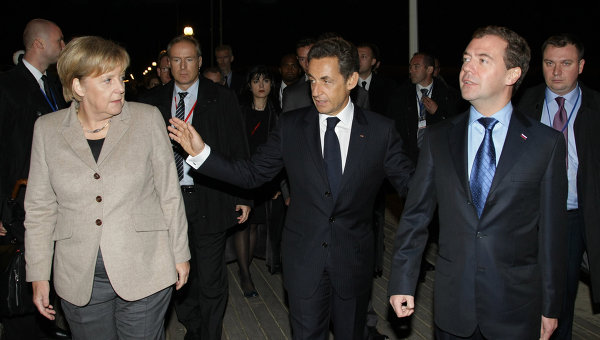 French President, Nicolas Sarkozy, and German Chancellor, Angela Merkel, met on October 18-19 in Deauville, France, with Russian President, Dmitry Medvedev, ahead of summit events scheduled for the coming weeks: NATO, NATO-Russia, and European Union-Russia. The Deauville meeting seemed designed preemptively to influence the discussions on Russia-related issues at those upcoming summits, particularly that of the EU with Russia. The Franco-German-Russian meeting bypassed the EU; and reached an as yet undisclosed agreement on the agenda of the NATO-Russia summit, as a price for ensuring Medvedev's attendance there.
The three leaders' joint Deauville declaration calls on the EU to launch a "modernization partnership" with Russia; to adopt a road-map for visa-free travel between Russia and the European Union (thus privileging Russia over closer neighbors of the EU); and to embark on "institutional and operational cooperation between Russia and the EU" on European security (The United States and NATO are not mentioned; only the NATO-Russia Council). The three signatory leaders pledge to "jointly work on security issues in the Euro-Atlantic and Eurasian zones" (a two-zone concept, at odds with the rhetorical "single security space").
Specifically, the three will seek "closer cooperation, apt to contribute in a most tangible way to mutual confidence and collective actions on conflict prevention and conflict management, opening the way for settling ancient [sic] conflicts, such as that in Transnistria" (Agence France Presse, October 19).
Transnistria is the only issue specified as a possible object of Franco-German-Russian cooperative action. While naming Transnistria, the Deauville declaration fails to mention Moldova, the recognized legal sovereign there. Almost certainly, the Germans and French would have written "the Transnistria region of Moldova" or wording to that effect. Apparently, the Russian drafters successfully opposed mentioning Moldova, in line with Moscow's practice of referencing Transnistria separately from Moldova and decreasing lip service to Moldova's territorial integrity.
The Deauville declaration singles out this conflict for possible joint diplomatic efforts thanks to a German initiative. Merkel had raised the conflict in Moldova during her meeting with Medvedev at Meseberg Castle (near Berlin) in June, and again during the German-Russian inter-governmental meeting in Yekaterinburg in July. Originating with Merkel's advisers in the Chancellor's Office, the proposal assumes that the conflict in Transnistria is relatively more amenable to resolution, compared with the other post-Soviet conflicts. The German proposal was then enshrined by Merkel and Medvedev jointly in their "Meseberg memorandum" (Meseberg Process: Germany Testing EU-Russia Security Cooperation Potential, EDM October 22). It envisages EU-Russia coordination and possible joint actions to resolve security issues in Europe, creating a high-level EU-Russia Political and Security Policy Committee for consultations and decisions. The concept bypasses NATO and would sideline the United States from European security affairs. And it identifies the Transnistria conflict as the only test case for EU-Russia security cooperation along those lines.
From Russia's standpoint, withdrawing its troops from Moldova's territory and its support from Tiraspol's authorities must be a negligible price to pay for an institutionalized Russian role in Europe's security affairs. Medvedev went along with the German initiative in June, turning it into a German-Russian proposal through the Meseberg memorandum (June 5). Sarkozy endorsed it shortly afterward (Agence France Presse, June 19), in line with recent French efforts to catch up with the German-Russian relationship. However, Medvedev adopted a wait-and-see attitude toward this proposal at the Deauville meeting. At the concluding news conference, Medvedev held out a vague prospect of facilitating the resolution of that conflict, but deflected the responsibility toward the other players. Although Russia controls Transnistria militarily and politically, Medvedev declared that any solution "depends on the positions of Moldova, Transnistria, Romania, and the EU." Furthermore, he cited Moldova's internal political crisis to rule out negotiations until Moldova elects its state authorities (Interfax, October 19).
Medvedev's response seems to imply, first, that Russia maintains its known preconditions to Moldova (these are, mainly, permanent neutrality of Moldova and special status for Transnistria negotiable on a co-equal basis, all under Russian-led political-military guarantees) until further notice. Second, the response implies a continuing veto power for Tiraspol (with the solution "depending on" Transnistria alongside the other players). Third, Medvedev cautions the EU to lower its expectations or raise the price. Fourth, while Medvedev invokes Moldova's vacuum of authority to delay negotiations, his presidential administration officials seeks to broker a coalition more receptive to Kremlin interests in Chisinau. And fifth, as a novel element, Medvedev places an onus of responsibility on Romania (alongside other parties) for the outcome of any negotiations, indicating a Russian intent to distort the process and deflect blame for the deadlock.
Thus, Moscow is open to negotiation but can afford to play for time as a bargaining tactic. Under the Meseberg memorandum, the EU-Russia summit in December 2010 should operationalize the new EU-Russia security committee. Although the document's language is neither precise nor binding on that point, Moscow may expect to pocket this strategic gain in December while delivering nothing. Moscow seems to believe that Berlin and Paris would call for launching that committee regardless of Russian stonewalling on Transnistria. This seems to be the message of Medvedev's answers in Deauville.