Moscow Signals Interest In Berlin Initiative On Transnistria
Publication: Eurasia Daily Monitor Volume: 8 Issue: 63
By: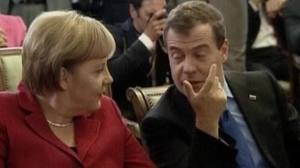 On March 29 in Moscow, Foreign Minister Sergei Lavrov held talks with his Moldovan counterpart, Iurie Leanca, on resuming and advancing a resolution of the Transnistria conflict (Moldpres, March 30; Nezavisimaya Gazeta, March 31). European Union and Moldovan officials note some positive Russian signals in this meeting's conclusion.
This meeting brings the first-ever public indication of Russian interest in a German-proposed trade-off involving Transnistria. The June 2010 Meseberg Memorandum, signed by Chancellor Angela Merkel with Russian President Dmitry Medvedev at Merkel's initiative, envisages creating a EU-Russia Political and Security Committee. This could potentially give Russia a voice in the EU's decision-making processes, in line with a neo-Ostpolitik ideology. To facilitate this, Berlin is asking Moscow to demonstrate its bona fides as partner to the EU by facilitating a resolution of the Transnistria conflict.
The Meseberg Memorandum envisages this tradeoff. The EU has not endorsed this German initiative; and some EU member countries have expressed reservations over its substance and process.
Moscow responded with studied indifference until Lavrov finally signaled interest on March 29. He used the meeting with the Moldovan minister to indicate that Moscow would consider exploring the German proposal. Lavrov made the following points (Interfax, March 29):
1. Merkel's initiative: "We do not consider that progress on Transnistria conflict-resolution depends on setting up the committee. Whether such a committee is supported by other EU countries or not, we must move forward with a solution on Transnistria. We await EU reactions to this proposal initiated by the leader of the biggest EU country and the president of Russia, strategic partner to the EU. The committee has not been set up, and not for lack of desire on our part."
Behind the noble pretense of disinterest in a tradeoff, Lavrov is clearly accepting the German-proposed linkage; he expresses frustration with EU foot-dragging over Berlin's proposal; and he almost advertises Moscow's wish to move ahead with the proposed committee (in line with Russia's key objective of entering European decision-making processes while excluding any European access to Russian decision-making).
2. Conflict-settlement principles: "We [Russia, EU, Moldova] see the ultimate goal exactly in the same way: a special status for Transnistria in the framework of a united Moldovan state and of Moldova's territorial integrity."
Lavrov's assurance might, perhaps, be regarded as progress because references to Moldova's territorial integrity had become exceedingly rare in Russian official pronouncements since 2008. From 1992 to 2008, however, Moscow was routinely acknowledging Moldova's territorial integrity on paper, while partitioning the country in practice. Thus, Russia should finally be held to its word in any follow-up negotiations, as well as in the Meseberg framework.
3. Negotiating process and sequencing: Lavrov called for the soonest re-opening the negotiations in the 5+2 format, which Moscow and Tiraspol have blocked since March 2006. Not only did Lavrov display a sense of urgency about resuming the negotiations, but he hinted that Moscow would press Tiraspol to follow suit: "We will do everything to persuade the parties to adopt this view" (Chisinau of course needs no persuading).
Lavrov listed the stages of this process in the following sequence: "re-opening of negotiations, political solution [to Transnistria's status], and a decision on peacekeeping issues" [i.e., mainly on Russian troops]. Lavrov complained in that Moldova's 2005 organic law on the principles of conflict-settlement restricts Chisinau's negotiating leeway. In fact, Chisinau's leeway had been so stretched and abused (from Moscow and from other quarters) that Chisinau deemed necessary to adopt that legal shield against such pressures.
4. Russian troops and ordnance in Transnistria: according to Lavrov, a re-formatting of Russia's "peacekeeping" operation can be negotiated after Transnistria's status has been negotiated and adopted. By the same token, the stored ordnance can "only be evacuated or recycled in the framework of the negotiating process." [The ordnance stockpiles provide an added excuse for the stationing of Russian troops].
These statements essentially reaffirm Moscow's almost 20-year old view: troop-withdrawal is conditional on a political settlement acceptable to Moscow and Tiraspol.
5. Moldova's neutrality: Lavrov expressed satisfaction with Moldova's "neutrality based on Moldova's constitution. In this we see an essential contribution to European security architecture."
At least since 2004 Moscow was seeking some "guarantees" of Moldova's neutrality, as part of the price for settling the Transnistria conflict, in addition to the neutrality article in Moldova's constitution. Lavrov's remarks seem to imply that Russia might not seek such additional "guarantees."
Moldova as well as the European Union and United States seek the resumption of 5+2 negotiations as the first and foremost goal. They want the process, once re-opened, to deliver results without undue delays. However, the sequencing of stages as outlined by Lavrov would enable Russia to resume a process for process' sake, without delivering a solution to the Transnistria conflict.
As Minister Leanca said to Lavrov, "Moldova wants to bring the process into the home stretch." Implicitly testing Moscow's bona fides (which the Meseberg document is also meant to probe) Leanca suggested that the process could start by working out proposals for transforming Russia's "peacekeeping" operation into an international contingent, mainly of civilian police.
Quite likely, Moscow would try to offer process, rather than substance, on its side of the Meseberg tradeoff. The 5+2 negotiations seem set to resume shortly. Once it is under way, the process will test not only Russia's capacity to become a security partner of the EU. It will equally test Germany's capacity to insist that Russia deliver actual results, rather than process; and that Moscow is not entitled to discounts on the price of its admission ticket to EU decision-making processes.