Russia's Kavkaz 2020: International Participation and Regional Security Implications
Publication: Eurasia Daily Monitor Volume: 17 Issue: 126
By: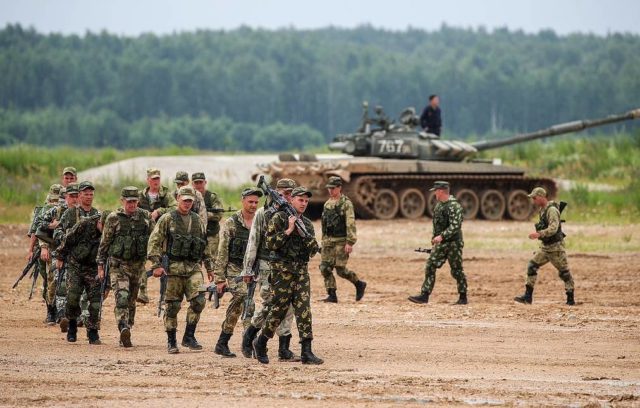 Despite some disruptions to this year's military training schedule caused by the COVID-19 pandemic (see EDM, April 21, 22), the Russian Armed Forces are preparing to hold their annual capstone strategic-operational exercise on September 15–26. "Kavkaz 2020" ("Caucasus 2020") will feature large-scale drills spread across the southern Astrakhan region, Prudboi, Ashuluk, Kapustin Yar, Nikolo-Aleksandrovskii and several air-training grounds. According to Russian Defense Minister Sergei Shoigu, "The [Kavkaz 2020] exercise will assess the ability of the Southern Military District to ensure military security in the southwest of the Russian Federation" (Vestnik Kavkaza, September 8).
The latest Kavkaz exercise promises to be a multinational endeavor. Beyond Russia and fellow Shanghai Cooperation Organization (SCO) members China, Pakistan, Kazakhstan, Kyrgyzstan, Tajikistan and Uzbekistan, additional foreign participants reportedly will include Mongolia, Syria, Iran, Egypt, Belarus, Turkey, Armenia, Turkmenistan and even Myanmar (RBC, September 6). India, initially scheduled to take part with 200 troops, ultimately dropped out on the excuse that Pakistan and China were included (Swarajya, August 30). On September 5, Azerbaijan backed out as well (APA, September 5). Baku gave no official reason for its withdrawal from the Russian-led drills (Facebook.com/NewsofAzerbaijan, September 6); though, bilateral relations have recently been under serious strain over Azerbaijan's anger at Russian military transport flights to Armenia in the midst of Azerbaijani-Armenian border clashes (see EDM, September 11). Despite its decision not to participate in Kavkaz 2020, Azerbaijan will, nonetheless, send two military observers to attend the maneuvers (TASS, September 5).
The fact of an inclusion of such a broad Middle Eastern contingent during Kavkaz 2020—Syria, Iran and Egypt, alongside North Atlantic Treaty Organization (NATO) member Turkey—is noteworthy in itself. But equally striking is Turkmenistan's participation, given its internationally recognized neutrality status. It is likely that Ashgabat felt compelled to take part this year due to a perceived need to cultivate warm relations with Moscow as the negative health and economic impacts of the coronavirus pandemic take their toll on Turkmenistan and the stability of its government (see EDM, July 21). In mid-August, Russian President Vladimir Putin sent to the parliament for ratification a 2003 signed bilateral agreement on boosting security cooperation for ten years (Trend, August 19). In 2017, Putin and his Turkmenistani counterpart, Gurbanguly Berdimuhamedov, signed an agreement boosting bilateral ties to the level of a "strategic partnership," which was mutually ratified the following year (Mid.ru, August 11, 2018).
Shoigu announced that the exercises will be held across the Southern Military District; beyond the Astrakhan region, the maneuvers will also occur at the Kapustin Yar and Ashuluk military ranges, with naval deployments on the Black Sea and the Caspian (Vestnik Kavkaza, September 8). The most intriguing element of the initial press reports about the exercise is that, in addition to a land forces contingent, China is additionally sending a three-ship naval deployment to Kavkaz 2020 (Swarajya, August 30). Given Astrakhan's geographical position near the mouth of the Volga on the Caspian, unless the People's Liberation Army Navy limits its deployments to the Black Sea, the only possible way that Chinese maritime elements could participate in Caspian operations is by using the Volga-Don Canal, an internal waterway under Russian sovereign control. In 2018, the Volga-Don Canal's value as a strategic asset was emphasized when the Russian navy's Caspian Flotilla used the waterway to dispatch a number of smaller vessels into the Sea of Azov in order to raise the pressure on Ukraine (TV Zvezda, April 26, 2018; see EDM, May 31, 2018, June 28, 2018, November 27, 2018). The Volga-Don Canal's utility as a naval asset is limited, however, by its depth, which prohibits ships above 5,000 tons from transiting the channel, which has led the Russian government to consider various projects for widening and deepening (or potentially replacing) the waterway (RIA Novosti, July 27, 2012; see EDM, August 6, 2020).
Earlier this summer, a retired senior United States military official ascribed sinister possible motives to Kavkaz 2020. In an exclusive interview with LB.ua, the former commander of US Army Europe, General Ben Hodges, stated his conviction that Russia intended to gain full control of Ukraine's Black Sea coast from Odesa to Kerch and that Russia, "under the cover" of the Kavkaz 2020 exercise, might try to seize a portion of Ukraine's hydraulic infrastructure in the Kherson region, adjacent to the North Crimea Canal (LB.ru, July 3). Prior to 2014, Ukraine provided up to 85 percent of Crimea's fresh water via the North Crimean Canal, running from the Dnipro River, before shutting off this supply in response to Russia's annexation of the peninsula. Hodges' concerns are shared by the commander of the Ukrainian Naval Forces, Admiral Oleksiy Neizhpapa, who does not rule out that Russian troops could try to break through to Ukraine's Kherson region from Crimea to secure water resources for the drought-stricken occupied territory (Tsn.ua, July 7; see EDM, May 21, June 2, August 12).
Unsurprisingly, the Russian military presents the Kavkaz 2020 "strategic command-and-staff exercise" in a different, nonaggressive light, while asserting that it is being held as the US and NATO conduct active large-scale maneuvers near its borders in countries that were previously Soviet republics. Lieutenant General (ret.) Yuri Netkachev observed about the increasingly confrontational context, "What is alarming is that first, the concentration of the Alliance's forces is happening on the territories of post-Soviet countries, in Ukraine and Georgia" (Nezavisimaya Gazeta, September 6).
Kavkaz 2020 is Russian military's largest international exercise in many years. The Russian defense ministry estimates that roughly 150,000 military personnel will participate (Defence Aviation Post, September 4). Broadening the military exercise's itinerary, Defense Minister Shoigu announced, on September 4, that defense ministers from the SCO, the Commonwealth of Independent States (CIS) and the Collective Security Treaty Organization (CSTO) had agreed to expand cooperation in the fight against terrorism, with the first joint exercises in this regard being held as part of the Kavkaz 2020 maneuvers (Kommersant, September 4, 2020. Thus, after the dust settles and the participating units return to their home countries, this terrorism agreement may well prove to be Kavkaz 2020's most lasting legacy for the Eurasian region.