Moscow Shifts Flotilla From Caspian to Azov Sea, Giving It a New Offensive Capability
Publication: Eurasia Daily Monitor Volume: 15 Issue: 83
By: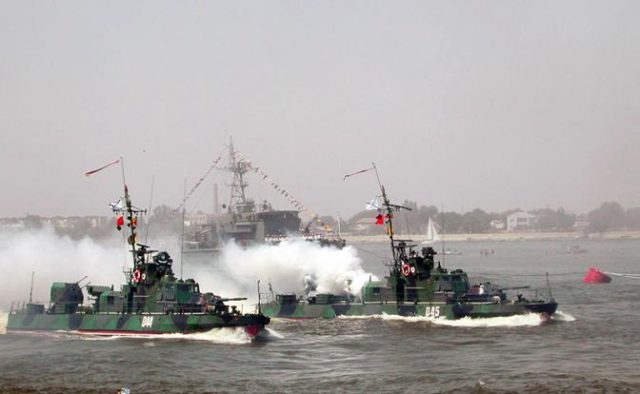 In the last two weeks of May, Moscow has quietly shifted five naval vessels from the Caspian Flotilla to the Sea of Azov, a move the Russian authorities have cast as a step needed to defend against a Ukrainian attack on occupied Crimea. But both rising tensions with Kyiv over shipping in the sea and through the Kerch Strait as well as the nature of the Russian ships that were redeployed instead suggest that this move is intended to give Moscow a new offensive capability. At a minimum, Kyiv will need to expend additional resources to protect itself against this increased Russian naval presence in the Sea of Azov. But more seriously, Moscow could choose to exploit these additional military assets to try to seize more Ukrainian territory, including to finally secure a land bridge to Crimea.
This latest Russian move not only extends the trend of Russian military activities around the Sea of Azov (see EDM, April 12, May 8, 22) but significantly expands them. Two aspects of this move make this rebasing of Russian ships especially ominous. On the one hand, the Moscow-backed Donetsk People's Republic (DPR) two years ago had asked Russia to send ships to the Sea of Azov to supplement its own naval forces (Ostrov, February 29, 2016) in order to seize more of the Ukrainian coastline; but at that time it had been turned down flat. Something apparently changed in the Kremlin's calculus at present. And on the other, Russia's defensive needs in the area are already more than adequately met by local forces from the Federal Security Service (FSB) and the Russian National Guard. So it is unclear why these extra five navy ships are needed.
In February 2016, the DPR created its own "Azov Flotilla" consisting of seven heavily armed cutters, Russian commentator Sergey Ishchenko writes (Svobodnaya Pressa, May 29). Based at Novoyazovsk, Bezymennoye and Sedovo, these were all too obviously intended for "a strike at Mariupol from the sea." DPR commanders at that time, he continues, asked Moscow to shift several naval vessels from the Caspian to the Sea of Azov but were turned down flat. Now, however, Moscow has done what it refused to do earlier, albeit by creating its own flotilla in the Sea of Azov rather than simply backing up DPR forces.
Moscow's decision not to help the DPR in 2016 likely reflected "foreign policy considerations," Ishchenko argues; but clearly, the situation has now changed. Moscow moved three artillery cutters via the Volga-Don canal, from the Caspian to the Sea of Azov, and two more naval vessels via other internal river waterways. And it is obvious, the military commentator says, that there are no plans to send these ships back to the Caspian Sea anytime soon. The Caspian Flotilla is already well-supplied with newer and more advanced naval vessels, Ishchenko asserts.
Some Moscow- and Kyiv-based analysts have suggested that this is simply a response to tensions with Ukraine over the seizure of the Russian fishing boat, Nord, earlier this spring and concerns that Ukrainian special forces might try to blow up the new Kerch Bridge, Ishchenko says. But the ships that have just been introduced into the Sea of Azov are not practical for either task. They are, however, perfect for launching an attack on coastal facilities or for supporting a land-based attack on them.
FSB units, which possess their own ships, have the situation with regard to Ukrainian shipping vessels well in hand, Ishchenko says; and there is "no need" for the Russian naval vessels that were moved there. The FSB's ships are quite capable of stopping, boarding or even seizing and impounding Ukrainian fishing vessels, as repeatedly demonstrated in the last month. And the Russian National Guard has been given both the responsibility and capacity to guard the Kerch Bridge (TASS, October 25, 2017; see EDM, February 12, 2018). In contrast to the five new navy ships Moscow has introduced into the sea, its smaller vessels and electronic monitoring devices are far better designed to protect the bridge infrastructure. The new Russian naval vessels could defend the bridge if it faced a full-scale naval attack, but that is one of the least likely threat scenarios at the present time.
Why then has Moscow taken this step at this particular time? Clearly, Moscow hopes this show of force will intimidate Ukraine and show that if Kyiv's forces move further into Russian-occupied territory on land (UNIAN, April 16; UAWire, May 11), Moscow can counter with an attack from the sea. Ukrainian officers like Vice Admiral Igor Voronchenko have long warned of this possibility and called for building up Ukraine's coastal defenses in response. But the ships that were supposed to be an integral part of that defense are still in Odesa, even though some of the lightest ones could quickly be moved into position on the Azov littoral—either by train or by large vehicle trailers, if such transport were available to the Ukrainian military.
If that is the more "innocent" explanation for what Moscow is doing in the Sea of Azov, there is another, darker one: Russian may be planning a broad-scale attack to try to secure a land bridge between Russian-controlled territory and Russian-occupied Crimea. And it may be thinking about doing so very soon. After all, Vladimir Putin invaded Ukraine and annexed Crimea in the wake of the 2014 Sochi Winter Olympics. It is entirely possible—indeed, some Russian analysts have suggested it (Sobesednik.ru, May 30)—that he will launch a new attack on Ukraine after the World Cup later this month. If so, the new Russian Azov flotilla likely will be a key part of that effort.