Russian Naval Exercises in Sea of Azov: A Prelude to 'Hybrid'-Style Invasion?
Publication: Eurasia Daily Monitor Volume: 15 Issue: 78
By: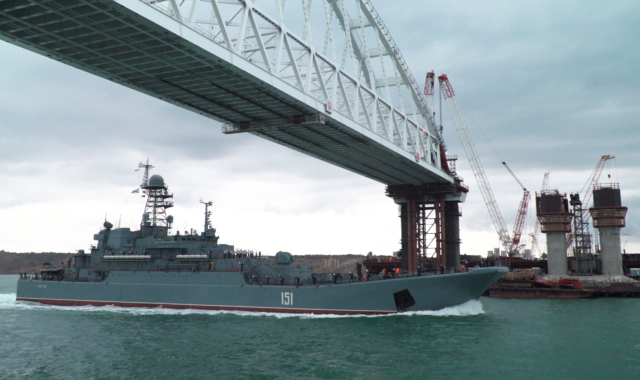 On May 18, Moscow released a navigation alert (NAVAREA 0423/18—reprinted by the Ukrainian government as coastal warning PRIP 173) for a section of the Sea of Azov, cautioning that Russian naval training exercises would make the area dangerous for maritime passage from 0500 to 1700 UTC, on May 21–23 (Hydro.gov.ua, May 22). The zone, which occupies 2,000 square kilometers, has been closed to shipping traffic. Though the announcement quickly drew the attention of Ukrainian news outlets (Obozrevatel.com, May 21), the Russian state media has so far kept silent.
According to the NAVAREA 0423/18 warning, the training area is located in the northern part of the Sea of Azov, in close proximity to Ukraine's coastline; notably, it intrudes several kilometers into Ukrainian territorial waters. The Kremlin's position is that Russian naval assets are allowed to carry out military drills in this area based on a bilateral agreement between Ukraine and Russia, signed in 2003 (Zakon.rada.gov.ua, December 24, 2003). This agreement classifies the Sea of Azov as a historically internal sea of both states, with freedom of navigation guaranteed to Ukrainian and Russian merchant vessels and warships. At the same time, however, this cited document includes a clear provision that "the Sea of Azov is delimited by a line of state borders in accordance with the agreement between the Parties," thus undermining Moscow's case.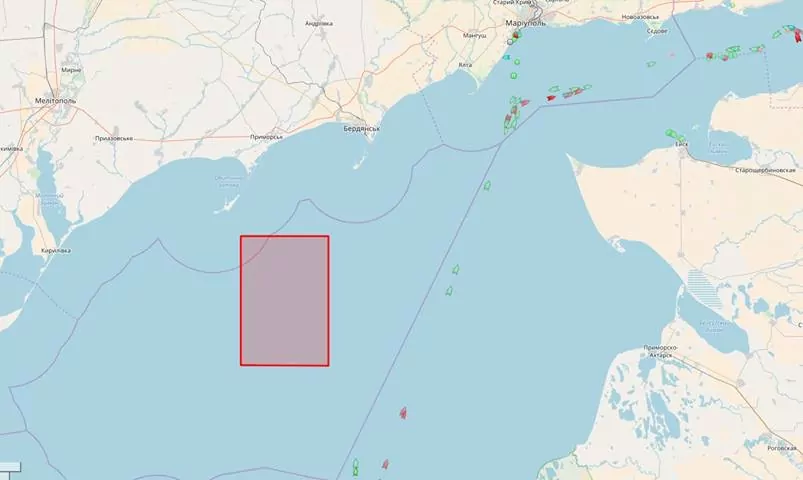 Although Russia had blocked the process of state border delimitation of the Azov Sea, Moscow is nevertheless still obligated to adhere to the strictures specified in the United Nations Convention on the Law of the Sea (UNCLOS) (Un.org, accessed May 22, 2018), which legally supersedes any bilateral maritime agreement. According to this law, littoral states have the right to determine their territorial waters up to 12 miles from their coast. This internationally recognized right of Ukraine was codified in the 1989 presidential order "On the Protection of the State Border of Ukraine in the Sea of Azov, the Black Sea and the Kerch Strait and the Enforcement of the Rights of the Exclusive (Maritime) Economic Zone and the Continental Shelf in the North-Eastern part of the Black Sea" (Zakon.rada.gov.ua, October 6, 1989). So Ukraine is fully within its legal rights to control as well as protect its own territorial waters.
Recent historical experience with Russian "New Type" (popularly called "Hybrid") Warfare suggests that provocative activities like the current naval exercises near and partially extending into Ukrainian waters rarely appear alone. In this regard, it is worth paying close attention to a Russian air defense competition that began along Russia's Azov coast on May 20. In total, nine Russian military teams, including representatives of the Airborne Troops, are competing against one another to showcase their skills (TVzvezda.ru, May 20). And meanwhile, fishermen from the Ukrainian Azov Sea port city of Berdyansk began receiving cellular text messages appealing for them to attend a meeting demanding the release of the Crimean vessel Nord. This ship and its crew were detained several months ago, near the Ukrainian coast in the Sea of ​​Azov, by the State Border Service of Ukraine (see EDM, April 12). Iryna Friz, a member of the Verkhovna Rada (Ukrainian national parliament), stated that "stylistically, the messages are very similar in appearance to those that were actively sent in 2014–2015 by Russian radio reconnaissance and electronic warfare units to mobile phones of Ukrainian service members on the front line, with the goal of demoralizing them" (Dsnews.ua, May 21).
At least two objectives are apparent in such Russian "hybrid" activity. First, is to threaten Ukraine's territorial integrity by blatantly violating international and Ukrainian maritime law. And second—to destabilize Ukrainian coastal territories via military and informational provocations. In at least one particular aspect, however, such clearly unfriendly Russian actions could lead to a seriously dangerous development. If Russian naval assets cross Ukrainian territorial waters—even if carried out to look like a "peaceful passage" or disguised in some other fashion—such an action would effectively amount to a military invasion from the sea because it, by definition, "violates peace, good order or security of a coastal state" (Article 19 of UNCLOS). The serious negative impact of such an action on regional security and local merchant shipping is predictable. To deal with this potential threat, Ukraine would need to boost patrols of its territorial waters as well as undertake other military and non-military preventive countermeasures—some of them immediately. At the same time, it is impossible to exclude at this time that the demonstrative character of this current Russian activity in and around the Sea of Azov may be intended to divert attention from planned sea- or land-based operations elsewhere. Indeed, as of late May 22, combined Russian-separatist forces began shelling Talakovka, near the important southeastern Ukrainian port city of Mariupol (Mariupil) (0629.com.ua, May 22).
Moscow, of course, is unlikely to stop such hybrid activities aimed at destabilizing the situation in Ukraine and raising political-military tensions in the region, because they succeed in maintaining pressure on Kyiv. At the same time, however, experience shows that effective deterrence measures in the early stages of a crisis can prevent it from deteriorating into violent conflict. This is why early recognition of such Russian activities, combined with an adequate immediate response may be required to prevent the onset of a worst-case scenario in the coming days. The current situation thus highlights the importance of both preemptive efforts by Ukraine as well as by the international community, in diplomatic, informational and military domains.