Azerbaijani President Rebukes Putin Over Russian Military Cargo Deliveries to Armenia
Publication: Eurasia Daily Monitor Volume: 17 Issue: 125
By: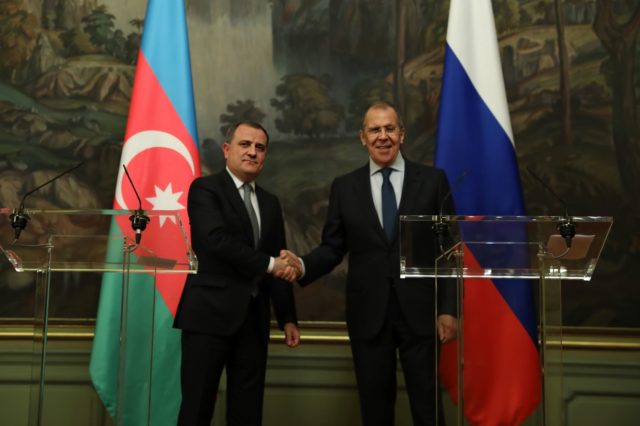 The Kremlin's website reported, on August 12, that Azerbaijani President Ilham Aliyev had initiated a phone call to congratulate Vladimir Putin on the Russian vaccine against COVID-19 and to discuss bilateral issues. The next day, however, in a wholly unprecedented move, Aliyev's press service sharply refuted the Russian version: "[T]he main purpose of the phone call was to clarify this issue" concerning "the intensity of delivery of military cargo from Russia to Armenia" since July 17, amidst the border clashes between Armenia and Azerbaijan. The volume of the military cargo exceeded 400 tons and was transported via the airspaces of Kazakhstan, Turkmenistan, and Iran. Neither government offered any indication as to what Putin's response to Aliyev's expressed concerns may have been (Kremlin.ru, August 12; President.az, August 13).
On August 25, Russian Defense Minister Sergei Shoigu visited Baku, where he claimed that the flights had been airlifting "construction materials used in large-scale construction work carried out at the 102nd Russian military base in this country [Armenia]," as well as rotating military personnel. Shoigu's response was met with derision in Azerbaijan (Mod.gov.az, August 25; Turan.az, August 27; Trend.az, August 29).
In turn, Russian Foreign Minister Sergei Lavrov pointedly declared that the catalyst for the July escalation was "the Armenian side's decision to reanimate an old border checkpoint located 15 kilometers from Azerbaijani [oil and natural gas] export pipelines," thus essentially echoing Azerbaijan's narrative that Armenia had provoked the clash. Nonetheless, for Baku, Shoigu's and Lavrov's statements represented another Russian attempt to appease Azerbaijan with words but without matching deeds. Indeed, the observed military deliveries to Armenia continued, exceeding 510 tons even after Baku raised its objections with Moscow (Mid.ru, August 21; Musavat.az, August 24).
Azerbaijani media outlets, parliamentarians, experts and state officials jumped on the bandwagon to denounce Russia's behavior in relation to the Karabakh conflict in unusually explicit terms. Some expressed appreciation for Tbilisi's refusal to allow for the transit, hence compelling Moscow to take a more circuitous, 2,000-kilometer-long route, rather than a more direct, 500-kilometer route flying over Georgian territory. But the countries that allowed the Russian overflights were largely ignored. The military aircraft also made trips between Yerevan and Kuwait/Syria. The Syrian flights sparked particular uproar in Baku, leading to claims they were being conducted to engage in illegal arms sales and the resettlement of Middle Eastern Armenians in Karabakh. Other Azerbaijani commentators, however, argued that the ethnic-Armenian refugees would not have been interested in relocation from one conflict zone to another. Therefore, some suggested that Syria's and Lebanon's Armenians were being transferred to join the Armenian Armed Forces as the country suffers from demographic decline and a related shortage of soldiers. This claim drew inspiration from Yerevan's recent draft law to form a 100,000-strong voluntary army as well as the Armenian government's actual policy to resettle Lebanese-based and other Armenians in the country (Aztv.az, Kommersant, Jam-news.net, September 1; Trend.az, September 2 EurasiaNet, September 3; Day.az, August 7; Baku.ws, Qafqazinfo.az, August 14; Tert.am, August 25).
In response, the popular Russian newspaper Nezavisimaya Gazeta published an article titled "Syrian Fighters in Azerbaijan Prepare for Blitzkrieg Against Armenia," full of allegations against Baku (Nezavisimaya Gazeta, September 1). Such mutual accusations symptomize the seriousness of the current tensions between Baku and Moscow, which also reverberated in exchanged remarks between the Azerbaijani and Russian foreign ministers in Moscow on August 26.
Namely, Azerbaijani Foreign Minister Jeyhun Bayramov called on Russia to press Armenia to live up to its obligations under the United Nations Security Council resolutions and de-occupy Azerbaijani territories. But Lavrov deflected by asserting that the "immediate task" of those UN resolutions had been "to stop the war then." He also stated that the Minsk Group co-chairs will not write a scenario for the conflict settlement but only facilitate a positive atmosphere for the negotiations, leaving it to Armenia and Azerbaijan to settle their differences on mutually agreed terms (Mid.ru, August 26). Russian expert Stanislav Tarasov termed Lavrov's remarks a "diplomatic attack" against Baku. Though, Russian scholar Sergey Markedonov clarifies that the Kremlin is not interested in actively "push[ing] Baku" unless Azerbaijan chooses "Euro-Atlantic solidarity" or "escape from Russia" (Regnum, September 1; Carnegie.ru, July 21).
Several possible contributing factors explain the present diplomatic downturn along the Moscow-Baku axis. These factors are interrelated and not mutually exclusive. First and foremost, Turkey and Azerbaijan held massive military exercises in response to Russian-Armenian drills following the July clashes (see EDM, August 14). And those exercises were followed by pronouncements and rallies in Baku urging the Turkish military to create permanent bases in the country, worrying Moscow. Second, Russia's arms sales to the South Caucasus's largest importer, Azerbaijan, have decreased in recent years, in favor of purchases from Israel and Turkey. Ankara's share is set to continue to rise due to the Russian-made equipment's reported ineffectiveness, in Syria and Libya, against "game-changing" Turkish drones and electronic warfare technology. Third, Azerbaijan has overtaken Russia as the top gas supplier to the Turkish market (see EDM, July 6). This competition with Gazprom will soon be extended to Southeastern Europe with the looming inauguration of the Trans-Adriatic Pipeline, the final segment of the Southern Gas Corridor (see EDM, January 30, 2017 and July 22, 2020; Wilsoncenter.org, September 3; Pressklub.az, August 28; Sipri.org, March 9). Fourth, Baku is frustrated with Moscow's de facto lack of neutrality regarding the Karabakh conflict. Azerbaijan had, perhaps naively, expected a more even-handed Russian approach because of the perception that the Kremlin holds antipathy toward Armenian Prime Minister Nikol Pashinyan and his Velvet Revolution. And fifth, recent Azerbaijani cabinet reshuffles dismissed the head of the presidential administration, Ramiz Mehdiyev, widely depicted as "the leader of pro-Russian forces" in Baku, along with other figures in his circle (see EDM, September 18, 2018 and December 11, 2019; Qafqazinfo.az, September 2; Science.gov.az, August 25).
Moscow is well aware that the newly appointed Azerbaijani minister of foreign affairs and presidential aide on foreign policy were tasked by Aliyev with more forcefully communicating the country's positions (APA, July 15; TASS, August 25; Kommersant, August 27). And as such, the Russian side considers these top Azerbaijani diplomats to be acting more as high-level messengers than foreign policy chiefs in their own right. It remains to be seen whether Baku's hardened rhetoric vis-à-vis the Kremlin foreshadows a qualitative change in Azerbaijani foreign policy or if it epitomizes another episodic, reactive and tactical shift in its dealings with Moscow. For now, the latter scenario looks more likely, if for no other reason than that the former would require the adoption of an entirely new long-term strategy.