Turkey Makes Strides in Diversifying Its Natural Gas Imports
Publication: Eurasia Daily Monitor Volume: 17 Issue: 97
By: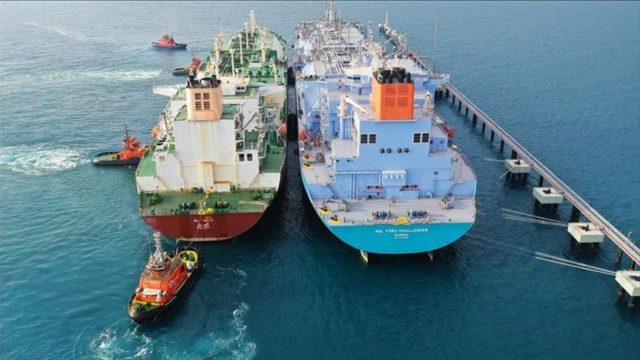 For two months in a row this past spring, during March and April, Azerbaijan surpassed Russia in delivering natural gas supplies to Turkey (Hellenic Shipping News, June 2). At the same time, Turkey's liquefied natural gas (LNG) imports have also been skyrocketing, with LNG suppliers from the United States continuing to carve out a lucrative and growing share of the Turkish market (Caspianbarrel.com, April 5). And while the March and April numbers have been staggering, they were not unexpected—and in fact, are fully indicative of the trends observed over the past several years.
During the last four decades, Turkey has been dependent on mainly Russian, Iranian and, more recently, Azerbaijani-borne pipeline gas. But that picture is changing, mostly due to the global supply gluts. Chronic natural gas abundance, combined with plummeting oil prices, have led to low costs for gas, while tangible progress in improved efficiency of LNG transportation has eroded logistical obstacles. Ankara has exploited the opportunity stemming from this confluence of market factors to opt for cheaper LNG volumes, mainly thanks to its timely deployment of several floating storage and regasification units (FSRU) in recent years (Anadolu Agency, November 20, 2017; Daily Sabah, July 5, 2019). As a result, Turkey, which was almost 50 percent dependent on Russian pipeline gas in 2016, has since then managed to reduce that reliance to only 14 percent today (Epdk.gov.tr, June 29). Meanwhile, US LNG has been carving out an ever-larger share of Turkish imports: in April 2020, making up 10 percent of purchased foreign volumes of gas, compared to 0 percent just three years ago.
Iran, another traditional supplier of natural gas to Turkey, has been facing its own challenges in accessing the Turkish market. Since the spring, the Islamic Republic has been unable to ship any gas to Turkey due to an explosion in the main, 10 billion cubic meter (bcm), supply pipeline, which took place on March 31, on Turkish territory. Last year, Iran exported 7.7 bcm to Turkey, which equaled 17 percent of the latter's total gas imports (Caspian News, April 2). Iranian Foreign Affairs Minister Javad Zarif, who earlier criticized Turkey for dragging its feet on repairing the pipeline, visited Ankara on June 15. During the press conference with his Turkish counterpart, Mevlüt Çavuşoğlu, the chief Iranian diplomat stated that the Iran–Turkey pipeline would resume its operations at the end of the month (YouTube, Mfa.gov.tr, June 15), which has happened (Enerjigunlugu.net, July 1).
Although Turkey's total gas imports have been on the decline due to the contracting economy and, more recently, the effects of the COVID-19 pandemic, the country is still considered one of the most lucrative global gas markets—particularly as international competition in this sector heats up. Turkey used to be the largest buyer of Russian Gazprom's gas. But the aforementioned recent data indicates that Gazprom's supplies to Turkey have decreased by as much as 72 percent compared to March 2019. This is certainly problematic news for the Russian gas giant, which inaugurated its newest multi-billion-dollar gas pipeline—TurkStream—to Turkey in January 2020 (Vedomosti, January 8).
As promising as the data on gas imports may look for Turkey, the country, nonetheless, still faces an uphill battle when it comes to sustaining those diversification efforts as well as aspirations to become a regional natural gas hub. One of the most substantial hindrances is the rigidity of the various long-term supply contracts Turkey is bound to. This factor is especially crucial vis-à-vis gas imports from Russia. The key problem therein is the so-called "take-or-pay" clause present in the contract with Gazprom (the same type of clause is, in fact, a feature of all long-term pipeline supply contracts Turkey has signed). Reportedly, several Turkish companies have already amassed $2 billion in debt to Gazprom because of their failures to fulfill the take-or-pay stipulation in the contract, which requires the buyer to either purchase a certain percentage of the agreed-upon annual volume or compensate the seller for the corresponding amount (Ahval, June 15). Although Turkish companies will probably try to use the force majeure clause, referring to the COVID-19 pandemic to substantiate their failure to offtake the required quantities, this argument will not be able to serve as a sustainable basis for potential arbitration. This means that lengthy negotiations await Ankara and Moscow to try to find common ground on the supply contract's future.
Turkey additionally faces both domestic regulatory and technical impediments to its energy security aspirations. Ankara has taken some steps to liberalize its local gas market, allowing more private Turkish companies to obtain natural gas import licenses; yet, BOTAŞ, the state-owned gas company, continues to retain its monopoly on the transportation and export of natural gas. Moreover, Turkey has so far failed to de-bottleneck its infrastructure, especially in offtake points. Turkey's storage capacity is a significant problem as well. Current gas storage capacity is only around 5 bcm, a trivial figure for a country that, annually, consumes almost 50 bcm of gas (Enerji.gov.tr, accessed July 2).
Turkey has achieved significant progress in its diversification efforts in the last few years, though it still faces formidable challenges. Increased energy security will require the further enhancement of its physical infrastructure and regulatory framework. On the other hand, as Turkey's long-term LNG contracts with Algeria and Nigeria is set to expire this year and its pipeline contract with Iran in 2026, the current buyers' market should enable Ankara to secure more favorable commercial and legal conditions on all these contracts going forward.
The relationship between Ankara and Moscow, meanwhile, is more complex and multilayered. It entails several other commercial matters, such as the construction of Turkey's first nuclear plant by Russian state-owned Rosatom. Critical geopolitical matters, such as Libya and Syria, affect bilateral affairs too. So far, Turkey and Russia have managed to disentangle political relations from their commercial ties. And absent Turkey's downing of the Russian military jet in 2015, Ankara and Moscow have managed to disentangle business interests from political ones. Thanks to its pipeline connections to Turkey, Gazprom will continue to remain the country's primary supplier. However, Turkey now possesses more bargaining chips and is poised to capitalize on those advantages as it prepares to renegotiate the terms of its contract with the Russian gas giant.